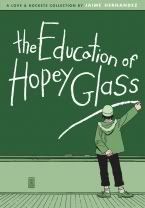 The Education of Hopey Glass
(Love and Rockets, Book 24)
Jaime Hernandez, writer/artist
Fantagraphics, 2008
144 pages, hardcover
$19.99
Buy it from Amazon.com
The "all growns up" phase for the Locas continues. Looking back, the material collected in Penny Century was sort of the calm before the storm for our heroes and heroines–the point at which they'd matured, but the point before they realized they'd matured and started struggling with it. If Ghost of Hoppers was Maggie's confrontation with adulthood, The Education of Hopey Glass serves up the equivalent for Hopey and Ray. It's fascinating to me to see where their lives have taken them versus where they were–and more importantly, what they represented to Maggie–when they were first juxtaposed. For starters, this is a really weird and kind of silly thing to say about a comic book character, but I am straight-up proud of Hopey for becoming a teacher's assistant. (Waiting for Superman can go pound sand.) It reveals a strength of character she'd always kept carefully hidden, an indication that beneath the hellion exterior, she's actually, well, a good person, a person capable of caring about someone other than the Maggot. What's refreshing about what Jaime is showing us here is that this in no way "fixes" Hopey, nor makes her suddenly respectable. She's still a loudmouth bartender and an incorrigible womanizer with a wandering eye, and she still can't seem to help but hurt the people who care about her. And on the more positive side, she's still sexy and funny and badass and all the other things that have made her fun for her friends to be around. Her new job in a position of responsibility isn't something she sacrificed the person she'd always been to achieve. Like the glasses she spends the storyline shopping for, it's just a new accessory on the same old face, a new way of looking at things with the same old eyes.
Good ol' Ray Dominguez, on the other hand, is more ol' than good at this point. The rumpled, cigarette-smoking noir narration we encountered from him last time around is back with a vengeance, and the succession of endless nights of booze, broads, and loneliness it suggests tells us that much has changed over the nearly two decades since he first emerged as the safer, more caring alternative to Hopey in the quest for Maggie's heart. This is not to say that he's the full-fledged devil-may-care degenerate of the sort comprised by the circles his old friend Doyle and his would-be flame Vivian "The Frogmouth" Solis move in–on the contrary, his relentless narration is a litany of worrying that he's too old, a given situation too hairy, a given woman too much trouble, a given dude too dangerous even to know. And yet through some innate inability to really stick up for himself and go for what he wants, Ray is constantly buffeted from predicament to predicament by the still more fucked-up people with whom he surrounds himself–a classic noir patsy protagonist, played mostly for Lebowski-style black laughs. Ray wonders aloud why he's so fixated on the two years he spent with Maggie all those years ago, especially in light of what he eventually gets going with Viv, but it feels like less of a secret to us: He saw what he wanted and hung onto it. My fear is that the Frogmouth is too much of a (hilarious!) human disaster area to give him the gumption to do so this time around, but anything's possible, and he seems to realize that it's now or never.
What makes these two stories compelling and connects them to one another beyond the basic idea of the characters coming to terms with their age is how much the stories rely on the kinds of things only an artist of Jaime's caliber can pull off for their telling. Hopey's many loves and crushes–Maggie, Rosie, Grace, Guy Goforth, Angel, the woman at the eyeglasses store–are woven into an intricate web of eye contact and body language, glances and looks away, the clothes they choose to wear and what they look like naked. Half the story emerges from characters looking at how other characters look at still other characters. Ray's story, meanwhile, takes place about 30 feet in front of a murder mystery, if you will, one that he and his friends remain half-aware of and half-willfully oblivious to as it approaches, takes place, and ripples out into its aftermath. As Ray does his thing, we'll see people behind him start arguing and fighting, whisper to one another, disappear and reappear, shoot daggers at one another or look sheepish and sick. Ray putting it all together is one of the catalysts for him trying to get his own act together by the end of the story–and it wouldn't have been possible if Jaime hadn't been such a poet of bar fights and parking-lot conspiracies in the rear of the panels. Maybe adulthood isn't just choosing a new way to see with your same old eyes, but also choosing not to look sometimes, too.
Tags: comics, comics reviews, Comics Time, Jaime Hernandez, Los Bros Hernandez, Love and Rockets, LOVE AND ROCKTOBER, reviews