Posts Tagged 'True Chubbo'
June 1, 2012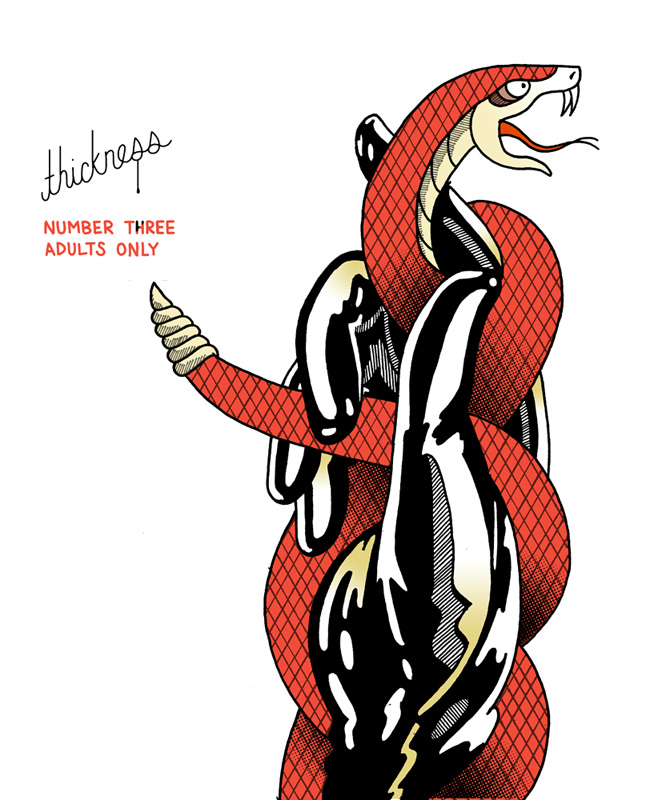 Behold Edie Fake's cover for Thickness #3, the erotic comics anthology featuring Edie Fake, Lamar Abrams, Julia Gfrörer, Jimmy Beaulieau, Sean T. Collins (yep, me!), William Cardini (who drew the thing I wrote), Gengoroh Tagame, Hamletmachine, Andy Burkholder, and True Chubbo, edited by Ryan Sands and Michael DeForge. Debuts at CAKE on June 16, available online everywhere shortly thereafter.
October 17, 2011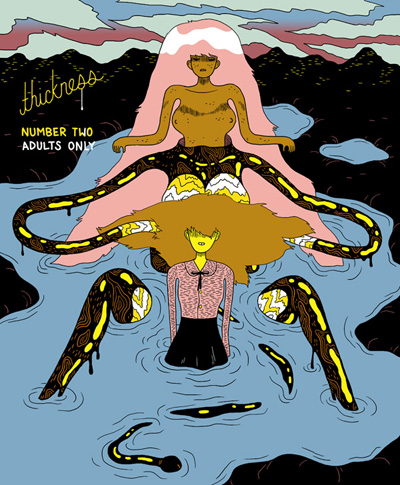 Thickness #2
Angie Wang, Lisa Hanawalt, Michael DeForge, Mickey Zacchilli, Brandon Graham, True Chubbo, Jillian Tamaki, writers/artists
Ryan Sands and Michael DeForge, editors
self-published, October 2011
60 pages
$12
Buy it from the Thickness website
Anthology of the year? I'd need to double-check some release dates, but it certainly seems that way to me. The second installment of Ryan Sands and Michael DeForge's art-smut comics series is an intense, diverse collection of sex comics, beautifully printed and rich enough to revisit well after your first virgin read.
Michael DeForge, god help us all, continues his juggernaut run with what could well be his best comic yet. "College Girl by Night" stars a young man who's transformed by the light of the full moon into a beautiful young woman, and uses the time to seduce and fuck college boys. His/her narrative captions don't comment on the night-in-the-life activities depicted in the art, but rather explain the background of the transformations, her preferred conquests (tired of her "spoiled, drunken nineteen-year-olds," she's "made vague plans to set my sights on Edgeton professors, posing a student seeking advice after hours"), her almost idle questions about the science of it all ("Maybe if I got pregnant, it would only show when I transformed. If I even have a uterus, that is"), fictional precedents ("When Billy changed into Captain Marvel he wasn't technically 'transforming'…he was having his Billy Batson body physically replaced with an entirely different Captain Marvel one"), and daydreams about starting a relationship while in female form ("I once found a Missed Connection written about me on Craigslist"). It's funny stuff, featuring DeForge's trademark juxtaposition of the fantastic and the mundane. But it's also really, really hot stuff. His character design for the main character's female form is a note-perfect assemblage of alluring details: spagetti-like tendrils of hair, a dusting of freckles, a short and nearly translucent dress, long lashes that flutter when she throws her mouth open in ecstasy. But then DeForge takes the ruthlessly (if ironically) heterosexual nature of the situation (as she herself puts it, "Is it hugely unimaginative that during my time as a woman, the only activities I've done so far is fuck myself or get fucked?") and crashes it right into its own subtext, reversing the transformation mid-coitus and presenting the two college guys now present on the scene with the opportunity to pick up where they left off, or not. Even if your door doesn't swing in that direction, there's a willingness to be led solely by pleasure and desire, a "Shhhh–no one can see, so why not?" quality, that's hard to deny.
Brandon Graham's "Dirty Deeds" is the most lighthearted of the contributions (well, aside from True Chubbo's), and his sense of humor isn't mine. It's got this bigfooted vaudevillian underground schtickiness to it that's just not my thing unless it's Marc Bell. (Lots and lots of puns: "prostate of shock," "cervix with a smile," "I was young, I needed the monkey" — that last one's a bit of a long story.) But that's not to say that a breezy sex romp isn't a welcome addition to this issue's 31 flavors. Certainly Graham's warm, curving line is shiny and happy enough to make up for a few jokes that leave me cold, and it's fascinating watching him use it to achieve certain unique effects — the way he crams detail into limited segments of the page, piling line on line like a soft-serve ice cream cone, while letting the rest of the page breathe, say, which in turn lets him work wonders with images of massive science-fictional scale. And he really makes the most of Sands's red-orange risograph'd coloring, particularly with his vivacious heroine's hair and a sexy tan-line effect using what looks like the world's tiniest zipatone dots. I'm kind of amazed that anything would give this Adrian Tomine print a run for its money in the "Sexiest Use of Tanlines 2011" sweepstakes, but there you have it.
Mickey Zacchilli's contribution is the most off-model of the bunch, a melancholy affair in which a Brian Chippendalesque lost girl loses her wedding ring and therefore enters some weird subterranean sex chamber, in which a brawny beast and a "slime worm" have their way with her as she worries about other things. What keeps her going is the promise of ice cream on the other side of the chamber, but the showstopping reverie begins with the phrase "All I could think about at that moment were all the various objects that I had never stuck in my vagina." Arrayed in the closest thing to a clinical grid as Zacchilli's noisy, scratchy line can muster, this assortment goes from "Yeah, okay, feasible for a curious young woman" ("screwdriver," "chisel tip Sharpie permanent marker") to "uh-oh" ("rawhide dog bone," "rotting arm," "disembodied head"). When added to the brusque treatment she receives from the creature who lets her in — "Thru the door Alice, Jeanette, Angie, whatever" he says, her identity unimportant — and her tears when she discovers the ice cream shop is closed, it makes for a distressing portrait of disconnect between mind and body, thought and deed.
Dare I call Angie Wang's contribution erotica rather than smut? Wang offers a four-page start-to-finish portrait of two women — one seemingly shy or hesitant, the other taking charge — having sex. Each panel depicts a discrete body part or moment of connection. It's a familiar panoptic effect for this kind of thing, and I usually find it to be a bit false to the experience of sex, presenting it as a sort of greatest-hits grab bag rather than a journey from start to finish where the momentum, the upping of the ante from moment to moment, is key. But Wang cleverly jettisons the mishmash approach with an array of techniques: ratcheting the panel grid back from page to page, from 16 to 9 to 4 to a final, climactic (pun intended) splash page; using tangents to connect one panel to the next; paring away dialogue and sound as she goes; altering the focus of each page, from foreplay to initial genital contact to climax to afterglow. Whether despite or because of its delicate, painterly line, it's got oomph.
Lisa Hanawalt's contribution is profoundly Hanawaltian. Using the tried-and-true porn setup of the teacher with the hot student, she subverts (or heightens, depending on what you're into) the fantasy by having the pair's taboo rendez-vous take place in full view of the rest of the class; the teacher doesn't even stop delivering his lesson on unreliable narrators ("the narrator makes mistakes" he says as he unzips his fly). Hanawalt apes the male focus on individual body parts with alarming accuracy: "Oh god, her tits! Tiiiiiits…And that ASS," thinks the teacher over a series of panels focusing on the student's curves with that familiar combination of thumbs-up celebration and lizard-brain leer. Oh, did I mention she short-circuits the whole thing by giving the girl the featureless conical head of a worm while stuffing her cleavage with fibrous miniature worms, and by giving the bird-headed teacher a penis that itself ends in a bird's head, which literally vomits its semen all over her ass and vagina when he pulls out? When she slaps a David Lee Roth-referencing "CLASS DISMISSED!" on the final panel, I'm not sure whether to run for the door or stay for extra credit.
The final two contributions hearken back to Sands's zine roots: Ray Sohn and his anonymous wife serve up one of the funniest, grossest True Chubbo strips to date (you'll love the Lawrence of Arabia "NO PRISONERS!" quote, especially once you see the context in which it's being quoted), while Jillian Tamaki's centerfold pinup intrigues with its incongruous details — a monumental topless woman kneels amid lush flowers and a small army of Russian doll-like people-shaped dildos (I think?), her implacable gaze juxtaposed with her very human bikini-area stubble and a big goofy digital watch on her wrist. They give Thickness #2 a welcome diversity of form as well as content, a "hey, here's everything that was fit to print" feel.
Thickness #2 is the real deal: talented, fearless cartoonists working in that viscous red zone of pleasure, terror, filth, and fun where the only thing that matters is what the body does and doesn't want, and your brain is simply forced to go along for the ride. Bravo, thumbs up, panties down.
June 8, 2011
Thickness #1
Katie Skelly, Jonny Negron, Zejian Shen, Derek Ballard, True Chubbo, writers/artists
Ryan Sands and Michael DeForge, editors
self-published, May 2011
48 pages
$12
Buy it from the Thickness website
The great altcomix fuckfest continues! Of the recent releases I've read that pass smut through the same art-comics filter that science fiction, fantasy, action, and horror have all recently traversed, Thickness is the book that seems most concerned with creating out-and-out pornography. Chalk that up primarily to the anthology's centerpiece and unquestionable standout, "Grandaddy Purple, Erotic Gameshow," by cover artist Jonny Negron. "Dreamlike" is an adjective that gets tossed around a lot, by me not least of all, but that's absolutely the right way to describe the plot of this thing, which starts with two sinister gangster-type figures falling victim to a rooftop assassination, then follows the assassin as he's rewarded with a Let's Make a Deal selection of prizes hidden behind three numbered doors, then shows him claiming his prize — a beautiful woman — in explicit detail, and ends with his post-climax black-widow murder. Negron can't seem to contain his glee during the sex scene: The woman shouts out no-fuckin'-around, let's-have-fun-with-our-bathing-suit-area exclamations like "Mmm, let's see how much I can fit in my mouth!" and "Fuck! We're goin' to have fun with this cock!", while Negron frequently breaks down his large panels into sub-grids of as many as nine, 10, or 11 panels, using the layout language of Acme Novelty Library to cram in as many of the deliciously dirty details of the characters' liaison as possible before running out of room on the page. To quote Maude Lebowski, sex in Negron's hands is a zesty enterprise. But it's just one of the arrows in his quiver: His story also features angular artificial environments and M.U.S.C.L.E.S.-style character designs that, when combined with his women's King magazine physiques and his bad guys' skinny-suit-and-shades-sporting comportment, makes him come across like a happy marriage of Yuichi Yokoyama and Benjamin Marra. His depiction of action is really a marvel, too: It can be dynamically staged as all get-out, but then he does something off-kilter, like showing a falling man's impact with the floor and his subsequent post-mortem prostration in a fashion that totally flattens the moment, calls attention to its ludicrousness, and yet somehow makes it feel all the more brutal and unpleasant for that. Ditto the final image, which I won't spoil.
By comparison the other contributions can't help but feel slight. Katie Skelly's "cute-sexy floppy-eared lady has sex with plants in a sci-fi paradise that suggests Vaughan Bode mated with Georgia O'Keefe" entry "Breeding Season" is covering well-worn territory for SF erotica, though her thick rounded inks are nice to look at and she has a knack for capturing certain visual details that entice, like the gap between the fabric of the heroine's suspender-like bathing suit and her breast and torso when viewed from the side. Zejian Shen's "Pearl Divers" wrings an amusing dual joke out of its title's double entendre by anthorpomorphizing both the oysters captured by the titular fisherwomen and their clitorises as they celebrate their catch with some beachside tribadism. Derek Ballard's "Trap Shadez" is another sci-fi story whose sexual content is actually relatively minimal; for my taste it overelies on angular '80s-tinged figurework and design that can't quite overcome storytelling that's deliberately but still unsuccessfully unclear. The True Chubbo comic that closes out the collection is a solid example of that strip's unusual charm (it's more charming than funny), wherein the love between creators Ray Sohn and his anonymous wife comes through all the clearer the worse their ridiculously violent sexual violations of one another get. Sands and DeForge's high-quality production, including risograph printing that gives each story a fitting primary color ink, certainly elevates each contributor — the murky purple selected for Negron makes that particular freakout even seedier, somehow. He's worth the price of admission all by himself, and hey, a home run after four singles still puts a lot of runs on the scoreboard.