Posts Tagged 'Matt Furie'
July 28, 2015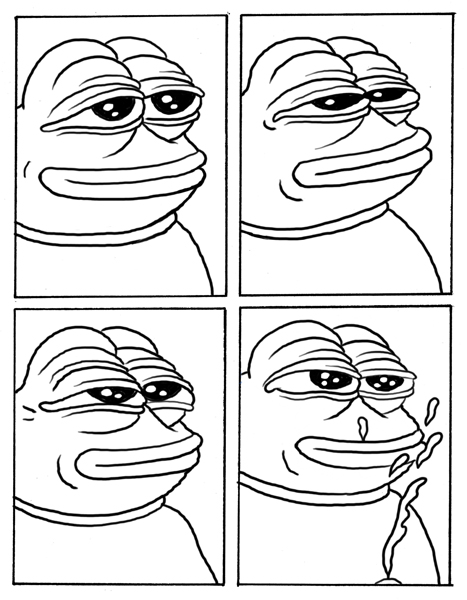 Have you ever thought about collecting all the Boy's Club comics in a single book?
I've thought about it. I dunno. The problem with books is I usually end up getting not that great of a deal. If the right situation came along I'd do it, but it's really not even… I mean, I guess it would be worth it, to have it be easier for fans. But I kind of like it not being easy for people to get. I dunno, it's kind of funny to see it on eBay for $400 or something. My lady thinks that Pepe's a self-portrait, in a way—she says I have Pepe's eyes—so it's kind of neat to see something that's so personal to me on some level infiltrate this weird nether-region of the internet. I've made my mark on the internet, so I can relax. I'm retired now, living off all the shares and likes.
Feels good man: I interviewed Matt Furie about his new Boy's Club comic and the viral success of his character Pepe the Frog for my Vice debut.
December 24, 2010
Boy's Club #4
Matt Furie, writer/artist
Pigeon Press, October 2010
40 pages
$6
Hopefully buy it from Pigeon Press someday
Buy it from Secret Headquarters
Buy it from Atomic Books
The Top 10 Best Lines from Boy's Club #4
10. "Nice assets"
9. "Can I have one?"
8. "Classic shit man"
7. "Another Sexy Bald Guy"/"I Love My Fuzzy Papi" [tie]
6. "Yer mom has a nice Countach"
5. "La Cucaracha"
4. "Ever tried pulling apart a grilled cheese sandwich?"
3. "Lights out gentlemen"
2. "Hey, that's my washcloth"
1. "Clooney nailed it!"
Merry Christmas to all, and to all a good night!