Posts Tagged 'laura lannes'
April 1, 2017



Some pics from Day One of MoCCA Fest 2017 in New York, where me and the MIRROR MIRROR II crew (that's Laura Lannes, Lala Albert, Julia Gfrörer, and me in the middle picture) sold and signed the book. I had to leave early due to illness but I hope to be back tomorrow and I hope to see you there if i am! Either way, the kickstarter for MMII and the rest of our publisher 2dcloud's spring lineup is entering its final hours. Now's your chance to snap up the whole line for a pittance, but whether or not you order the books, of course every bit donated helps!
March 11, 2016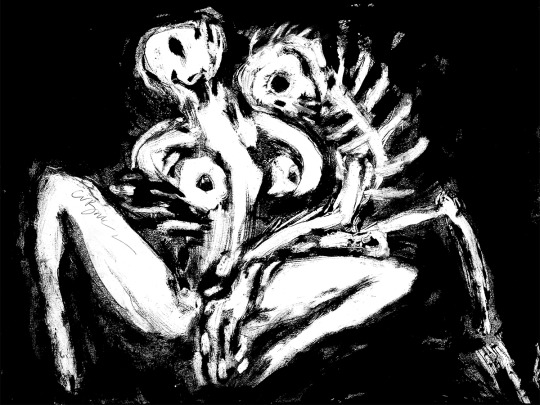 Mirror Mirror 2
an anthology
featuring new comics and drawings by
Lala Albert / Clive Barker / Heather Benjamin / Sean Christensen / Nicole Claveloux / Sean T. Collins / Al Columbia / Dame Darcy / Noel Freibert / Renee French / Meaghan Garvey / Julia Gfrörer / Simon Hanselmann / Hellen Jo / Hadrianus Junius / Aidan Koch / Laura Lannes / Céline Loup / Uno Moralez / Mou / Chloe Piene / Josh Simmons / Carol Swain
horror / pornography / the Gothic / the abject
edited by Sean T. Collins & Julia Gfrörer
published by 2dcloud
Q1 2017 | advance copies Fall 2016
"For darkness restores what light cannot repair"
teaser image by Clive Barker
Mirror Mirror 1 | available now for preorder
November 12, 2014

As an object, The Basil Plant is not much to look at. The same can't be said of author Laura Lannes's cartooning — as economical and as energetic as a well-delivered joke, with a thick, versatile line, and figurework that alternately recalls Anders Nilsen and Gabrielle Bell as played for laughs. The package containing that cartooning, however, is a bog-standard staple-bound minicomic,  about 4.5″ x 3.5″, black and white, xeroxed, one page = one panel, its sole two-page spread not even located in the center of its 28 pages. You've seen a million of these things if you've been to a single small-press show. If you pick it up with the intention of reading it, you're probably disinclined to be impressed. This is because you're a sucker, which is what Lannes is counting on. The Basil Plant relies on your belief that you know what you're in for. You think you know, but you have no idea.
I reviewed The Basil Plant by Laura Lannes for The Comics Journal.