Posts Tagged 'lala albert'
April 1, 2017



Some pics from Day One of MoCCA Fest 2017 in New York, where me and the MIRROR MIRROR II crew (that's Laura Lannes, Lala Albert, Julia Gfrörer, and me in the middle picture) sold and signed the book. I had to leave early due to illness but I hope to be back tomorrow and I hope to see you there if i am! Either way, the kickstarter for MMII and the rest of our publisher 2dcloud's spring lineup is entering its final hours. Now's your chance to snap up the whole line for a pittance, but whether or not you order the books, of course every bit donated helps!
March 11, 2016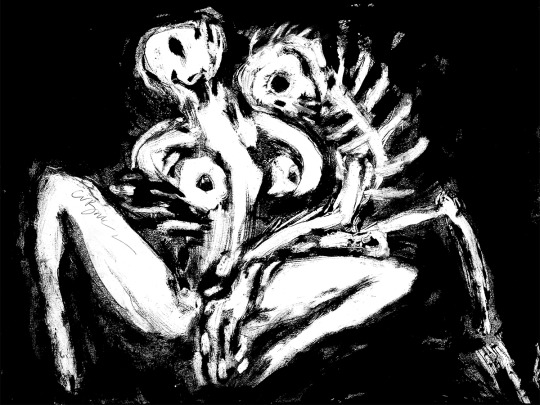 Mirror Mirror 2
an anthology
featuring new comics and drawings by
Lala Albert / Clive Barker / Heather Benjamin / Sean Christensen / Nicole Claveloux / Sean T. Collins / Al Columbia / Dame Darcy / Noel Freibert / Renee French / Meaghan Garvey / Julia Gfrörer / Simon Hanselmann / Hellen Jo / Hadrianus Junius / Aidan Koch / Laura Lannes / Céline Loup / Uno Moralez / Mou / Chloe Piene / Josh Simmons / Carol Swain
horror / pornography / the Gothic / the abject
edited by Sean T. Collins & Julia Gfrörer
published by 2dcloud
Q1 2017 | advance copies Fall 2016
"For darkness restores what light cannot repair"
teaser image by Clive Barker
Mirror Mirror 1 | available now for preorder
August 14, 2014

True, in a way, to its title, Lauren "Lala" Albert's Alien Invasion III has two primary concerns: aliens and invasiveness. The former are presented in the fashion that has become Albert's trademark as an artist working with science-fictional imagery in an underground context — otherworldly and elfin, their ubiquitous third eyes a collective locus of mystical enlightenment, erotic fascination, and viscous physicality all at once. The invasions are varied. Aliens visit Earth, humans visit other worlds, humans and aliens travel between worlds together. Alien biology is probed by a human performing an autopsy, explored by two aliens in a body-modification ritual with romantic undertones, inserted unexpectedly and forcibly into an unsuspecting human's more familiar body. In all four cases the theme is intimacy, invited or not.
I reviewed Alien Invasion III by Lauren Albert (aka Lala Albert) for The Comics Journal.