Posts Tagged 'Hellen Jo'
March 11, 2016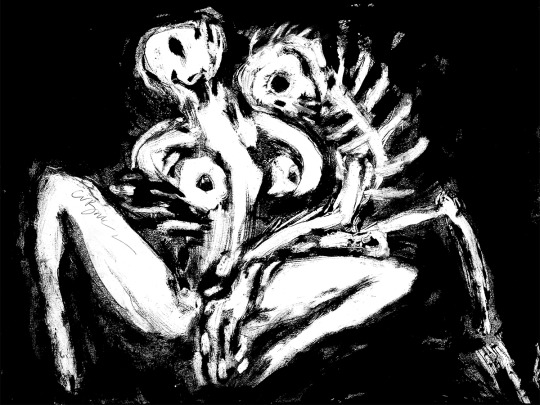 Mirror Mirror 2
an anthology
featuring new comics and drawings by
Lala Albert / Clive Barker / Heather Benjamin / Sean Christensen / Nicole Claveloux / Sean T. Collins / Al Columbia / Dame Darcy / Noel Freibert / Renee French / Meaghan Garvey / Julia Gfrörer / Simon Hanselmann / Hellen Jo / Hadrianus Junius / Aidan Koch / Laura Lannes / Céline Loup / Uno Moralez / Mou / Chloe Piene / Josh Simmons / Carol Swain
horror / pornography / the Gothic / the abject
edited by Sean T. Collins & Julia Gfrörer
published by 2dcloud
Q1 2017 | advance copies Fall 2016
"For darkness restores what light cannot repair"
teaser image by Clive Barker
Mirror Mirror 1 | available now for preorder
June 10, 2011

Prison for Bitches
Ryan Sands, Hellen Jo, Calivn Wong, Anthony Ha, Makkinoso, Gea, Sophia Foster-Dimino, Chris Kuzma, Johnny Ryan, Sophie Yanow, Chris "Elio" Eliopoulos, Michael Kupperman, Adam Bronson, An Nguyen, Mickey Zacchilli, Lisa Hanawalt, Anthony Wu, Evan Hadyen, Leslie Predy, Monika Uchiyama, y16o, Ryan Germick, Saicoink, Angie Wang, Tony Tulathimutte, Andre Syzmanowicz, Raymond Sohn, Michael DeForge, Mia Shwartz, Patrick Kyle, Derek Yu, Jordyn Bochon, Seibei, Ginette Lapalme, Nick Gazin, Harvey James, Zejian Shen, Robert Dayton, Aaron Mew, writers/artists
Ryan Sands and Michael DeForge, editors
self-published, 2010
64 pages
$12
Buy it and see an extensive preview at PrisonForBitches.com
The wonderful thing about recruiting a galaxy of underground comics and illustration stars to make a Lady Gaga fanzine is that no matter what kind of extravagant weirdness they concoct, there's a better-than-even chance that at any moment the Lady herself could come along and comfortably out-weird them all. Nearly to a piece, the art, comics, photography, interviews, and essays assembled here by the Thickness team of Ryan Sands and Michael DeForge appear to have been created with a healthy appreciation for their own potential obsolescence in mind, and admiration and awe for the relentlessly and exuberantly creative young woman who'd make it happen. How else to explain the number of contributions that portray Gaga as godlike? In the hands of the Prison for Bitches team, Gaga is a queen seated on a giant telephone throwing trinkets to the huddled masses (Foster-Dimino); a vision appearing in dreams to espouse Anarcho-Gagaism to her supplicants (Yanow); a Big Brother-style disembodied head whose kohl-rimmed eyes stare at the viewer with a totalitarian sex-death gaze like something out of Metropolis (Kupperman); a She-Ra/ELA-esque figure riding through space atop a crystalline Battle-cat (Hayden); a Ray-Ban-wearing Baphomet (Predy); a giant sea goddess towering over the bodies of the drowned (Wang); an empress who lives to be 110 years old (DeForge); a severed head whose tongue, hair, and blood vessels are Cthulhoid tentacles (Aaron Mew). She is seen as supernatural, both a Delphic oracle of fabulousness and a Ring-claiming Galadriel proclaiming "All shall love me and despair."
On the "love me" point, only a handful of the contributors work with the fact that she's a very attractive person, but they're among my favorites: André Syzmanowicz lovingly depicts the curves of her stomach, her breasts, her armpits, even as a werewolf creature gropes her from behind; a strip from Robert Dayton sees an ostensible fan complain about her mediocre music and ripped-off style, finally responding to the question "What do you like about her then?" with "Her navel—I want to lick her navel"; and right between the staples in the centerfold spread that anchors the book's central full-color section, Mickey Zacchilli sticks the singer's famously fit rear end.
Still other contributors take advantage of Gaga's graphic potential for maximum maximalist imagemaking — artist after artist (Jo, Wang, Gazin, Yu, Bochon, Foster-Dimino) have a ton of fun with her hair, culminating in a spectacular caricature of her Coke-can curlers from the "Telephone" video by Harvey James. An Nguyen and the team of Hellen Jo & Calvin Wong provide concert reportage, the former with photos of her cosplaying fans, the latter with comics about the on- and off-stage spectacle of the concert experience.
A trio of prose pieces appear in what seems like ascending order of skepticism; in descending order, Adam Bronson has a funny piece that uses Deleuze and Hegel to analyze the relative potential of Gaga's "Let's Dance" and Frank Sinatra's "My Way" to provoke violence in Filipino karaoke bars; Anthony Ha interviews Vanessa Grigoriadis, author of New York magazine's seminal profile of Gaga's origins and rise to fame, that's best summed up by its title – "I'm a Total Fan of Hers, I Just Am Not a Huge Fan of Her Music"; editor Sands kicks the whole thing off with an utterly sincere and descriptively, persuasively argued "UNDISPUTED TOP 5 LADY GAGA SONGS," featuring genuine gems like "['Alejandro'] sounds like ABBA's 'Fernando' rubbing lotion all over Ace of Base's 'Don't Turn Around' while bathing nude on 'La Isla Bonita'" and "['So Happy I Could Die' is] really just a simple song about being convinced you are the hottest and most desirable person on the earth, and that this can be the best of all possible worlds if we allow ourselves the pleasure." Taken in tandem, they're like a debate between different modes of Gaga fandom, from arch irony to measured respect for a pop-culture needle-mover to downright love for someone who makes awesome songs to dance to.
The whole zine works like this, basically. Whatever it is you get out of Gaga — a pop-art deity, a gorgeous girl, an eye-inspiring spectacle, a thinkpiece generator, a hitmaker — by all means share that fun with a world that doesn't have enough of it. This book is a snapshot of the Gaga conversation, post-"Telephone" video 2010; it's a testament to the contributors and their subject alike that even now that the specifics of that conversation have now been rendered moot by an album full of pinball music and Clarence Clemons sax solos with a cover that reads "BORN THIS WAY" over a picture of the artist as a motorcycle with a human head, I'd love to hear them have it all over again. Prison for Bitches is a Little Monster must-have for any Gaga fan.