Posts Tagged 'comics'
Friday, December 19th, 2014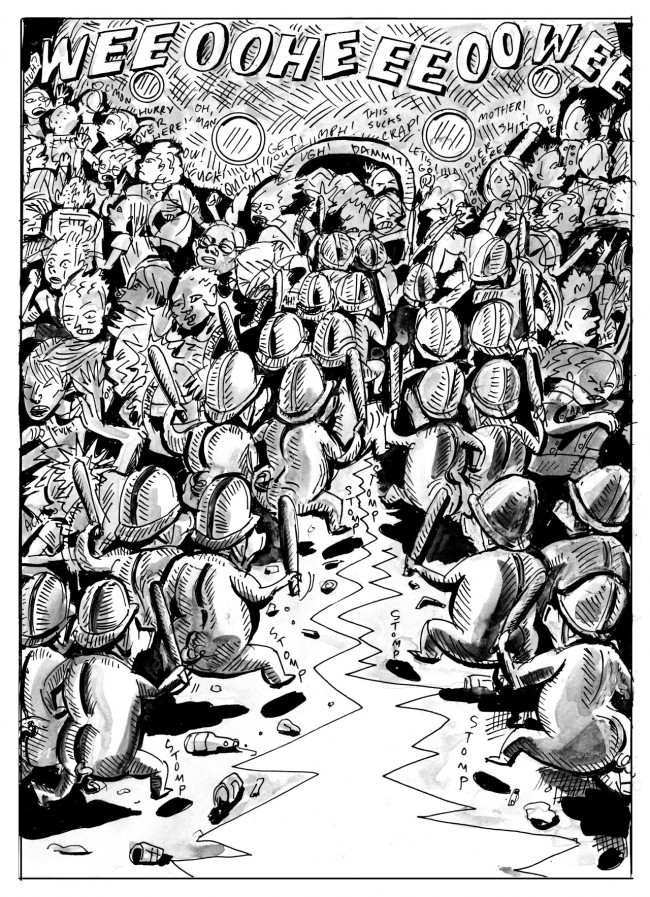 [LEAH WISHNIA:] I honestly don't really think too much about how my own comic work fits into the over-arching canon of alternative comics and such. I'm just trying to do work that I enjoy and that others might appreciate as well. Although I like to think of my own comics style and vision as being unique, I don't feel that it's necessarily at odds with other alternative comics that are being produced and distributed right now—in fact, there's quite a few contemporary cartoonists whose output of work I totally "get," work that seems rooted in a similar place as my own.

Indeed, though, many of my comics have featured characters that act and react quite dramatically, a kind of exaggeration of some negative attributes I see in both myself and in others. I think there's a lot of chaos and pain and greed present in our culture right now that often goes unnoticed or unaddressed, so I like to take those negative things and amplify them until they reach absurd proportions, beating people over the head with it all until someone takes notice.
I interviewed cartoonist/editor/publisher Leah Wishnia for Say Hello!, my column on up-and-coming-cartoonists for The Comics Journal.
---
Thursday, December 18th, 2014
The Best Comics of 2015
Sex Fantasy, Sophia Foster-Dimino
911 Police State, Mr. Freibert
Baby Bjornstrand, Renee French
---