Posts Tagged 'Aidan Koch'
Monday, December 17th, 2012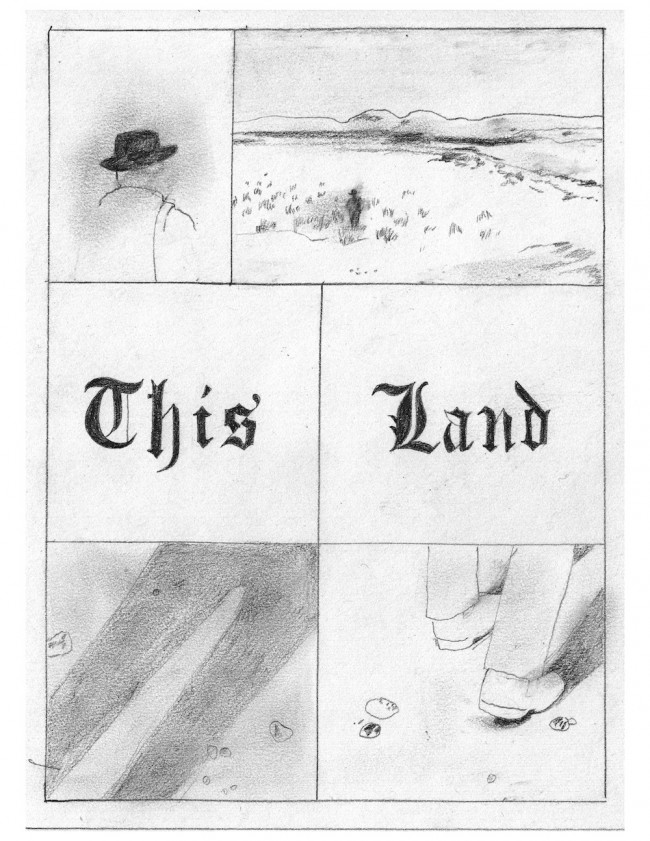 I interviewed Aidan Koch for my column about up-and-coming cartoonists at The Comics Journal. Her comics are a knot of unusual artistic impulses that it's a pleasure to untangle.
---
Wednesday, February 2nd, 2011
Studygroup 12 #4
Zack Soto, Steve Weissman, Eleanor Davis, Michael DeForge, Trevor Alixopulos, T. Edward Bak, Chris Cilla, Max Clotfelter, Farel Dalrymple, Vanessa Davis, Theo Ellsworth, Jason Fischer, Nick Gazin, Richard Han, Jevon Jihanian, Aidan Koch, Amy Kuttab, Blaise Larmee, Corey Lewis, Kiyoshi Nakazawa, Tom Neely, Jennifer Parks, Karn Piana, Jim Rugg, Tim Root, Ian Sundahl, Angie Wang, Dan Zettwoch, writers/artists
Zack Soto, editor
Milo George, editorial/technical advisor
Published by Jason Leivian and Zack Soto, December 2010
80 pages
$20
Buy it from Zack Soto
This is going to come out sounding waaaay more like a diss than it's intended to, but in flipping through the comeback installment of this Zack Soto-edited alt/artcomix anthology a few weeks after my initial read-through, I realized I didn't remember anything in it prior to cracking the covers once again. Which is fine, I think! Looking at it now, Studygroup12 #4 seems to me to be much more an art book than a comics anthology. For one thing it's exquisitely made: Beautiful screenprinted neon-pink-and-aqua covers inside covers (trust me, it's much glowier than the scan above suggests); a gallery of impactful pink/blue/purple splash pages to kick things off and close things out, including some of the most striking images Jon Vermilyea and Dan Zettwoch have ever constructed out of their customary melty-monster and diagram styles respectively; pages printed in the vivid, inky blue-purple of a carbon copy. It's a lovely package even compared to the similar approaches of Mould Map and Monster. My point is simply that all these things point to a book that works better from moment to moment as a catalog of images and illustrations rather than one whose strength arises from the cumulative impact of individual sequential narratives. Flipping through, I'm struck by the weird mystical sensuality of Aidan Koch's portraiture and triangular caption boxes; the Renee-French-on-a-photocopier haze of Jennifer Parks's creepy little strip; the pleasure of seeing Tom Neely images reproduced at a much larger size than his customary minicomics; the strength of the way Vanessa Davis designs leering faces, something that's much clearer to me here than its ever been in the comics I've seen from her elsewhere, which frankly have never bowled me over the way they have so many readers; some funny punk/thrash/metal/trash pastiches from Vice Magazine's mustache-at-large Nick Gazin (I wish a HAUNTED HOLOCAUST: "THE TEENAGE TITS TOUR" t-shirt actually existed). But much of what really reads as comics does so rather weakly — an uncharacteristic experimental misfire from Michael DeForge; the return of USApe, my least favorite Jim Rugg character; diminishing returns from Vermilyea's anthropomorphized breakfast gang, which here get a little too Milk and Cheese-y; a Farel Dalrymple strip that's drowned out by its over-shading; etc. Ultimately it's really only Blaise Larmee's riotously confrontational anxiety-of-influence comic, in which one of his trademark prepubescent/elfin protagonists navigates her way through some sort of abstract geometric maze only to stand in front of a menacing reproduced photograph of Charles Schulz (!!!), that hits me hard as comics; perhaps not coincidentally it's the first time I've seen anything from his whole Comets Comets crew that makes good on their kill-yr-idols gotta-make-way-for-the-homo-superior internet trolling. As a look at the Portland-helmed turn-of-the-decade artcomix look, it's swell; as a look at their comics, and where they might take everyone else's, it's only a start.
---
Monday, January 10th, 2011
Mould Map #1
Jason Traeger, Daniel Brereton, Aidan Koch, Massimiliano Bomba, Stéphane Prigent, Kitty Clark, Matthew Lock, Lando, CF, Jonathan Chandler, Matthew Thurber, Brenna Murphy, Drew Beckmeyer, Colin Henderson, Leon Salder, writers/artists
Hugh Frost, Leon Sadler, editors
Landfill Editions, December 2010
16 large pages
$12
Buy it from Landfill
Buy it from PictureBox
Learn more at MouldMap.com
Ingenious idea, meet ingenious execution. In this gorgeously printed, oversized anthology, a posse of prominent and obscure artcomickers create evocative one-page science-fiction strips/images/whatever — not so much to tell a complete story as to convey a mood, an environment, a series of story possibilities that emerge into the past and future of the events depicted on the page. Aidan Koch's bold all-caps lettering meshes perfectly with her story of a nude, distraught wanderer of the highways who knows that something terrible is growing inside of him. Lando's similarly perambulatory protagonist is confronted in the final panel by a reptilian counterpart, the ominous of the sudden meeting conveyed by superimposing a massive image of the creature's head over the panel itself. CF's contribution features a warrior in freefall and ends with the phrase "ENTERING ENEMY AIRSPACE" — it stops where the story starts, basically. Jonathan Chandler's soldiers marvel after one of their fellows — "He really did it. He went out alone after the lights." — whose journey to a cryptic series of what look like cardboard cutouts of robots or aliens remains unexplained. Many more pages are simply wordless images or wordless series of images featuring vaguely science-fictional figures doing vaguely science-fictional things. The tight space constraints offer the participants a welcome opportunity to step away from the typical worldbuilding concerns of alt/artcomix-genre hybrids and instead focus on world-evoking, a sense of what it would be like to be there, even when you don't know what or how or why "there" is. The comic is printed in a flourescent orange and blue palette, like Cold Heat's pink and blue gone radioactive — a post-apocalypse run by a New York Mets memorabilia cargo cult. It's a fine package and a delightful combination of form and function.
---