* Gossip Girl aired its series finale a few weeks ago. I watched every episode of that show and spent much of that time delighted in smiling-while-shaking-my-head-and-muttering-"you-magnificent-bastards" fashion. My friends Ben Morse and Kiel Phegley have reviewed the finale and the entire series in a two-part conversation that's my favorite writing about Gossip Girl I've ever read. Here's part one and here's part two. The final two episodes of the show included two major events I'm still trying to wrap my head around; they both leave a bad taste in my mouth, but as Kiel and Ben convincingly argue, a Gossip Girl climax that didn't leave a bad taste in your mouth wouldn't be Gossip Girl.
* Edie Fake has come out of nowhere with a series of gouache and ballpoint-pen pictures of buildings called Memory Palaces that are among those rare works of art that make me go "Wow, I had no idea you could do that." If you took the castles at the end of a Super Mario Bros. level and imagined that culture evolved forward a thousand years, you'd get something like this. It also puts me in mind of the old NES game Milon's Secret Castle, or at least my hazy memories of same. Finding out where the buildings are from only makes it more remarkable. I sit and stare at this art like an apeman at the monolith. Never saw it coming.
* Still the best: Matthew Perpetua has released the Fluxblog 2012 Survey Mix, a TEN-disc overview of the year's best music. It's an overwhelming number of songs in a dizzying variety of genres and styles, but Matthew puts each disc together with thought and care and attention to flow, so you should feel free to DL 'em all but listen to them one at a time. Find one with a few songs you dig or are intrigued by and let the rest come at you.
* My wife is a teacher and we are parents, and Chris Ware is the greatest cartoonist, so virtually every aspect of Ware's New Yorker cover and essay about Newtown resonated with me deeply. This passage in particular evokes the way all of my personal and political anger and dread runs together lately:
In the course of the next few days, I was privy to the exchanges among my wife and her colleagues about Newtown, culminating in flabbergasted e-mails and Facebookings following the farcical N.R.A. press conference. Memes abounded, like, "First they call us union thugs and now they want to arm us?!" and self-mocking jokes about their own forgetfulness: "Do you really want to trust people like us with guns?" (Teachers are notoriously overworked and so occasionally forget their two pounds' worth of keys in one classroom or another.) What astonished me most was that the gun lobby seemed to imply that it was somehow partly the unarmed teachers' fault that the Newtown shooting occurred at all. Well, why not? Isn't everything lately always somehow the teachers' fault?

Meanwhile, our government revved its engines to Evel-Knievel itself over the fiscal cliff, civilization's rock face having partly crumbled away because a clot of representatives seem to feel that government shouldn't be funded at all. Over the holiday break, news arrived that thirty-seven Philadelphia public schools were closing because of budgetary cuts, and meanwhile the whole idea of public education continues to be cored out nationwide by taxpayer-funded private "charter" schools in a sleight of hand that I still can't believe is legal. (Meanwhile, my union-thug wife is too busy grading papers and planning lessons to be able to get properly mad about it all.)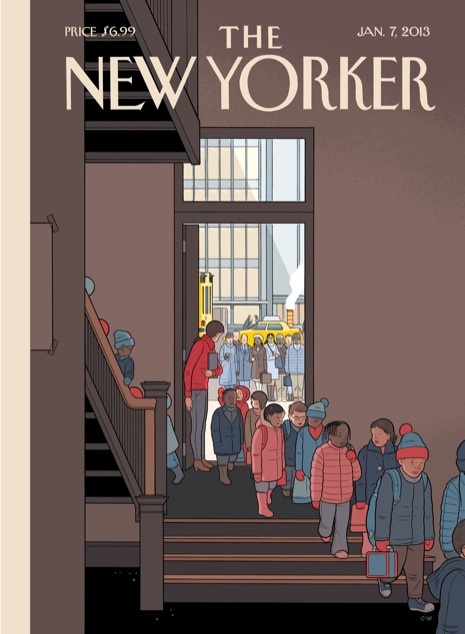 * A pair of standouts from Tom Spurgeon's Holiday Interview series: Tom Kaczynski on his surprisingly ambitious micropublishing outfit Uncivilized Books and Dean Haspiel with a startlingly frank and harsh assessment of his own career.
* Spurge also put together a list of 50 good things that happened in comics in 2012. That's a usefully ameliorative list.
* The Comics Journal has self-selected its best posts of 2012. Something for everybody.
* Forgot to link to this before, but wow: The MoCCA Festival, now under the new management of the Society of Illustrators, has announced a new steering committee for its 2013 show: Anelle Miller, Kate Feirtag, and Katie Blocher from the Society, as well as Leon Avelino (Secret Acres), Charles Brownstein (Comic Book Legal Defense Fund), Karen Green (Columbia University), William Hatzichristos (CollectorZoo), Paul Levitz (Writer/ Educator), Barry Matthews (Secret Acres), and Tucker Stone (Bergen Street Comics). That's an institution that's getting serious about a small-press show that suffered from years of malign neglect — as ably detailed by Barry and Leon, who are now helping to guide it. Also I'm sure Tucker Stone and Paul Levitz will have a lot to talk about.
* Please go read First Year Healthy by Michael DeForge, now available in its entirety on one continuously scrolling page. Subtly effective horror with an extravagantly inventive sense of design. This is one of the best things he's ever done.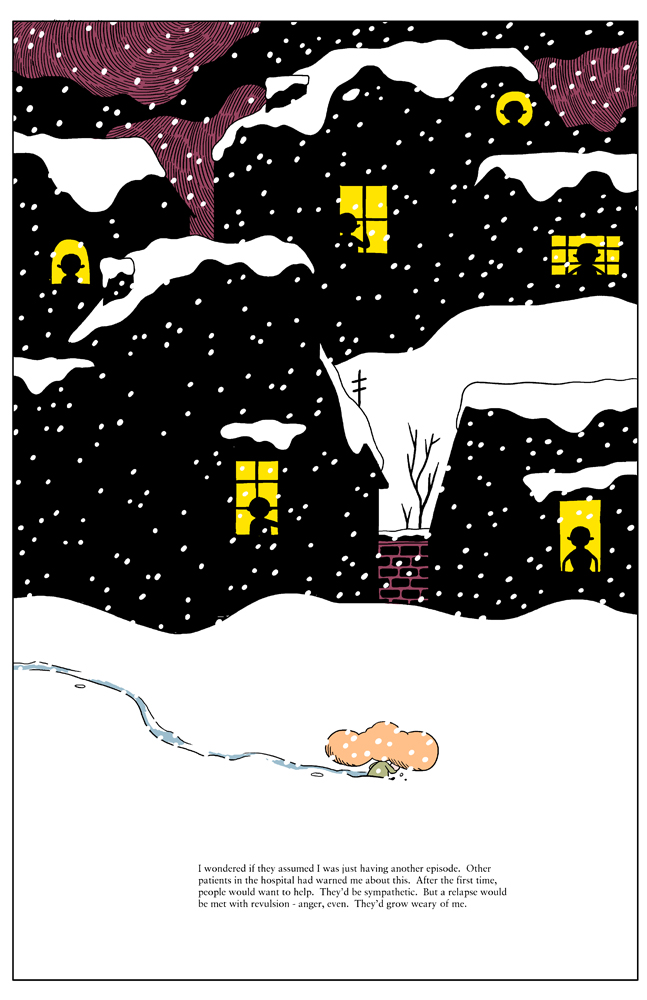 * Mr. Freibert's hot streak continues. It's seriously like he's a new artist.
* In contrast with the previous few links, all of which involve artists breaking their own mold in some way, this jaw-dropping Julia Gfrörer piece is more a matter of her becoming the most Julia Gfrörer she can be. I said "Jesus, Julia" out loud when I opened it.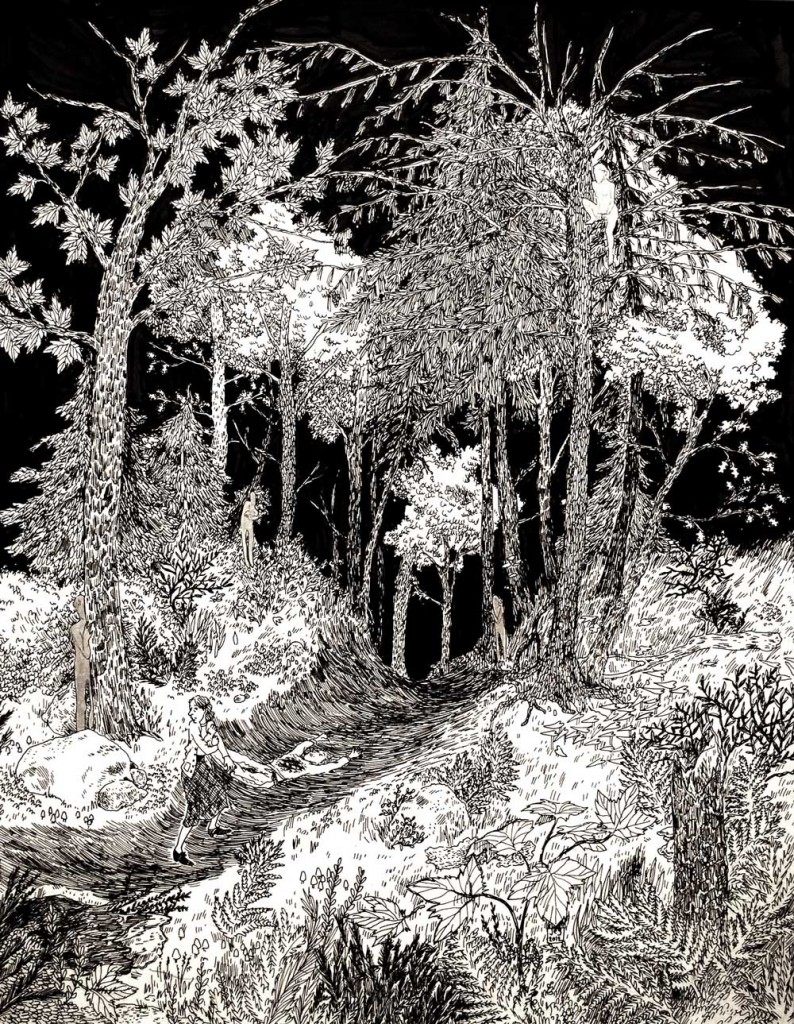 * Always good to see new Uno Moralez work, no matter how small.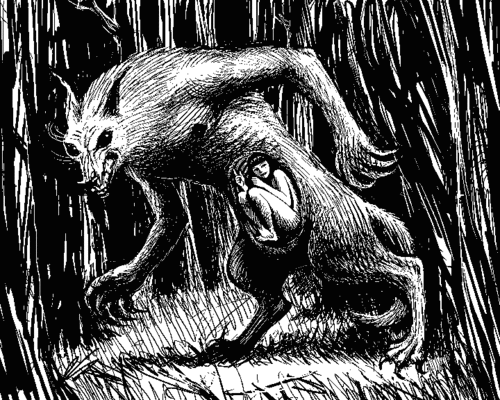 * Gorgeous cover by Zach Hazard Vaupen. Makes me wish he'd work in color more often.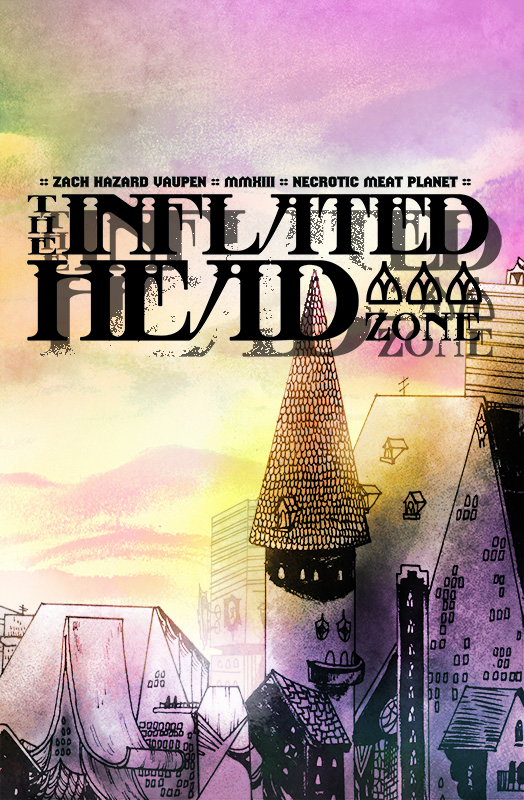 * Dave Kiersh continues to post his old minicomics, which are ungainly and funny and pervy and immature and romantic and which put it all out there.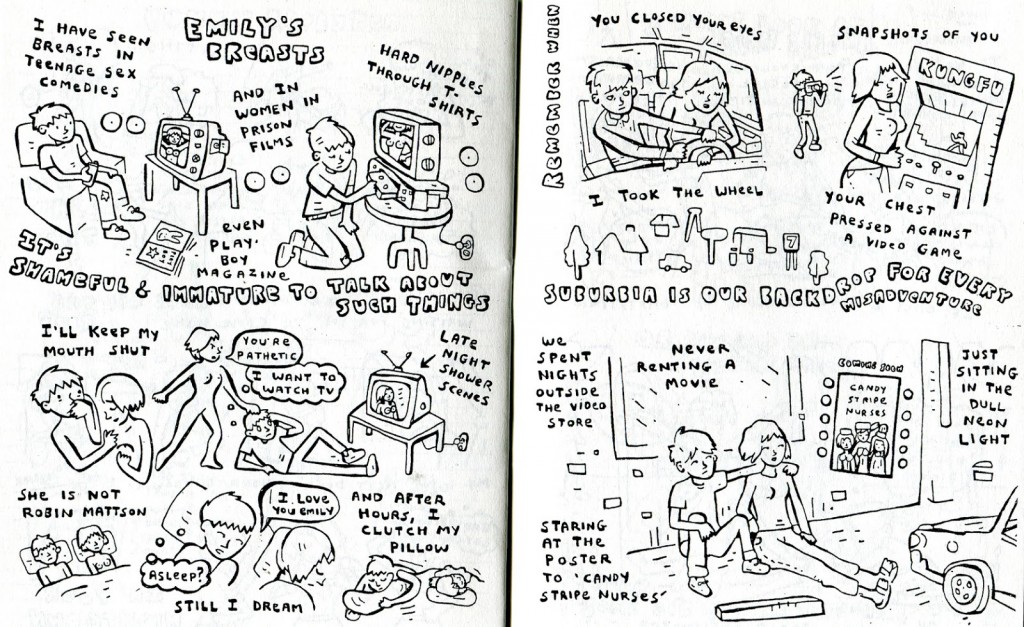 * Chris Mautner talks to Frank genius Jim Woodring about his super-fun sketchbook Problematic.
* Finally, congratulations and come back soon to Chris Ott, who says he's wrapped up the initial run of his Shallow Rewards music-criticism video essays with (oh boy oh boy oh boy) the first two installments of a promised shit-ton of videos about shoegaze.
SHALLOW REWARDS // 24 SHOEGAZE (PART ONE) from Shallow Rewards on Vimeo.
SHALLOW REWARDS // 25 SHOEGAZE (PART TWO) from Shallow Rewards on Vimeo.
Tags: Carnival of souls, comics, gaming, horror, links, music, real life, TV