* The San Diego Comic-Con International starts tomorrow evening, but for all intents and purposes it's already underway, if by "all" you mean "PR."
* The main announcement to break through the fog for me so far is that Fantagraphics will be debuting not only Love and Rockets: New Stories #5, which I think it's safe to say is eagerly anticipated following last year's installment, but also a new line of L&R t-shirts OMGGGGGGGGG!!!! There's no more t-shirt-ready artist in all of comics than Jaime, and Gilbert's no slouch either. UPDATE: THEY'RE ONLY AVAILABLE AT THE CON, BOOOOOO TO THAT, BOOO BOO BOOOOOOOO, SERIOUSLY FUCK THAT

* If you didn't read Tom Spurgeon's essay about the 30th anniversary of Love and Rockets, Los Bros Hernandez, and the San Diego Comic-Con, you really should. Aside from making a terrific capsule-format case for the greatness of all three cartooning Hernandez brothers and their series as a whole, Tom reminds us that Comic-Con is what we make of it, and that a better way to keep the Comic in Comic-Con than joking about movie studio people is to find and engage with the comics portions of it. A milestone anniversary of one of the greatest comics of all time is a pretty easy way to do that.
* The death of a Twilight fan struck by a car outside the convention center is an awful way to start the show. (Via Jill Pantozzi.)
* In other news…
* The Mindless Ones wrap up their commentary on the latest League of Extraordinary Gentlemen. Adam's right that something about the Harry Potter battle felt inconsequential, but I ultimately decided that was the point.
* MoCCA's physical museum closed abruptly. They charged an awful lot of money for table space and admission at their festivals and it's a shame to see it wasn't spent in such a way as to prevent this.
* David Bordwell provides an overview of the latest edition of his and Kristin Thompson's Film Art, which doubles as an essay on filmmaking as a series of choices. Killer new cover for the book, too. No pun intended.
* Hey, wanna see a 3-D Craig Thompson/Theo Ellsworth jam comic?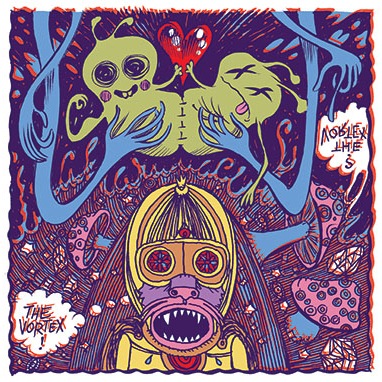 * I LOLd for this installment of Puke Force by Brian Chippendale.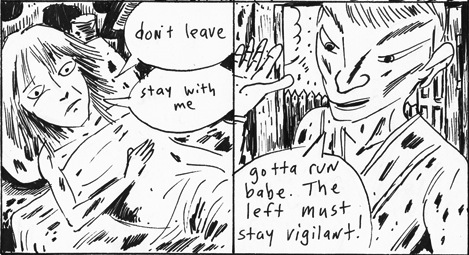 * Matt Furie does Simon Hanselmann's Megg & Mogg. From the upcoming guest-star-studded "acid episode"!

* We've all been there, Scott Pilgrim. (Via Kiel Phegley.)
* A lady by my collaborator Isaac Moylan.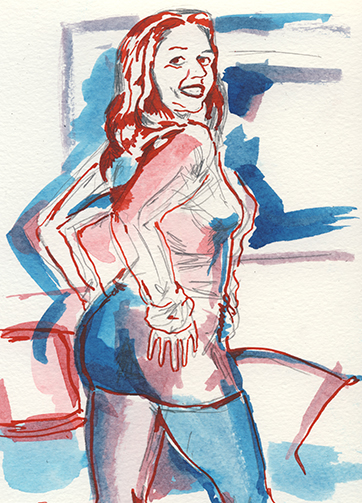 * A lady by my collaborator Jonny Negron.

* Chris Ware is an articulate and empathetic interview subject, even a moving one as the end of this interview makes very clear, but he is also just a machine for churning out hilariously embarrassed reactions to his own work. I wish I had the cock-of-the-walk attitude of all the people I've seen making fun of Ware for his genuine self-effacement. Must be nice to breeze through life like that! (Via Drawn and Quarterly.)
Tags: Carnival of souls, comics, links, movies, real life, t-shirts