* Double congratulations to Matthew Perpetua, my favorite music critic, for his new gig as music editor at Buzzfeed and for his wonderfully well done Fluxblog anniversary show last night. I had a marvelous time, photo evidence of which is available below. Click here to download a playlist consisting of all the songs that Matthew and the guests (Emily Gould, Heather, D'Angelo, Mark Richardson, Amy Rose Spiegel, me, Amanda Petrusich, Dick Valentine, and Rob Sheffield) talked about; mine was "Leaving Hope" by Nine Inch Nails.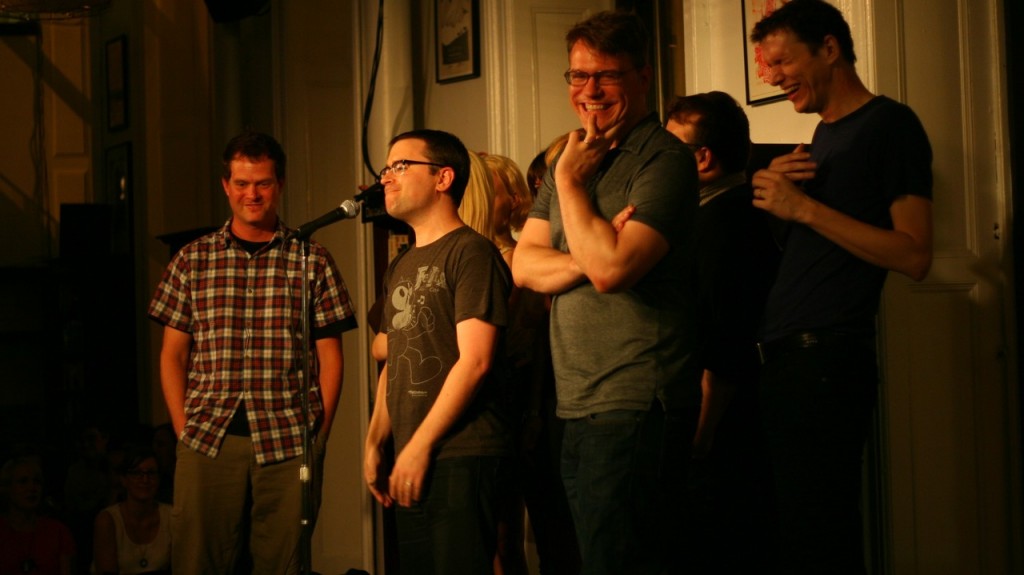 * Please read my friend Tom Spurgeon's extraordinary essay about nearly dying, then losing over 200 pounds. Please read my friend Bill Magee's extraordinary essay about getting mugged for the fourth time, then remaining a kind person. I hate that they both went through what they went through, but look what they did with it. Also, Tom will be serializing a book-length version of his epochal "Comics Made Me Fat" essay on his website, which is wonderful news if you like personal writing from the best comics critic alive.
* Grant Morrison says that he's down to his final four superhero comics projects before leaving the genre for the foreseeable future: Action Comics, which he'll stay on through issue #16; Batman Incorporated, which he'll wrap up with issue #12; Multiversity, the forthcoming eight-issue miniseries; and an unknown Wonder Woman project. In this interview with my pal Kiel Phegley (part one of three) he also talks about Happy!, his four-issue miniseries with Darick Robertson at Image, and about Image Comics' position in the industry as a sort of standard-bearer for a certain kind of creator-owned comic.
* Related: DC is postponing the release of Batman Incorporated #3 due to violent imagery it feels would resonate inappropriately with the Aurora shootings.
* Back to Tom Spurgeon: His San Diego Comic-Con reporting was second to none, especially but by no means exclusively in terms of covering the actual comics portion of the con in addition to the Comic-Con Experience. Here's his final overview; here's his roundup of the big news. It does a body good to hear that the crowd popped for Los Bros Hernandez, giants among men that they are.
* Digital Tales Designed to Thrizzle by Michael Kupperman! Great choice for their digital-comics launch by Fantagraphics — that books is very accessible to altcomedy audiences.
* I'm really going to miss Jessica Campbell, the newly departed PR honcho for Drawn and Quarterly. Easy to work with and easy to talk to at cons. But based on her exit interview with Tom Spurgeon it sounds like she's got good plans, so it's hard to begrudge her from escaping comics' gravitational well. Also, her farewell San Diego photo parade is one of the best I've seen; here's her pic of Spurge emceeing the Two Minutes Hate portion of the Eisner Awards program.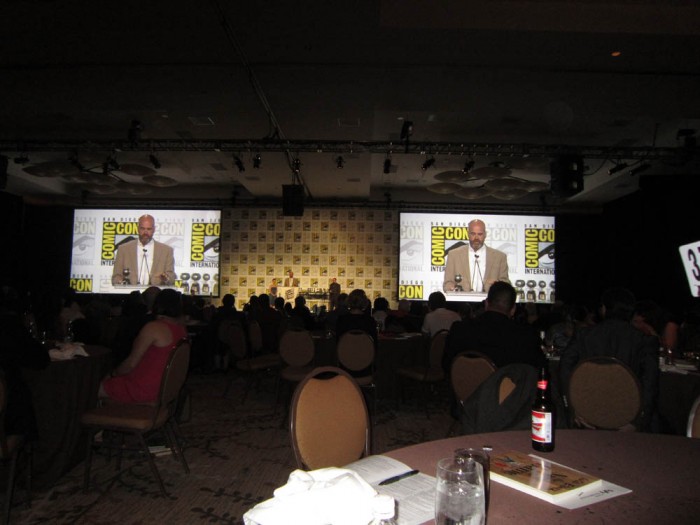 * Frank Santoro presents Comics Workbook, a new group blog featuring Frank, L. Nichols, Brandon Soderberg, Mickey Zacchilli, Chuck Forsman, Andrew White, Sophie Yanow and various other notables. An early highlight: this post by Dorothy Berry about connecting with Ernie Bushmiller's Nancy as a twentysomething the same way she connected with Enid Coleslaw from Daniel Clowes's Ghost World in her teens:
The emotional transition from relating to the detailed inner life of Enid to the monochromatic punnery of Nancy is analogous to the transition from listening to an entire Bright Eyes album to just needing to hear the Beach Boys sing "Sometimes I feel very sad."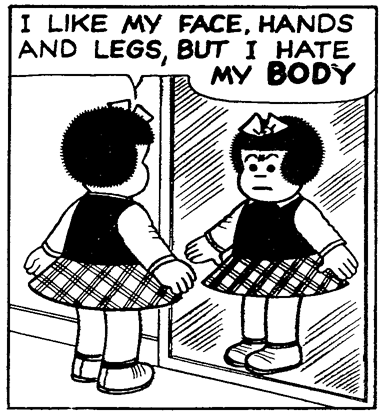 * This week in astonishing Michael DeForge Ant Comic pages I've decided are homages to specific works I enjoy even though they probably aren't: that grid fight from Hard Boiled by Frank Miller and Geof Darrow? Related: Lose #4 in September!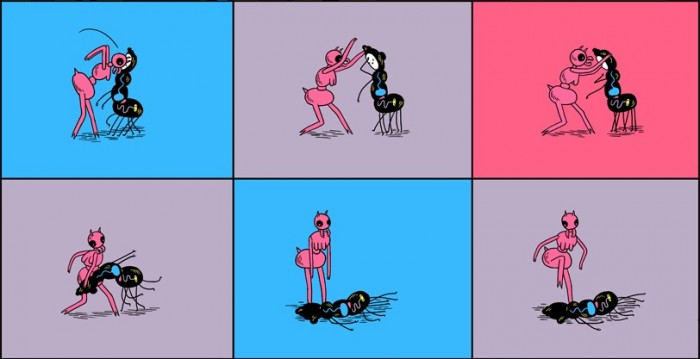 * Oh look, it's the cover for Renee French's Bjornstrand.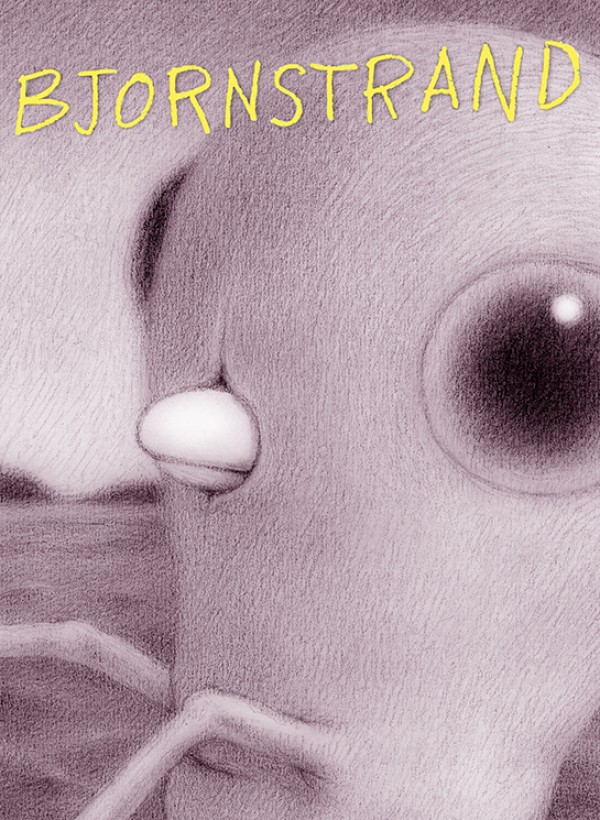 * And here's the cover for its fellow PictureBox limited-release artcomic, Frank Santoro's Pompeii. There's something almost D'Aulaires about it.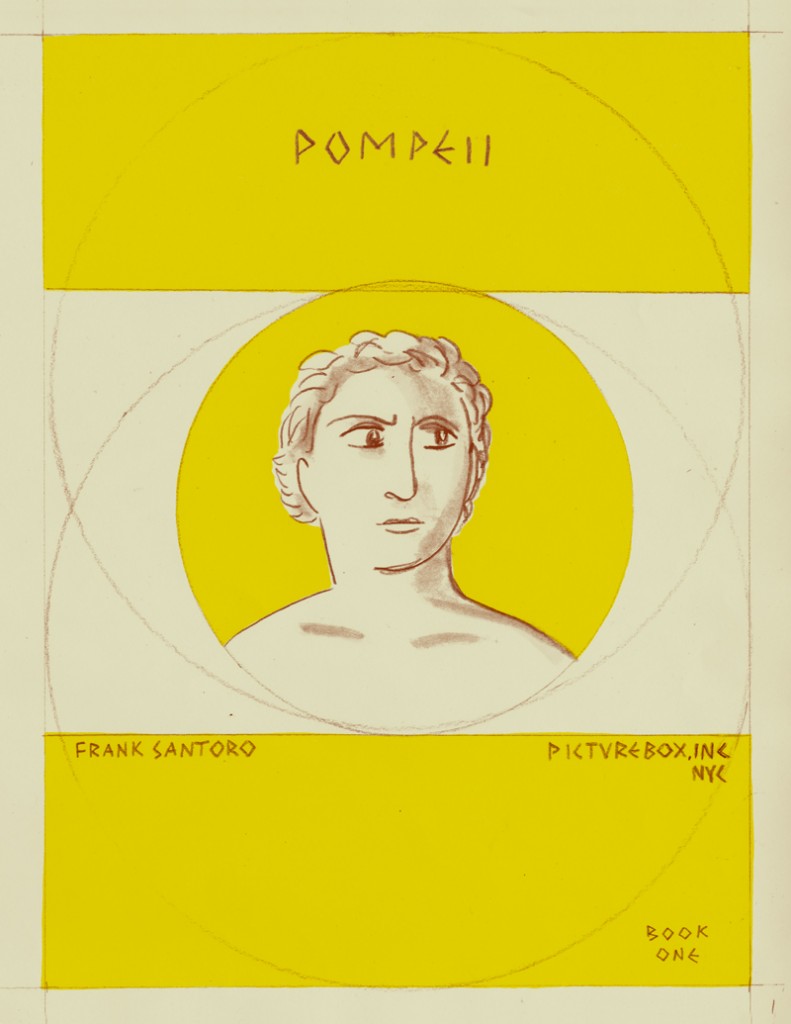 * Eleanor Davis's comics have been bracingly bleak lately. Hell, they've been lately, which is exciting right there.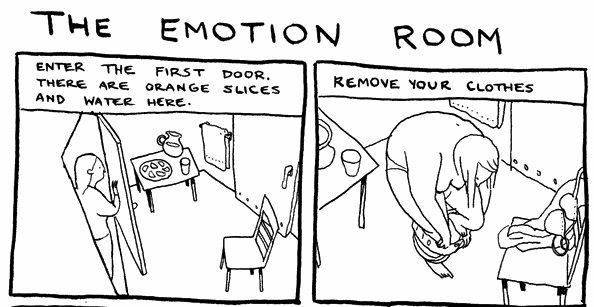 * Have I mentioned that Gabrielle Bell is doing her July Diary again?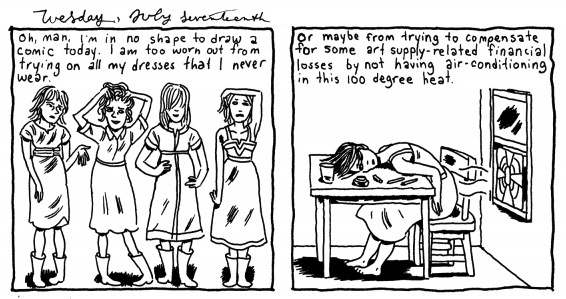 * Have I mentioned that Strangeways: The Thirsty by Matt Maxwell, Gervasio, and Jok is very pretty?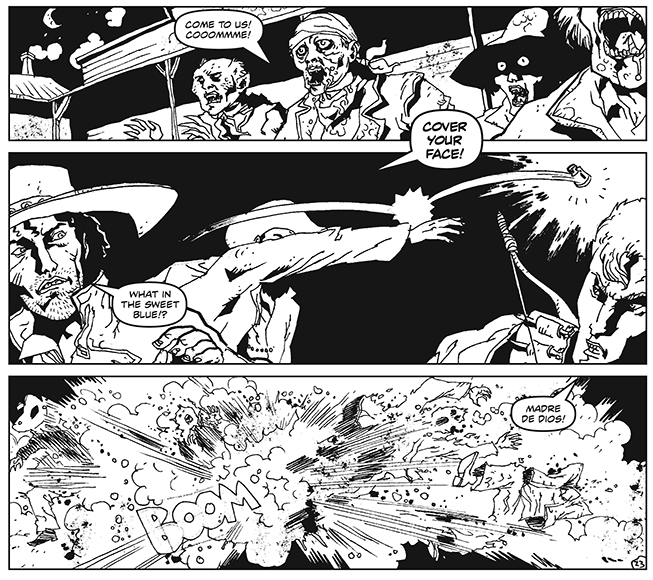 * Whoa, Simon Hanselmann's working really blue in this Megg and Mogg strip. Blue enough to make me say "whoa." Less so in this one. Much less so in this one. They are all so lushly colored. Where'd this guy come from?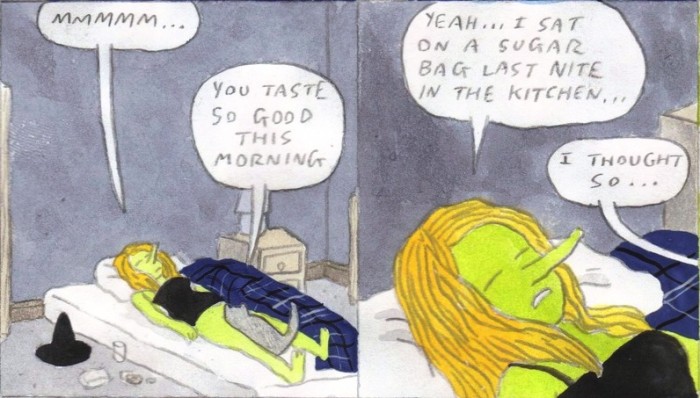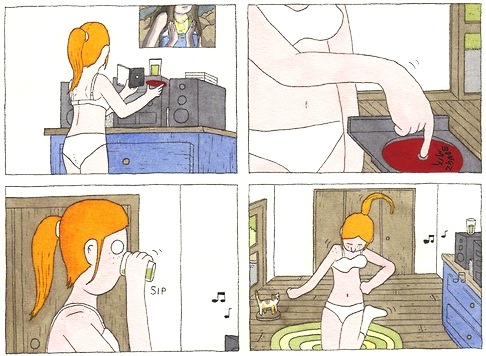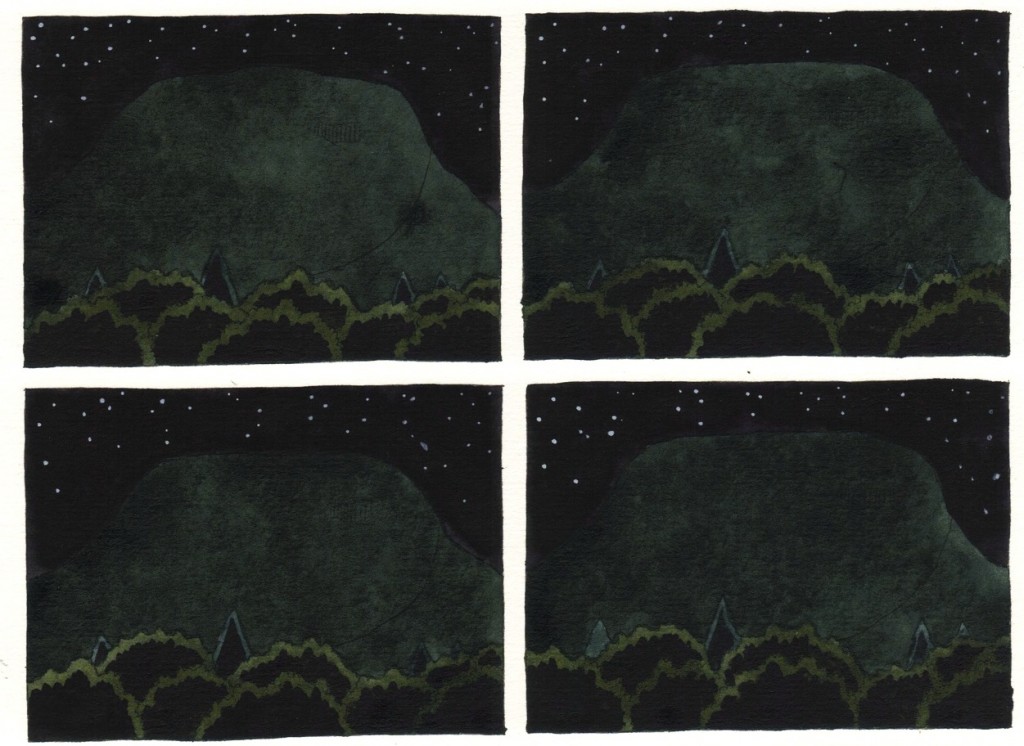 * Kali Ciesemier's illustration for an article about the increasing "sexiness" of women athletes' uniforms is itself increasingly sexy. Unpack that, why don't you.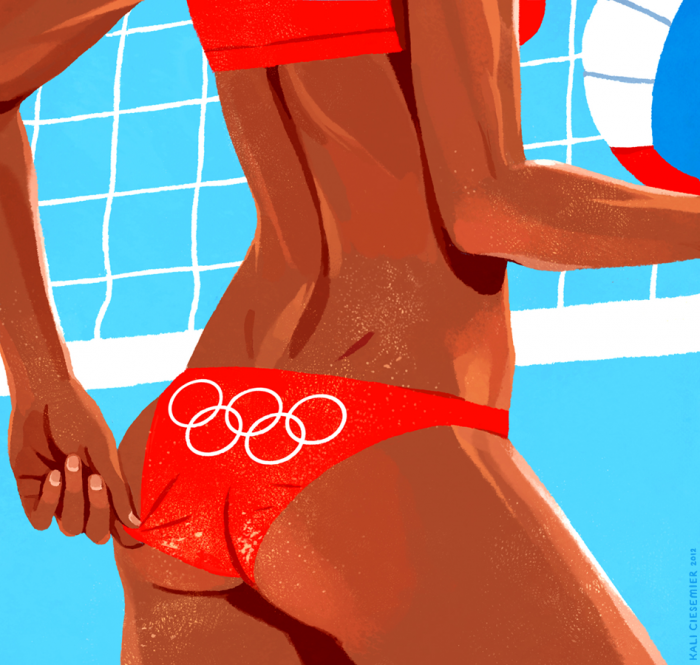 * Jonny Negron, Jonny Negron, Jonny Negron. I often don't even comment on Jonny's stuff, I just post it and let it speak for itself, but I feel like his color work is radically underappreciated, including by me. Look at that green water.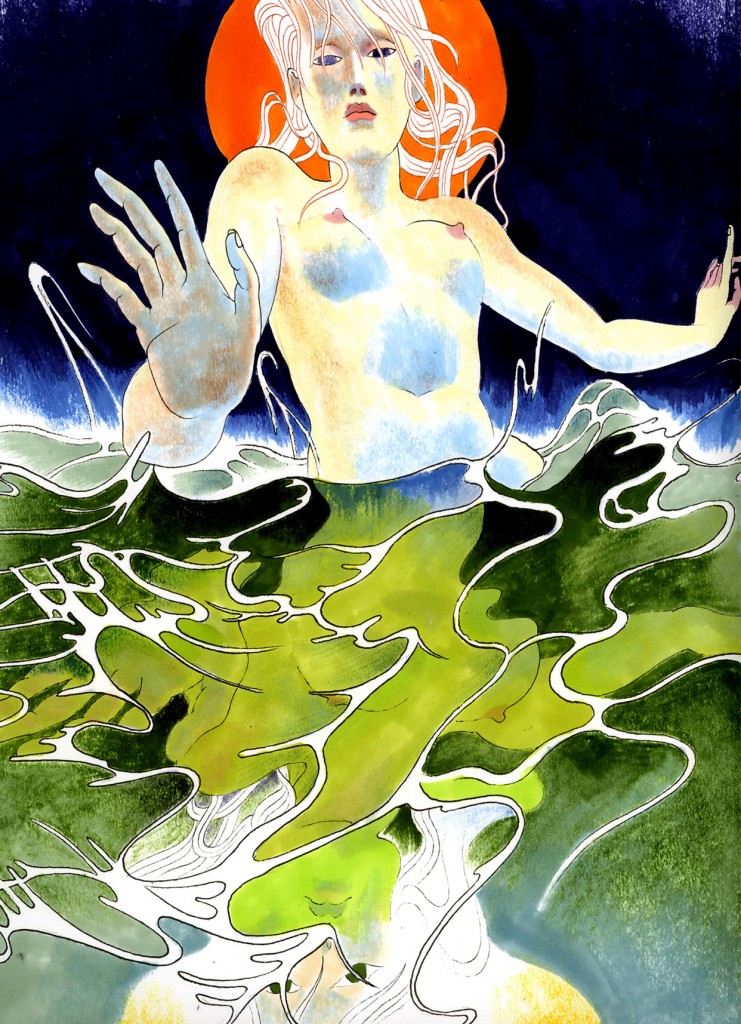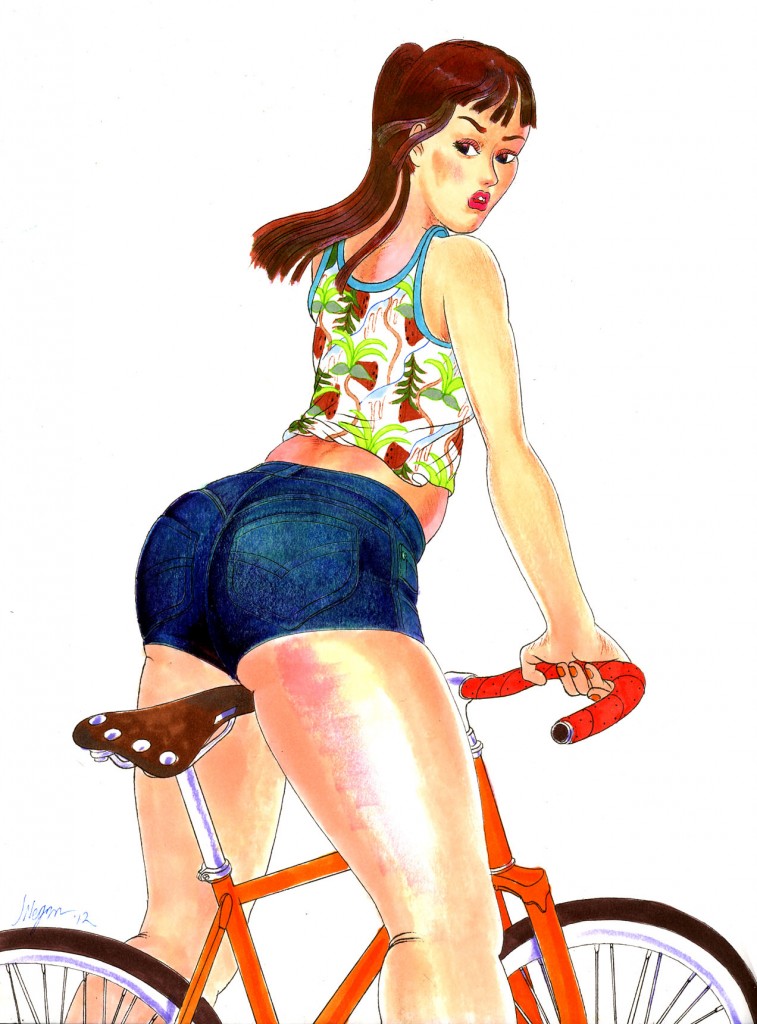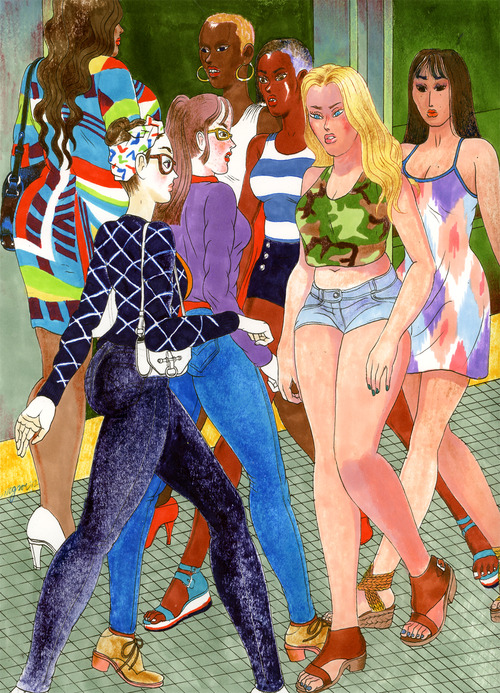 * Speaking of water, Julia Gfrörer's new Black Is the Color cover is the most solid-looking thing she's ever drawn.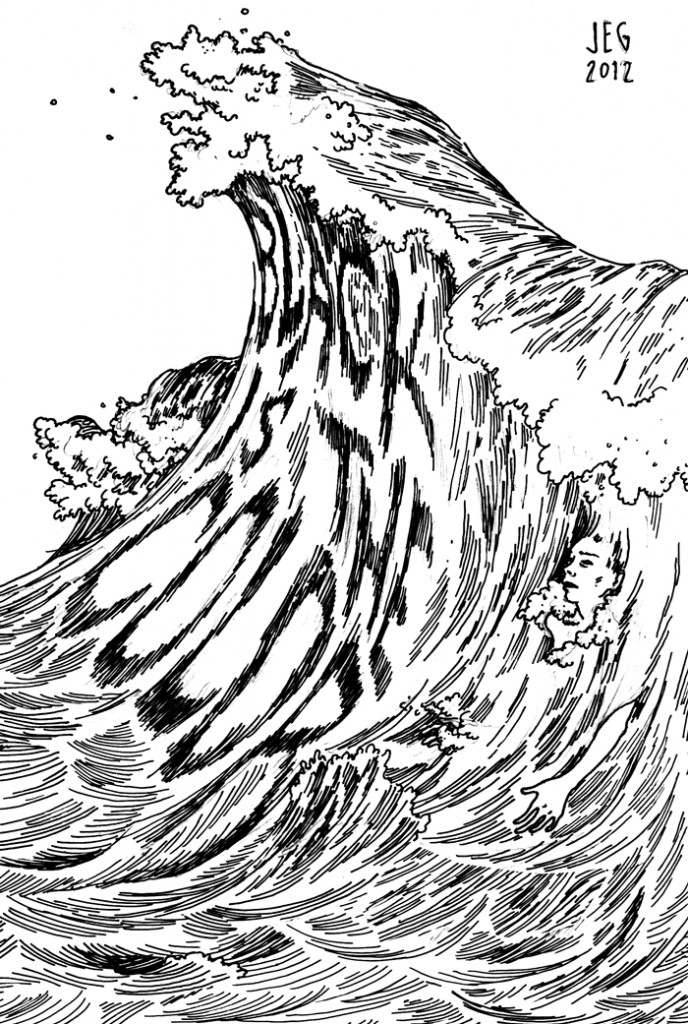 * Robert Boyd on the music of Love and Rockets. (The comic, not the Bauhaus side project.) (Via Tom Spurgeon.)
* I feel deeply, personally vindicated that Dan Bejar from Destroyer shares my love for Avalon by Roxy Music.
* Despite the usual undercooked lyrics, this Kreayshawn video is endearing and fascinating for three main reasons: 1) the sound of the song is like "What if we took one of those obnoxious sing-songy Avril Lavigne/Ashlee Simpson brat-pop songs we used to do and gave it to someone who was actually gleefully obnoxious?"; 2) Holy cow, she's lovely; 3) I suspect the vividly colored, ersatz 3D visuals, in which typically inanimate elements are animated, were designed to simulate Ambien hallucinations.
* Three cheers for the Darkness's new album cover. Very glad they/he are getting it going again; their second album is hugely underrated as songwriting — it starts super strong. Oh yeah, that link has the studio version of them covering "Street Spirit" by Radiohead.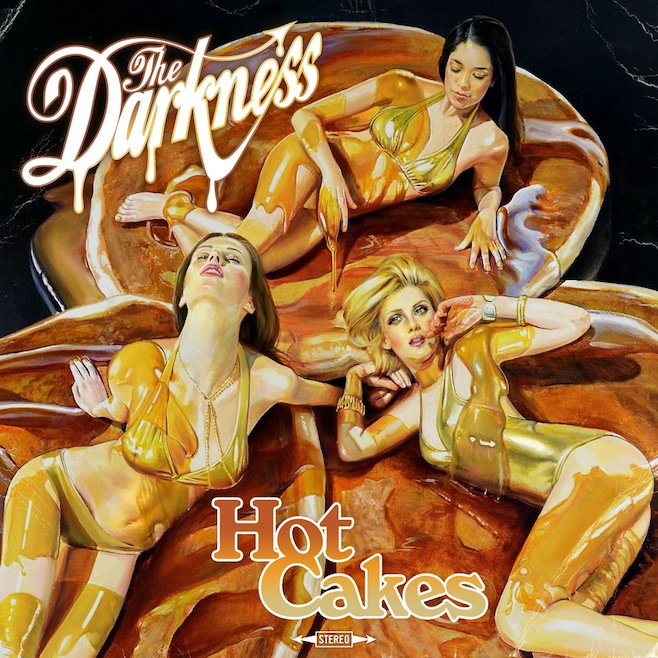 * MY BODY IS READY, NEW BAT FOR LASHES ALBUM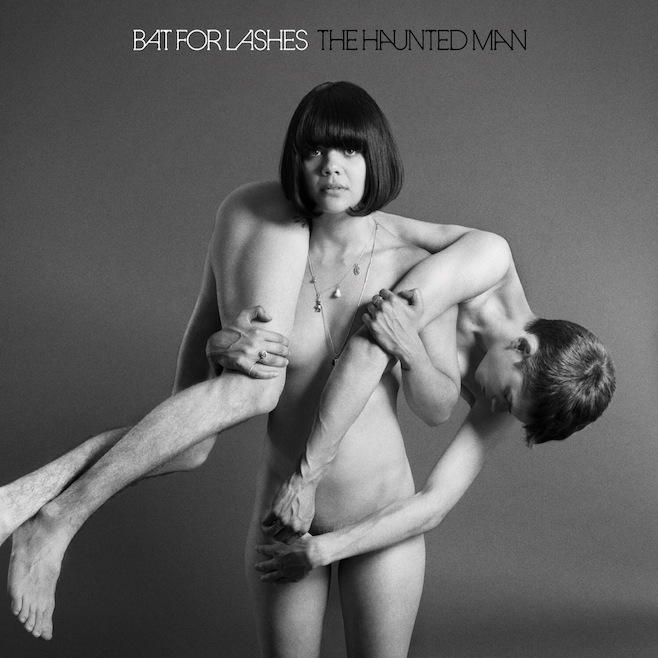 * Oh look, it's page after page after page of videos, photos, and miniature essays about Cindy Crawford-era MTV House of Style. It's not even nostalgia, it's as close as we'll get to physically rupturing the timestream and encountering the vividly remembered past. Cindy Forever.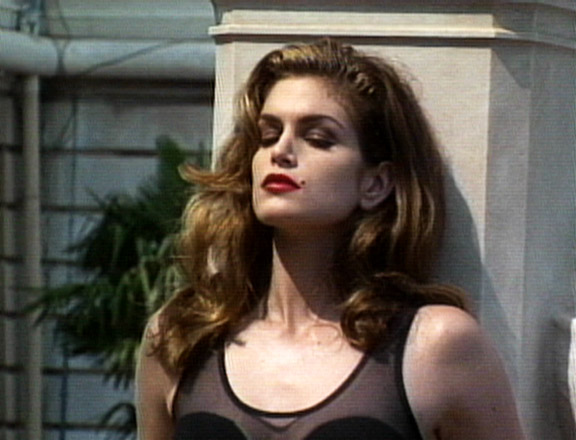 Tags: Carnival of souls, comics, links, music, TV