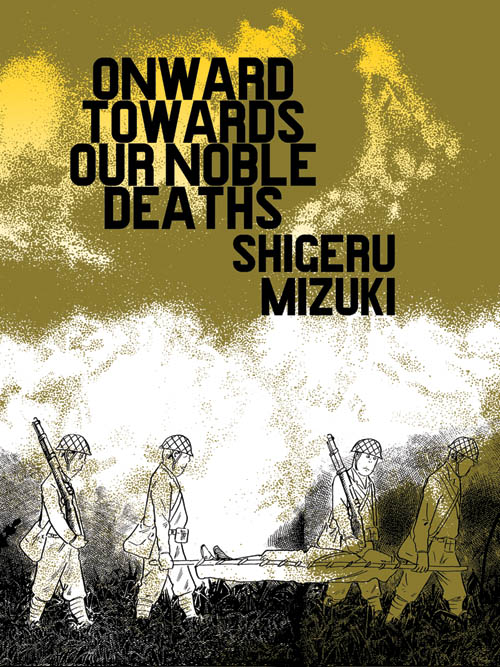 Onward Towards Our Noble Deaths
Shigeru Mizuki, writer/artist
Drawn and Quarterly, 2011
368 pages
$24.95
Buy it and read a preview from D&Q
Buy it from Amazon.com
Here's a book with a hugely important message to which I am very sympathetic, which is never less than enjoyable to read or look at, which I nevertheless didn't get a ton out of, in the end. A fictionalized memoir of Mizuki's participation in the Japanese military's ill-fated attempt to repel invading American forces from a South Pacific island, Onward Towards Our Noble Deaths alternates between expressively cartooned vignettes among the troops that show off Mizuki's incongruously cute, oblong/oval-headed character designs — seriously, it's like an army of Berts from Sesame Street — with powerful, passionately drawn photorealistic depictions of both the tropical island environment and the carnage it comes to house. Mizkuki's disgust with the who-gives-a-fuck pointlessness of the men's mission, and the callousness with which the commanding officers order the men into suicide runs when the mission inevitably fails, is palpable; interestingly, it comes through equally well in the black-comic cartoony material, which depict the forces' slow attrition through disease, accidents, enemy forces, and even animal attacks, and in the astonishingly proficient hatching of the realistic scenes, wordless depictions of the island and the ocean and the spectral American G.I.s who bring death to them both. But the characters are more or less incidental to the book's agenda — few of them are developed any more than is necessary to convey the idea that it was a waste to send this or that funny or annoying or brave or totally ordinary guy to his death for no reason — and thus the book can only get the emotional hooks required for that idea to connect into you in the abstract. If you already believe that war is hell, I'm not sure this book will enlighten you further, certainly not the way it did when it was initially released in Japan in the '70s. But there's one aspect that stuck out to me beyond the basics: The suicide-charge ethic of the Imperial Army comes across as a bizarre ideology simply grafted on top of an army full of regular guys, who complain and help each other out and badmouth the officers and make dirty jokes same as any other army, banzai or no. And in that sense, it makes you wonder what people half a world and half a century away from us will think of the ideologies that drove us to kill and die, too.
Tags: comics, comics reviews, Comics Time, Drawn and Quarterly, Onward Towards Our Noble Deaths, reviews, Shigeru Mizuki