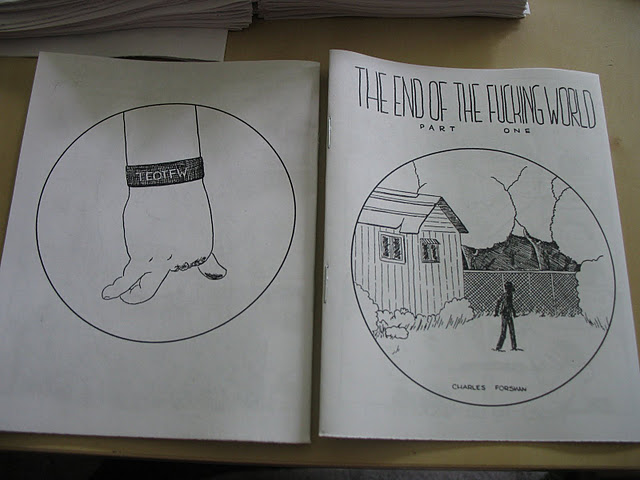 The End of the Fucking World Part One
Chuck Forsman, writer/artist
self-published, December 2011
12 pages
$1
Buy it from Oily Boutique
How's that for a title? And I'm pleased to say the contents are just as good. Forsman has become a must-read talent for me; each new minicomic shows growth. He's a cartoonist of great restraint, in terms of both visuals (this is all slight, feathery lines and quiet, flat-affect "acting" from the characters) and pacing (this is all no-nonsense page-long vignettes, with dialogue and captions strategically deployed for a steady beat-beat-beat rhythm). His characters themselves feel considered and lived-in. The lead character here is a believably blasé creep recounting his childhood, marked by killing animals, mutilating himself, and discovering his inability to feel love or have a sense of humor. But thanks to a terrific hesher character design, his evident sociopathy come across not like some heavy-handed depiction of a budding Ted Bundy but like a satire of run-of-the-mill teenage-dirtbag-ism. He's like Beavis Bateman.
These two potentially opposing views of our hero come together in the story's centerpiece, the four pages dedicated to his going-through-the-motions relationship as a 16-year-old with his pretty, forward girlfriend Alyssa. It's easy to see how his aloofness could come across as attractive, and the resulting, detailed depiction of skewed adolescent sexuality is as skeevy and funny and sexy and creepy as they come. He fantasizes about strangling her as she tells him "God, I want you" takes off her shirt; their tongues intertwine like snakes on a caduceus; he presses his face to the convex arc of her stomach as she presses his head down toward her underwear; they have the following amazing exchange as they snuggle on the couch watching TV:

"Have you ever eaten a pussy before?"
"Sure."
"I want you to eat mine."
"Right now?"
The awkwardness, the urgency, the sense of discovery, the sense of revulsion — it's all true, even if you've never stuck your own hand in a garbage disposal on purpose or crushed a stray cat with a stone. Where those aspects of the story will take us is something I'm greatly looking forward to seeing in future issues, given where we've gone here.
Tags: Chuck Forsman, comics, comics reviews, Comics Time, reviews, The End of the Fucking World