* Cartoonist Jerry Robinson has died at age 89. In addition to creating the Joker, co-creating Robin, and basically co-creating what we all picture as "Batman" in terms of the concept's look and cast, he was a pioneering comics historian and creators' rights advocate — proof that even those who benefited from the system didn't have to shy away from trying to better it.
* My BCGC con report can be found at Robot 6. I really like this show — a mainline hit of exactly what I love about comics today — and tried to articulate what sets it apart from comparable cons.
* Secret Acres' dynamic duo of Barry and Leon always whip up the most well-written con reports, and this time is no exception. I don't know how they do it. You really get a sense of their whole experience — creative, commercial, cultural, communal.
* Kevin Czap had one heck of a con haul! His brief overview articulates something I'd sort of picked up on myself, which is that Kramers Ergot is now the elder statesman of artcomics anthologies rather than the place you go to find shit you've never seen before. It's interesting how the new volume's more restrained and refined approach feeds into that vibe.
* And Nick Gazin at Vice has the best of the photo parades. Plus, if you are interested in finding out whether or not he personally finds a given woman cartoonist physically attractive, then boy howdy is it a treasure trove of information. No word on how hot he finds Dan Nadel, pictured below. (Via Jonny Negron.)

* Big get alert: Drawn and Quarterly is picking up Gilbert Hernandez's forthcoming semiautobiographical graphic novel Marble Season. This could be a pretty interesting effort — I mean, okay, it's Beto, so it'll definitely be a pretty interesting effort. But what I mean is that a) the stuff he does for publishers other than Fantagraphics is usually off-brand for him in ways that demand examination, and b) by the sound of it, it's an account of his childhood love of comics, which means it probably will eschew the extreme sex and violence of most of his Love and Rockets and Fritzverse work these days, and thus may help the audience appreciate just how good he is lately without those potential impediments if that's not their thing.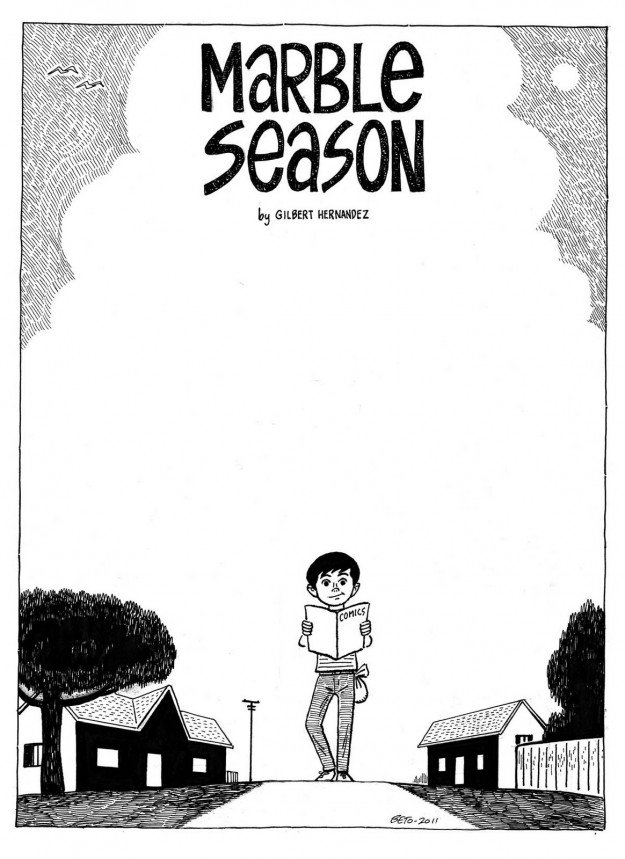 * Holy — The 2011 and 2012 J.R.R. Tolkien Calendars featured Cor Blok?? It's so refreshing to see artists interpret epic fantasy without working in the hyperreal visual tradition — cf. yesterday's Danger Country review — and Blok was one of the best at it. The first time I saw his Tolkien art was a true revelation. Look what you could do with this material! (Via Tom Spurgeon.)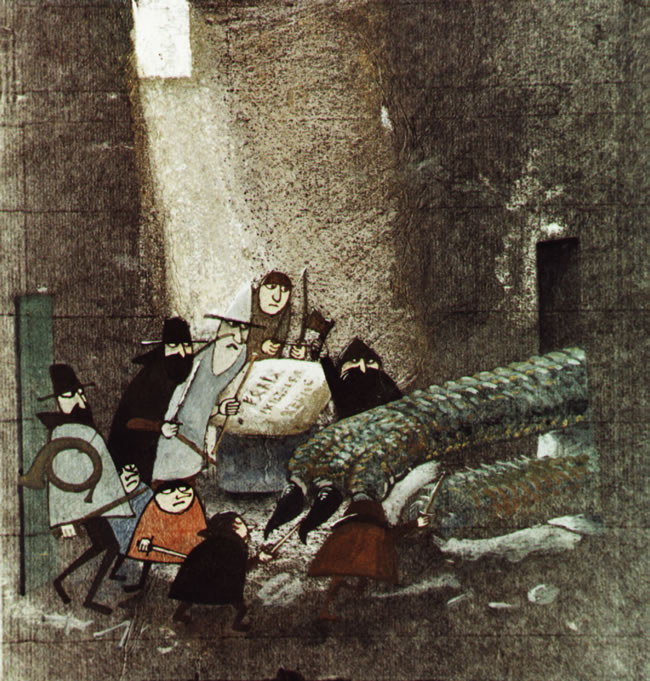 * I love it when Zak Smith/Sabbath just tosses out dozens and dozens of great fantasy storytelling ideas like it ain't no thing. Today he's doing it with barbarian cultures. Come for the ideas, stay for the oblique George R.R. Martin diss!
* Here's a sharp little essay from Matt Seneca on John Romita Sr., "the quintessential Marvel artist." The other week Tom Spurgeon got some José Luis Garcia-Lopez DC character art going around, so I said something on twitter about how José Luis Garcia-Lopez is to DC what John Romita Sr. is to Marvel, that they're equivalently definitive artists for their respective publishers' visual identities. Matt says the same thing in the comments. (Romita trumps Garcia-Lopez in terms of the comics themselves.)
* Whoosh, this Sam Hiti piece is hot stuff. (Via Sam Bosma.)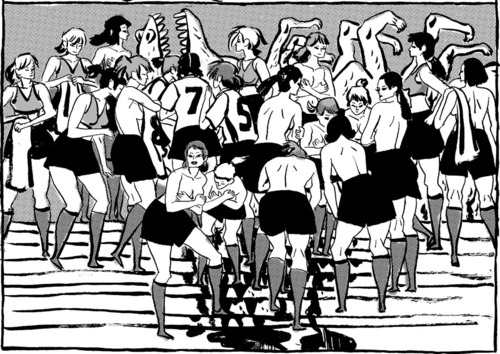 * My favorite band, Underworld, have been named music directors for the opening ceremony at the 2012 Olympics in London. Their longtime collaborator Danny Boyle is the artistic director. And so I'll be watching some of the Olympics!
* A Goldfrapp singles collection could go a long way to showing just how strong their repertoire is. Most underrated band of the '00s.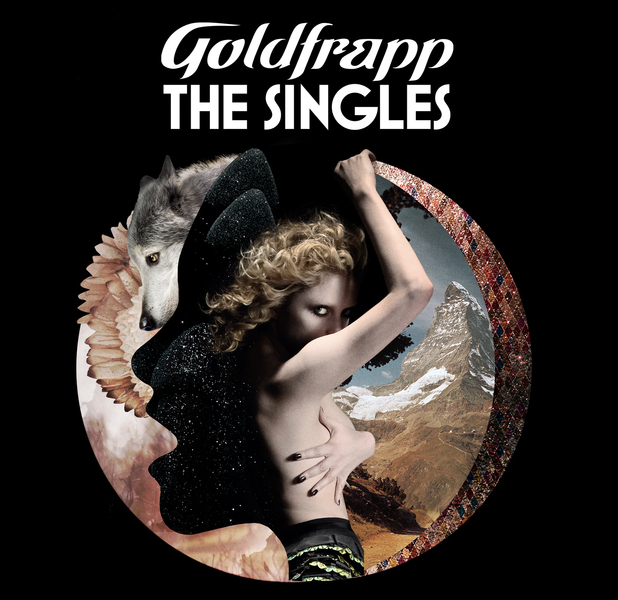 * Kiel Phegley reminds us that this is what Yvonne Craig looked like.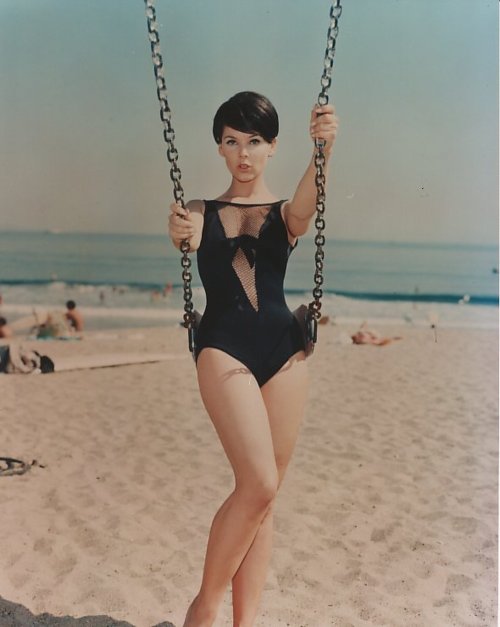 * I feel I've been lax in my duty to direct you to my tumblr for photographs of Beyoncé Knowles and David Bowie, Bowie Loves Beyoncé. Perhaps this will remedy that in some way. Some wonderful way.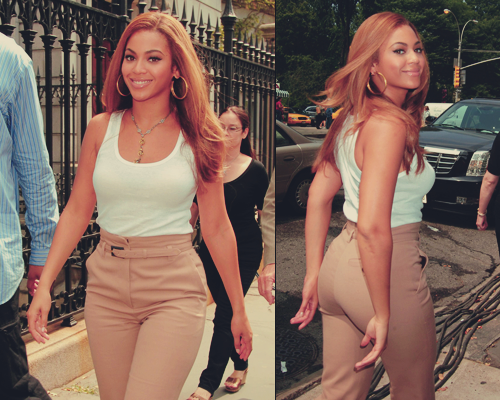 * Finally, start the weekend off right with an Uno Moralez image/gif gallery.
Tags: Carnival of souls, comics, fantasy, gaming, links, music