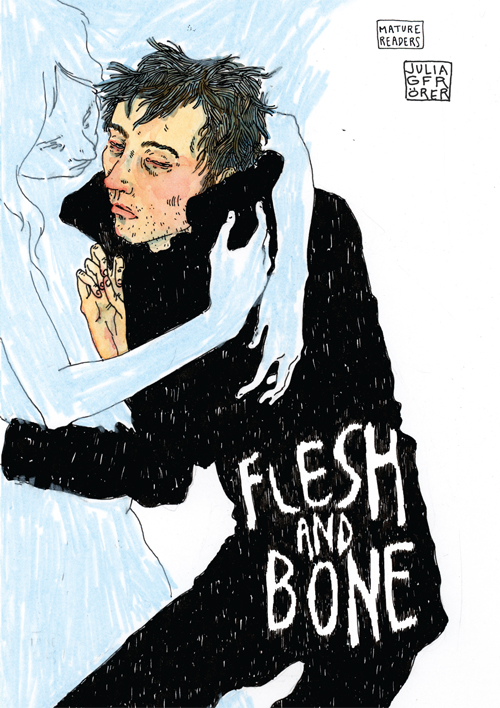 Flesh and Bone
Julia Gfrörer, writer/artist
Sparkplug, 2010
40 pages
$6
Buy it from Sparkplug
Death as an irreparable rupture. Explicit, raw, wounded-animal sexuality. The calculating and casual torture and murder of children. Occult evil that actively belittles the human capacity for love and kindness. It's tough to think of a darker brew than the one Julia Gfrörer serves in Flesh and Bone, the all too aptly titled tale of a man who'll do anything to be reunited with his dead beloved and the witch who's all too happy to accommodate him. But it's a heady brew, too. Gfrörer's intelligence shines through in virtually every particular, from pacing (the excruciatingly interminable sequence in which the bereaved man writhes first in agony then in resigned masturbatory ecstasy on his beloved's grave) to dialogue (a devastating exchange between witch and demon in which love is dismissed as "mutual masturbation," a form of slavery that prevents humankind from pulling itself out of the muck) to strategic absences of dialogue (a harrowing silent sequence in which an owl is sent to blind a young witness to a horrible crime) to character design (the man's Byronic good looks, the demon's disembodied lion head) to facial expression and body language (the witch's arched back and closed lids as she copulates with a screeching mandrake creature) to a cover that nails the appeal of her wiry, frail characters and line. I can think of few efforts in this vein that impress me, or resonate with me, more deeply than Gfrörer's. Highly recommended.
Tags: comics, comics reviews, Comics Time, flesh and bone, horror, Julia Gfrörer, reviews, Sparkplug