* Well, this is certainly nice: My comic in Marvel Adventures Spider-Man #19 is getting good reviews from the folks who enjoy Spider-Man comics. Here's Ray Tate at Comics Bulletin, and here's David Walton at The Reilly Factor. Kitty's Pryde liked my page layouts but didn't like my jokes, which, hey, fair enough. I'm looking forward to seeing if I pass muster with the big Spider-fan sites.
* Oh hey, look, it's four of the best people in the history of comics. From left: Jaime Hernandez, Gilbert Hernandez, Gary Groth, Phoebe Gloeckner. (Via Peggy Burns.)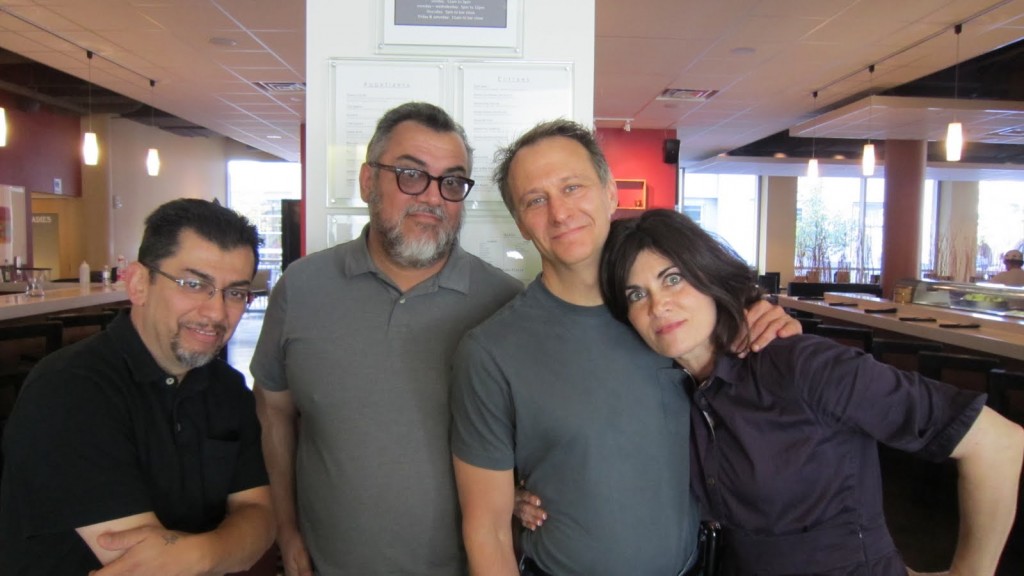 * Over at my A Song of Ice and Fire/Game of Thrones blog, I wrote about the role of social justice in the series, using the conclusion of the Harry Potter series as a counterexample. I elaborated on the point for the benefit of a naysayer, too. I realized yesterday just how important this is to me.
* Recently on Robot 6:
*Good god: Gary Groth interviews Robert Crumb at glorious length. I ran down some of the high points for Robot 6.
* Ng Suat Tong annotated all the flashback panels from Jaime Hernandez's "The Love Bunglers." I added my two cents at R6 as well.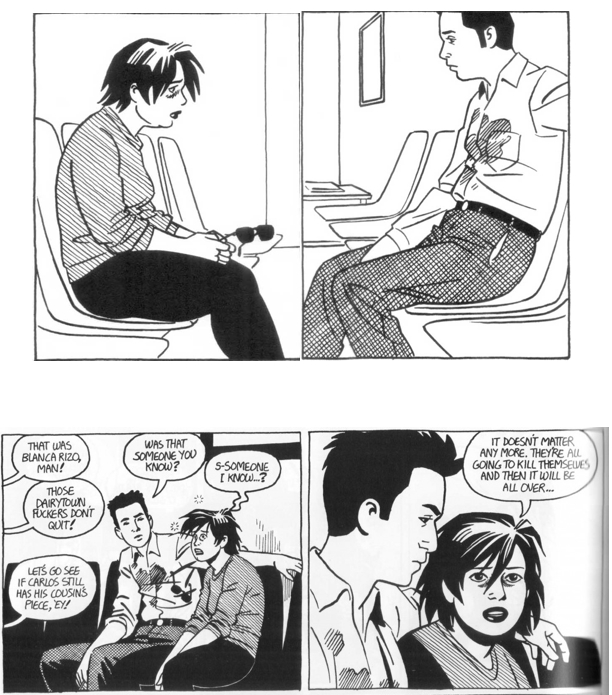 * Emily Carroll's "Margot's Room" has wrapped up. Some lingeringly creepy images in here, as you'd expect.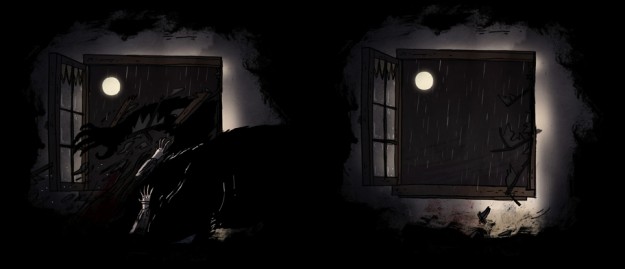 * And here's a quick little highlight reel for the Journal's Habibi roundtable.
* Zack Soto's Study Group Comic Books, Jason Leivian's Floating World Comics, and François Vigneult's Family Style have formed a publishing collective called Press Gang. That's promising.
* Jesus: The French satire magazine Charlie Hebdo put a caricature of Muhammad on the issue that came out yesterday. Later that day, someone blew up their offices.
* The Minneapolis small press show MIX may be having its last hurrah this weekend.
* David Bordwell's latest absolute killer of a film essay is on visual density, specifically the way leaving objects that previously played a role in the narrative within the frame charges that frame with memories. The relevance to comics is obvious. And in terms of Bordwell's recurring themes, he argues that this technique has largely been lost with the primacy of the walk-and-talk/stand-and-deliver binary for shooting dialogue.
* Matt Seneca on recent releases from the great Yuichi Yokoyama. While as usual I disagree with many of his emotional and thematic conclusions — I don't get pessimism from Garden at all; it seems beyond that to me — I enjoy a lot of his specific observations, like the kindly feeling of the book's slideshow-style finale. Plus, the piece includes a bunch of gorgeous art from Yokoyama's thus far untranslated Baby Boom.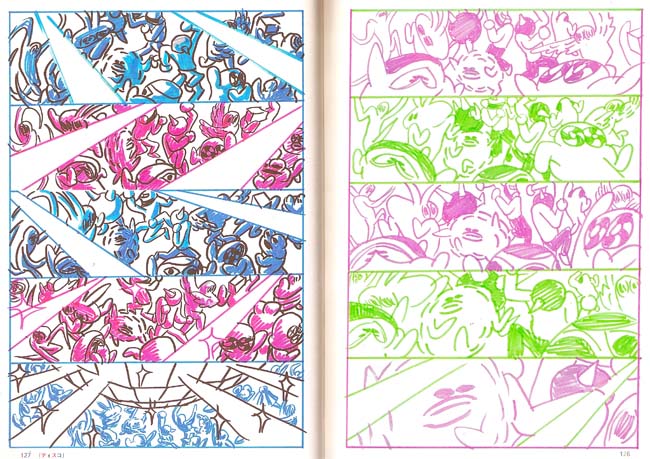 * Joe McCulloch on pre-Code horror comics for the Los Angeles Review of Books. Local boy makes good!
* Ta-Nehisi Coates on the increasingly obvious problem with the NYPD.
* Dan White's latest Cindy & Biscuit story is an all-Biscuit affair. Such vibrant cartooning!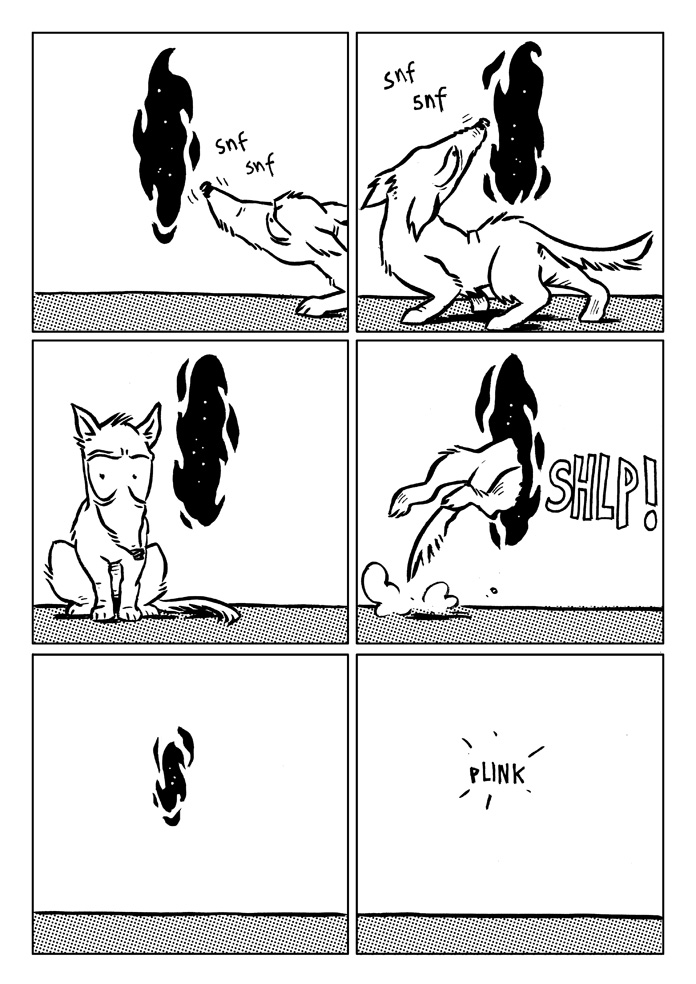 * Michael DeForge previews his next comic, Kid Mafia. I'm detecting a lot of Tim Hensley/Wally Gropius in this one.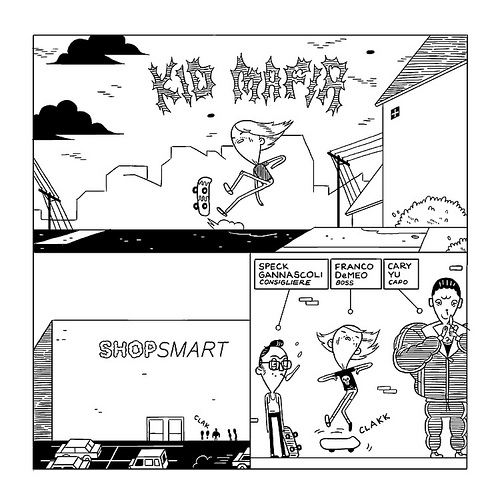 * Oh hey, Jonny Negron decided to mint money by offering prints for sale of his Drive pin-up.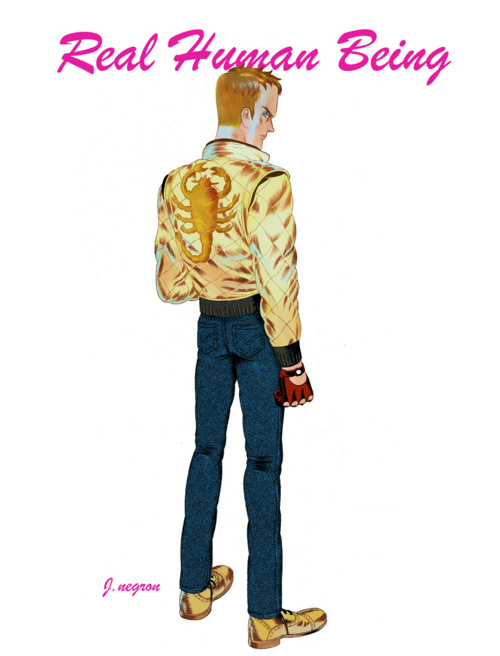 * Andrew White appears to be prepping to post a comic every day this month.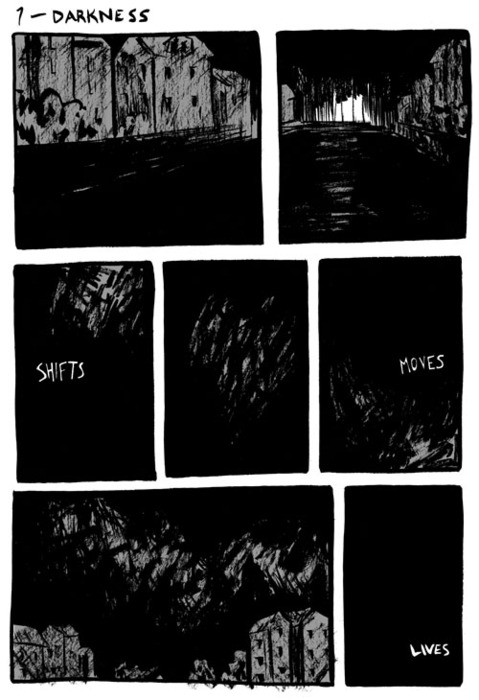 * Keep drawing the sessy ladies, Tom Kaczynski.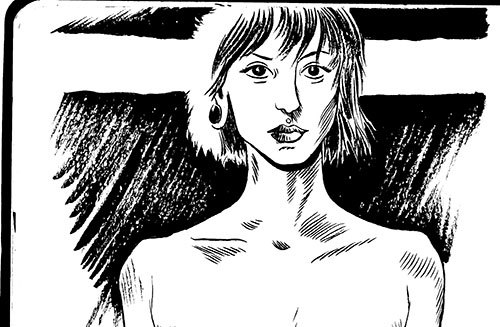 * More hot stuff from Ryan Cecil Smith. You know, it's times like these when I wonder if I should put some kind of NSFW tag at the top of the blog, or if it goes without saying.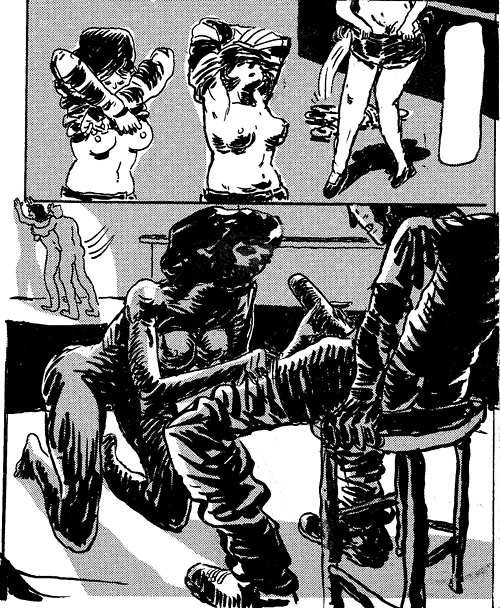 Tags: A Song of Ice and Fire, Carnival of souls, comics, fantasy, Game of Thrones, George R.R. Martin, horror, links, movies, real life, Sean's comics