* Recently on Robot 6:
* The Brooklyn Comics and Graphics Festival has announced its programming slate. Phoebe Gloeckner's spotlight panel and a Tom Spurgeon/CF/Brian Ralph three-for-all are the highlights for me. I'm not sure if I've ever heard Tom talk about CF at length, now that I think about it…
* Related: AdHouse is gonna have a hell of a show, by the sound of it.
* And here's a BCGF debut: Zack Soto and Milo George are (re)launching Study Group Magazine, with a killer initial line-up of comics and journalism that includes work by ADDXSTC faves Chris Cilla, Michael DeForge, Jonny Negron, as well as interviews with Eleanor Davis and Craig Thompson.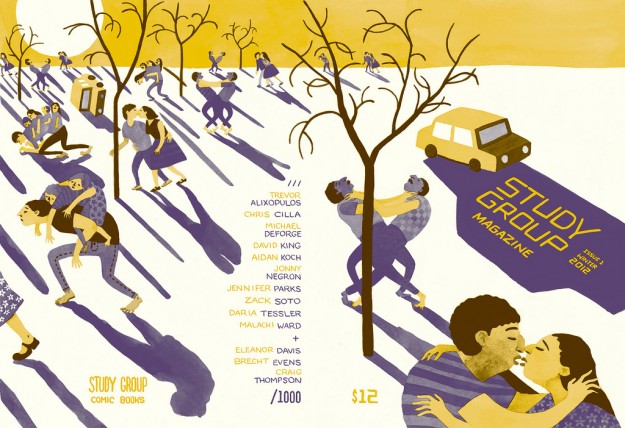 * Does Koyama Press have the coolest publisher backstory ever?
* Inspired by a quote from Chris Mautner's excellent interview with Art Spiegelman about MetaMaus in which Spiegelman explains the pain of having such horrifying and personal subject matter at the heart of his career for so long, I defend Art Spiegelman against his "what have you done for me lately?" detractors.
* And inspired by Nadim Damluji's excellent interview with Craig Thompson about Orientalism in Habibi (although I must warn you not to enter the ensuing comment thread unless forced at gunpoint, and even then you might want to consider taking your chances at disarming the guy), I defend Craig Thompson against criticism to the effect that he doesn't really know what's going on in his own work.
* I'm really enjoying Ben Katchor's increasingly explicit anticorporatism.

* Top Shelf is going digital in a big way, with a couple of comics apps. And damn, the price is right on the books they're launching with. Clumsy for two bucks?
* At last! Image is releasing a collected edition of Brandon Graham's much-lauded King City in February.
* John Porcellino has a new King-Cat coming coming out on Wednesday!
* So this is the cover for Jonny Negron's Chameleon #2. That make sense.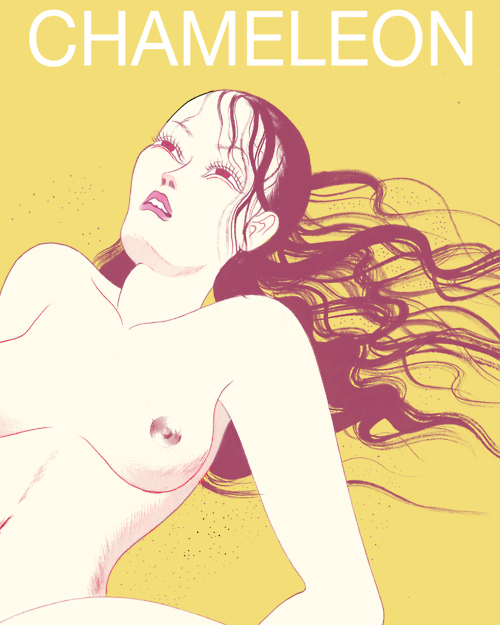 * The Matthias Wivel-edited Nordic comics anthology Kolor Klimax sure looks good.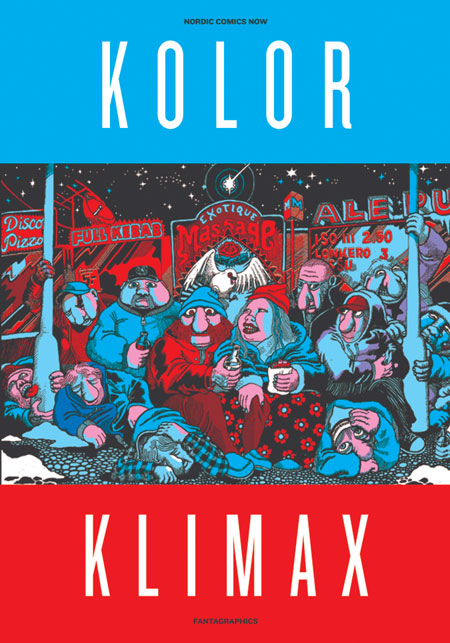 * Here's a long and excellent piece by Zom on the horror of Uno Moralez. It's a rare feat to analyze what makes something mysterious and horrifying with this kind of accuracy but with no intention of deflating the mystery and horror.
* Fear Itself ate itself, basically. This certainly isn't the first time a major event comic involved elements of planned rapid obsolescence — it was the knowledge that they'd be wiping out Spider-Man's marriage and with it whatever other aspects of his history they wanted to fudge that enabled Marvel to unmask Peter Parker for a mainstream-media bounce during Civil War — but it's really quite unusual for three epilogue one-shots branded with the event's name to undo the three biggest status-quo changes of the event, within three weeks of that event's official conclusion. Still more unusual is that in all three cases Marvel's clearly better off having undone them.
* Tucker Stone's interview with Mark Waid about Daredevil is really entertaining on both sides of the tape recorder.
* Wow, they are dropping a lot of characters from A Clash of Kings in Game of Thrones Season Two. In some cases I understand both why they're doing it and how it'll work. In a few cases I'm kind of unsure how you do certain things you need to do at all without them. But when you think about it, the challenge faced by GoT the show is unprecedented. It's one thing for The Sopranos to take bit parts and grow them into main characters at some point down the line — you've simply taken a presumably grateful character actor and given him the material of a lifetime. It's still another to know up front that you're casting a role who'll get maybe five minutes of screentime this season but will turn into an opening-credits role in three, four years. What do you do, tell the Shakespearean actor you cast this past summer to clear his calendar for 2014? The answer will likely be not to cast such characters until the big stuff is happening, which of course will mean doing things differently than they were done in the books.
* Can you imagine having a sex ed class in which physical and emotional pleasure were valued and discussed? The clitoris, orgasms, the importance of making your partner feel comfortable emotionally, and being made to feel comfortable emotionally yourself? I can't remember when that particular lightbulb was switched on in my head, but once the idea of such a sex ed curriculum was introduced to me, it became something that made me just shake my head in disgust that that's not how things are. That's absolutely how things should be. And in this New York Times piece about such a class in a school in a Friends' school in Philadelphia shows you how it works.
* Speaking of the Times, unfortunately: Everyone I know thought Occupy Wall Street intended to shut down the New York City subway system yesterday, because they heard it on the news. I heard it on the news and so it's what I believed. My in-laws, who are visiting us from Colorado, canceled their usual day in the city yesterday because they heard service would be disrupted on the news and so it's what they believed. After the shutdown never materialized, today my co-workers said that OWS had simply failed to pull it off, because they'd heard of the plans on the news and so that's what they believed. It turns out it was total bullshit, invented by Fox and the New York Times. But I heard it on several other outlets besides those, up to two or three days in advance, complete with responses to the supposed planned shutdown by NYC authorities. And it was all horseshit. As I've been saying on Twitter, it's really rather amazing to watch all the organs of a body politic afflicted with terminal-stage capitalism work to expel OWS from the system. And this memetic inoculation against it — "protest Wall Street if you want, but once you start making it impossible for regular working people to get where they need to go…" — will likely never go away.
* Another case in point: The truly routine violation of protesters' rights by the Bloomberg administration and the NYPD. The impunity with which they assault people, illegally arrest and detain them, illegally spy on them for their political beliefs, and so on is breathtaking. But as Ta-Nehisi Coates (via whom the aforelinked article) always says, we've got the police force we want, basically. If we didn't want it, there are many ways in which we could make sure we didn't have it.
* To end on a happier note, here are a few music links I enjoyed:
* Mark Richardson on freaking the fuck out over My Bloody Valentine's Loveless. Man, we've all been there. I think my favorite part of listening to the album is when you get to that end section of "What You Want," right before the final song "Soon" kicks in, and it's so lovely you almost can't bear it.
* Jaimeson Cox has been writing about Drake's new album Take Care all week, and it's been great. Actually, that album has coaxed great writing out of a lot of music writers. Off the top of my head: Brandon Soderberg, Zach Baron (the bit about the title track's a must read), Ryan Dombal, Hua Hsu (terrific point about how disconcerting delivering similar sentiments via both singing and rapping can be). It's early yet, but I think this may be my second-favorite album of the year after Kaputt by Destroyer? There's just so much to talk about in the music especially, which is why I may inflict a post about hip-hop on you all in the near future. You've been warned.
Tags: A Song of Ice and Fire, Carnival of souls, comics, fantasy, Game of Thrones, George R.R. Martin, links, music, real life, TV