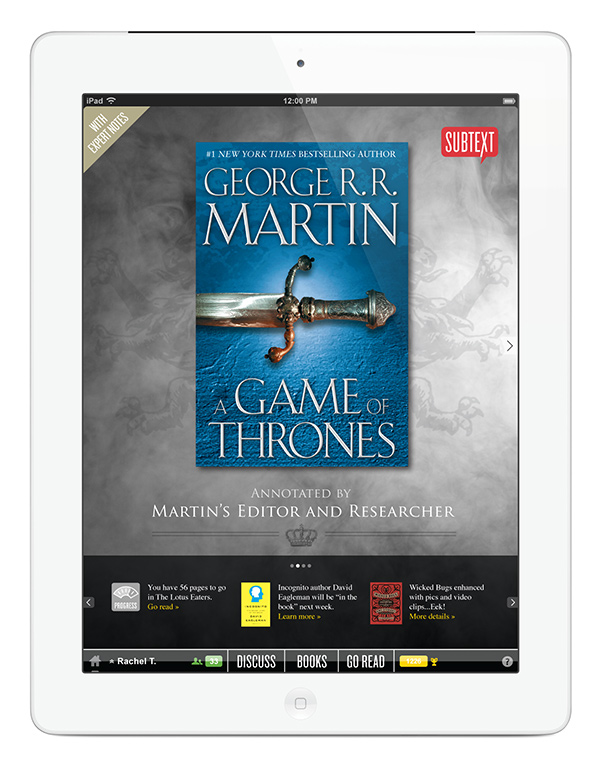 I'm over the moon to be able to finally announce this: I annotated A Game of Thrones.
I didn't do it alone, either. Working alongside me were Anne Groell, editor of the entire A Song of Ice and Fire series; and Elio Garcia, George R.R. Martin's go-to researcher, the co-founder (with Linda Antonsson) of ASoIaF megasite Westeros.org, and the co-author (with GRRM and Antonsson) of the forthcoming World of Ice and Fire guide.
I know, right?
We did this in a very cool fashion for a very cool new iPad app called Subtext, which launches today. It's kind of like having a social network built into the book itself.
The way it works is that you download Subtext for free from the iPad App Store. Then you use it to read any Google Books ebook. As you do so, you can embed notes in the margins at any point throughout the book, sharing your thoughts or asking questions about what you've read. You can also read and reply to any notes on the book left by your friends, or in cases like A Game of Thrones, notes left by the author or by experts like, well, me. This video will give you the basic idea.
So in other words, it's not just that you can read an annotated version of A Game of Thrones — you can annotate it yourself, and interact with anyone else who's done so, including Anne, Elio, and myself. And a whole bunch of other books featured in the launch have expert or author annotations as well. (George was a bit too busy to contribute himself, which is why we three were tapped. Somehow I don't think you'll mind that he didn't find time in the schedule.)
If you've enjoyed my writing about A Song of Ice and Fire here or at All Leather Must Be Boiled or anywhere else, I think you'll enjoy the notes I've left for you to find.
But speaking personally, my contributions kinda pale in insignificance compared to Elio and Anne's. When I was first approached about the project, I said yes in large part just for the opportunity to work alongside such august personages in the ASoIaF community. I was not disappointed. Anne's you-are-there anecdotes about discovering the book, working with Martin, and what she knows (and doesn't know) about what has yet to be written are worth the price of admission alone. (And I'll tell you what, there's little that does your superfan ego better than being told by the book's editor that this or that insight you had about the book was dead on.)
Elio's astonishingly comprehensive annotations are also more than a return on your investment. He's provided the first appearance of nearly every character, House, region, and in-world jargon with a capsule biography/definition and a link to further information on his and Linda's indispensable ASoIaF website, Westeros.org. And as GRRM's researcher and soon-to-be coauthor, the guy who knows Westeros better than Martin himself, he too offers unique insights into process, theme, and technique.
In both cases, just reading their notes as they went up while I was working on the project was an enormous pleasure. God only knows how much of that AT&T data plan I ate up by anxiously refreshing the Recent Notes page to see if Anne or Elio had dropped any more knowledge bombs on me. And my desire to earn my keep alongside them led, I think, to some of my best ever writing on the book.
I really hope you iPad owners will check it out. Download the app here, then download the book here, then go to town. Our annotations should pop up automatically — keep your eye out for my sigil.
See you in the pages!
PS: Thank you to Elio Garcia for recommending me for the project, thank you to Elio and Anne Groell alike for treating some dude with tumblr like both a peer and a pro, and thank you to Claire Teter from Subtext for guidance and support throughout the process.
Tags: A Song of Ice and Fire, fantasy, Game of Thrones, George R.R. Martin