* I posted a rundown of all the things I've been working on lately over on my A Song of Ice and Fire/Game of Thrones blog All Leather Must Be Boiled. Keeping pretty busy!
* BAD COMICS ARE THE DISEASE. JAIME HERNANDEZ IS THE CURE. I'm going full-court-press on Jaime and Love and Rockets: New Stories #4 this week, in case you hadn't noticed. The latest:
** Springboarding off Tom Spurgeon's excellent piece, I talk about Jaime as a literal alternative comic for disgruntled or jaded readers.
** And springboarding off Jeet Heer's excellent catch-all column for The Comics Journal, I talk about "The Love Bunglers" as a potential career capstone, and Gilbert's comics as an under-the-radar phenomenon of comparable quality and import vis a vis his thirty-year storyline.
* There's lots more to talk about in Heer's post, by the way. I'm particularly struck by his argument that the work of contemporary cartoonists on classic reprints in a design, editorial, or critical capacity helps fold those works into the current practice of comics the same way a Scorsese riff on Welles or Eisenstein does in film. It comes as a riposte to some bombthrowing on the topic of contemporary vs. classic cartoonists, too, and you know I always like to see bombthrowing defused.
* Also on the L&R tip: Matt Seneca on the bravura mirrored sequence in "The Love Bunglers." No, not that bravura mirrored sequence — the other bravura mirrored sequence.
* Yeah, I'm pretty happy about Sexbuzz.
* Ben Katchor's latest comic takes on the 1%.

* Like the Geto Boys, Michael DeForge can't be stopped. He's posted a new installment of Ant Comic, while his wondrous horror minicomic SM is now up in its entirety on Jordan Crane's What Things Do. Jesus but his line really pops against that cream background.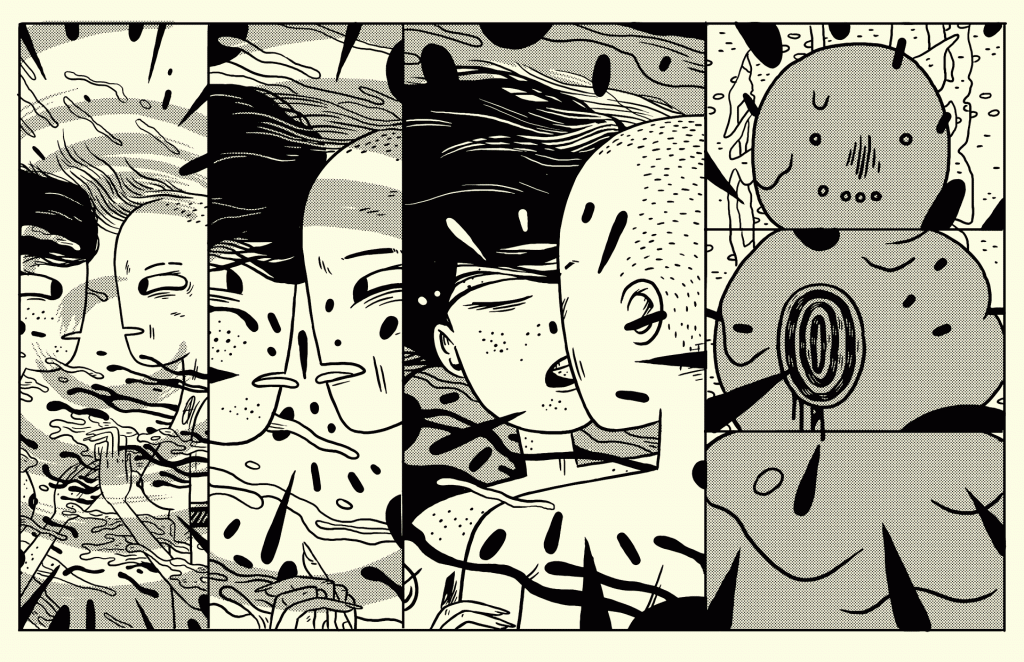 * The good news: Ross Campbell has finished Wet Moon 6, the latest volume in his engagingly morose and meandering goth slice-of-lifer. The bad news: It's not coming out until October 2012.
* A day may come when I don't link to a new Uno Moralez image/gif gallery…but it is not this day.
* Speaking of Moralez, I don't know if Google Translate is steering me right, and the post itself is showing up in my RSS reader but can't be accessed directly, but a post that features the image below and appears to state that Moralez is self-publishing a collection of his work is too good not to at least try to share.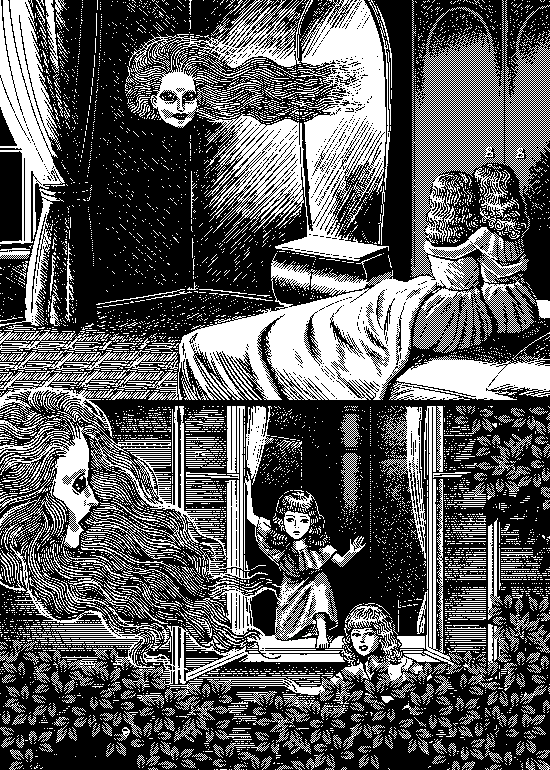 * I love Matthew Perpetua precisely for posts like this one. In one fell swoop he singles out the best song on the new album by retro synthgazer guy M83 and quickly describes why it's good, while also explaining why his overall project never quite gets off the ground:

Their new album, a double disc set, is sprawling and "epic," but its expanse is mostly numbing – a few setpiece numbers are surrounded by ethereal time-wasters and underwritten bombast.
That is exactly right, and it's been exactly right for at least three albums running now. In theory M83 could not be more up my alley, and from single to single he's one of my most listened-to artists of the past decade (up until now, that is — I'm not crazy about "Midnight City"; too much yelping), but in practice his albums feel overlong, undercooked, and too content with his (admittedly) great idea for a musical aesthetic to actually execute that idea well. But yeah, "Claudia Lewis" is pretty terrific.
* If you know the source of the image, this is one of the funniest Kanye + Comics entries ever.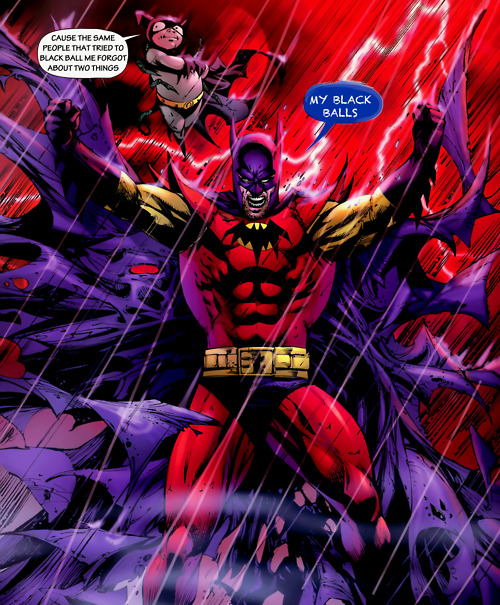 Tags: Carnival of souls, comics, horror, links, music