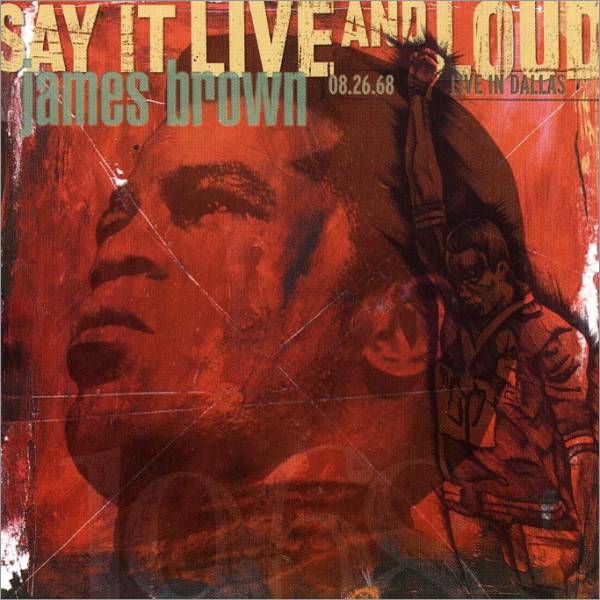 When my baby daughter gets fussy, which usually happens every night around 7:30, the one thing guaranteed to calm her down and cheer her up is for me to pick her up and dance around with her. So every night for about forty minutes or so we have a Daddy Dance Party, also known as Family Funky Time when my wife joins in. An undisputed highlight of the DDP playlist is this live version of "Cold Sweat" by James Brown from 1968, which over the course of its twelve minutes has exposed my daughter to more funk before age 2 months than I heard before age 20.
Virtually everything great about James Brown is on ample display in this recording. For starters, the man's skills as a bandleader, even outside the studio and in a less controllable live setting, are quite simply astonishing. Listen as he and official bandleader Pee-Wee Ellis lead the group through an airtight version of the song, through minute after minute of vamping and solos, and back into the song again: Every note, every beat is hit hard enough to draw blood. As I listen to the thing, I marvel at his rapport with the band as they turn on a collective dime time after time — they seem linked almost at a telepathic level, where no cue comes as a surprise to anyone except everyone in the audience. Meanwhile, Brown's charisma as a frontman is equally astonishing here. Those shrieks and yelps are really quite something, if you can try to forget you've heard them a million times and appreciate their ecstatic insanity afresh. But beyond that, his banter with both the band and the audience is funny and effortless, making cool-dude nonsense like "Excuse me while I do the boogaloo" or "If you ain't got enough soul, let me know and I'll loan you some — I got soul to burn" or introducing the latest dance move by challenging the band to guess its name (spoiler alert: it's "the Detroit Pimp") sound inspired, like a template young fans can apply when they want to be awesome.
But best of all, especially for those of us who've heard rock bands of Brown's funk era stretch songs out into double-digit running times to enervating effect when performing live, there's never a dull moment. The solos — fiery saxophone by Maceo Parker, follow-the-bouncing-ball bass from Alfonso Kellum, and most impressively, a double drum solo from Clyde Stubblefield and Nate Jones that ends with literally the funkiest break I've ever heard, driving the audience totally batshit — feel vital and exciting, an integral part of the performance, rather than a self-indulgent opportunity for the given player to show off while the rest of the band sneaks off for a cigarette break. And you never know when a lengthy vamp will be punctuated by Brown saying something funny or badass, or leading the band through snippets of Allen Toussaint and Lee Dorsey's "Ride Your Pony" or Sam and Dave's "Soul Man," or quoting "my friend Sammy Davis," or eliciting wild cheers from the audience with some unseen but undoubtedly crazy dance move, or god knows what else. The song is simply packed with pleasures I'm still discovering and delighting in after innumerable listens.
Buy it from Amazon.com
Tags: Cold Sweat, James Brown, music, music reviews, music time, reviews, Say It Live and Loud: Dallas 08.26.68