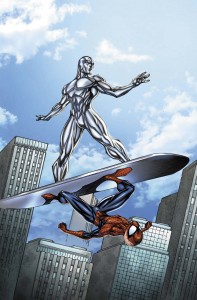 SPIDER-MAN #19
Written by J.M. DEMATTEIS & SEAN COLLINS
Penciled by CLAYTON HENRY
Cover by ALE GARZA
WHAT HAPPENS WHEN SPIDER-MAN WIELDS THE POWER COSMIC?! The Silver Surfer is POWERLESS in New York, and it's up to Spidey to set things right! Will Spider-Man be able to find the Sentinel of the Spaceways in time?! J.M. DeMatteis (AMAZING SPIDER-MAN) and Clayton Henry (SPIDER-GIRL) stop by this month to bring you THE POWER COSMIC! Then, the hunt is on as Spider-Man goes toe-to-toe with KRAVEN in the heart of New York's concrete jungle!
32 PGS./All Ages …$2.99
—
I wrote a Spider-Man comic that comes out in October. I really couldn't be happier about it, and neither could Young Sean T. Collins, who would watch Spidey on The Electric Company and Spider-Man and His Amazing Friends, and receive Spider-Man comics from the Te-Amo across from St. Catherine of Siena in Franklin Square, New York as a reward for behaving himself in church on Sundays. Thank you to Ben Morse, Warren Simons, Alejandro Arbona, Kiel Phegley, Steve Wacker, and especially Tom Brennan, who helped make this happen.
What I didn't know at the time I wrote my story, which features Kraven the Hunter in the villain role, is that the man responsible for my love of Kraven, J.M DeMatteis of Kraven's Last Hunt fame, would be writing the other story in the issue. No pressure or anything!
Keep your eyes peeled, or perhaps even ask your local comic shop to order one for you. I hope you enjoy it!