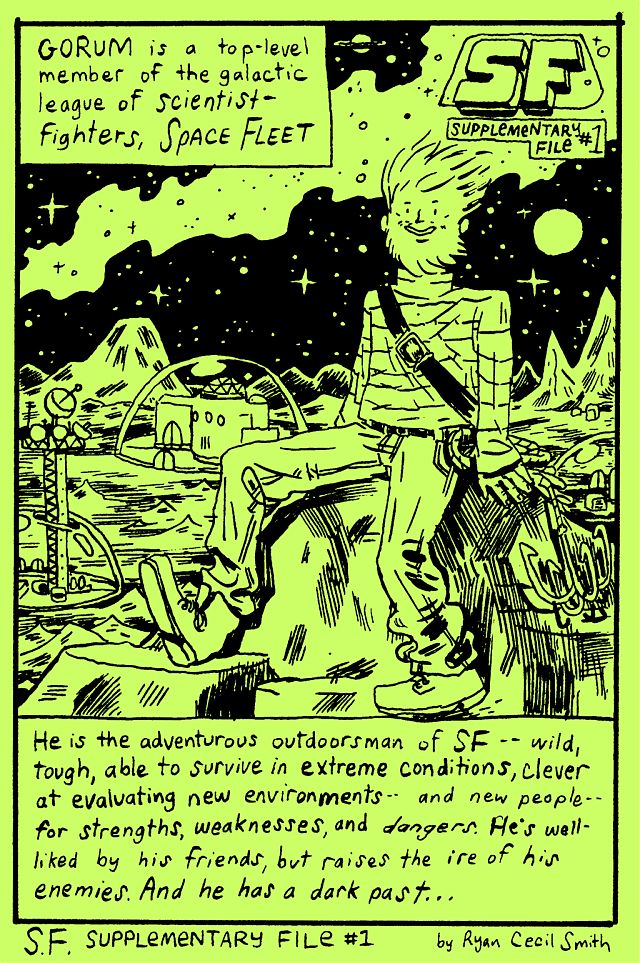 SF Supplementary File #1
Ryan Cecil Smith, writer/artist
Closed Caption Comics, June 2011
12 pages
Read it for free at RyanCecilSmith.com
Buy it for $2 from Ryan Cecil Smith
What if '80s SFF action-figure franchises really took on the central role in our collective mythmaking and storytelling that their hardcore devotees (myself included, let's be honest) seem to think they deserve? The children's books, fairy tales, and fables such a would would create for itself might look a lot like SF Supplementary File #1, a spinoff from Ryan Cecil Smith's fine alt-genre actioner SF that provides the origin story for one of the Space Fleet Scientific Foundation Special Forces' memorable members, Gorum. In his "once upon a time"-style story of hidden paradises and pillaged resources, mad royalty and noble scientists, slain parents and vowed vengeance, I hear echoes of everything from Superman and Batman to Eternia and Shangri-La to freaking Spaceballs, shot through with a childlike funneling of nuclear anxiety directly into terror over the potential loss of Mommy and Daddy. Smith's art here is winningly crude, as befits drawings that can be captioned with sentences like "Gorum attacked every ship going IN or OUT of the Planet of Dunes with VOLCANO CANNONS" — yet it's flexible, equally able to pull off sophisticated visual tricks like juxtaposing the explosions that destroy a world, the ship that escapes that destruction, and multiple representations of the teary eyes of that ship's pilot as he views the horror like some kind of Futurist Axe Cop. It's fun to see something so lightweight be so solid.
Tags: Closed Caption Comics, comics, comics reviews, Comics Time, reviews, Ryan Cecil Smith, SF, SF Supplementary File