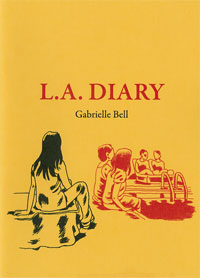 L.A. Diary
Gabrielle Bell, writer/artist
Uncivilized Books, October 2009
20 pages
$4
Buy it from Uncivilized Books
He doesn't go quite this far himself, but it's easy to interpret cartoonist and Uncivilized Books publisher Tom Kaczynski's introduction to this minicomic collection of diary strips and sketchbook pages from Gabrielle Bell as a claim that her lack of transgression is itself transgressive. "Bell is not possessed by demons," he writes by way of comparing Bell's work to the autobiographical comics tradition established by Justin Green and Robert Crumb, going on to compare her work to the very root of the diaristic impulse in Western culture: maintaining a daily account of the world to better understand one's place in it. And indeed, Bell's understanding of her place in the world, as expressed through these comics, leaves little room for iconoclasm and taboo violation: The climactic strip in the collection focuses on her inability to hug people without dissociating. But Bell never translates her discomforts into reverse-exhibitionistic cris de coeur of loneliness, either — from the cover of the comic on down, she may be quietly separating herself from the friends with which she is constantly surrounded, but, well, she's constantly surrounded by friends. Like the yoga poses she holds in a class designed to cultivate inner peace but which in Bell's case simply give her one more opportunity for her mind to recursively burrow inside itself, her self-presentation in these comics is a painstakingly struck balance, neither woe-is-me nor look-at-me.
So no, we will never see a "Minnie's 3rd Love" or "My Sex History" from Gabrielle Bell. But in this light, the smudgy swatches of black that dot her square panels seemingly at random and had me baffled for years could perhaps be seen as a deliberate act of obscurantism, breaking the plane of the art as if to interrupt our ability to take it in vérité-style, a way to say "No, this isn't real, this is just a drawing." Kaczynski suggests that that act of drawing is a "declaration of fidelity to the Great Work"; the diary form it takes, then, is simply a way for Bell to lash herself to the yoke of making art on a consistent basis. If he's right, then Bell's program has served her well, enabling her to produce a substantial body of work with nary a demon to drive her. Thus if there is a shocking revelation to be found in L.A. Diary, it's the book's final third, which reproduces the pages in her spiral-bound notebook where the preceding strips first took shape. Replete with spelling errors, cruder and at times almost childlike linework, broader and blunter story beats, and more direct navel-gazing (an abandoned storyline about starting a blog, a self-portrait in the locker-room shower that gets a bit toned-down and covered-up in the final version), it feels almost breathlessly unrefined compared to the finished product. It's not Binky Brown Meets the Holy Virgin Mary, but in context, the exhibitionism is just as raw.
Tags: comics, comics reviews, Comics Time, Gabrielle Bell, L.A. Diary, reviews, Uncivilized Books