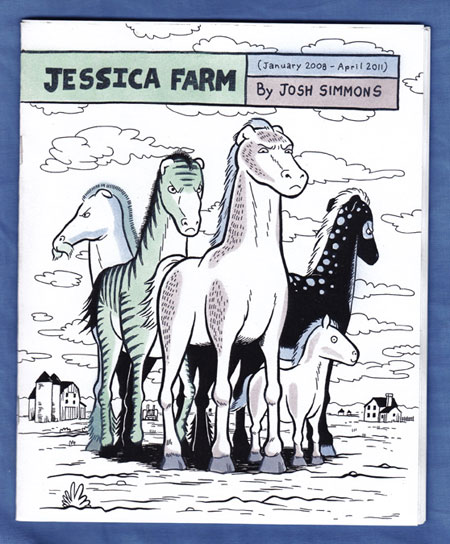 Jessica Farm (January 2008-April 2011)
Josh Simmons, writer/artist
self-published, June 2011
40 pages
$8 (including shipping)
Buy it from Josh Simmons
If there's a cartoonist working today who more reliably, ruthlessly, and relentlessly exploits his own strengths with each new release than Josh Simmons, I've yet to encounter him. Witness this self-published slice of Jessica Farm, a 600-page graphic novel Simmons is drawing one page a month for a projected fifty years. Volume One was published by Fantagraphics in April 2008, (the back cover of this minicomic installment reads "Volume 2 coming 2016"), and already the contrast with the involving but formless original is striking. Instead of taking us on sort of "It's a Small World" ride through various disconnected images of dreamlike horror and weirdness, Simmons here uses his rubric of a teenage girl meeting strange invaders and residents on the sprawling family estate to keep us rooted to the same two places: a bare room where a trio of goat-people called the Smiths are brutalizing a boogeyman akin to the one that Jessica encountered in Vol. 1, and the field outside where they eventually do battle with an army of the creatures. The book feels much more focused for the lack of literal wandering. Moreover, within these established confines, Simmons can get much more mileage out of his astutely choreographed action sequences. In the first half of the book, two dramatic attacks are dependent on our feel for how large the room is and how long it takes characters to get from one side to the other, and Simmons crafts that space so well that you can practically hear the scrambling footfalls. A later sequence involves charging horses and bounding beasts, depicted in a succession of widescreen panels that keep the action dead center in each one, a restrained presentation of very visceral material.
And I don't know how it's possible, but the pacing is remarkable for a book drawn with thirty days between each page. It's reversal after reversal: These Smiths are scary, no wait, they're friendly; they've got the upper hand on their captive, no wait, it's got the upper hand on them, no wait, I was right the first time; they're attacking a couple of monsters, no wait, they're outnumbered a hundred to one, so what, they're still going to win. It has a propulsive feel to it that Vol. 1 lacked.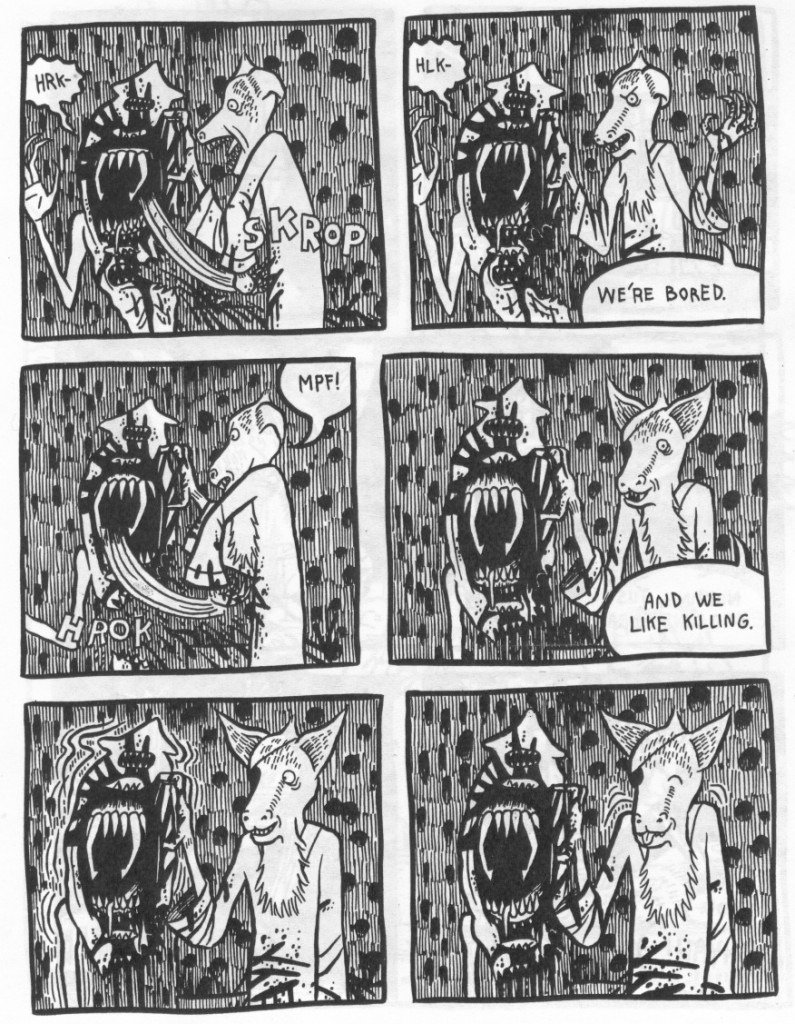 Simmons's usual talents are in evidence here as well. From the title creatures in "Night of the Jibblers" and "Jesus Christ" to the witches and ogres of "Cockbone" to the Godzilla-sized pink slug in The White Rhinoceros, he's developing one of the best bestiaries in comics, and the "skrats" at the center of this story fit right into that menagerie. They come in black and white varieties here, and in great numbers by book's end, allowing Simmons's ever smoother inks (reproduced beautifully here, by the way) to evoke everything from Spy vs. Spy to David B. to that Escher drawing with the fish and the birds. And like most of Simmons's monsters, they're a discomfiting combination of flesh and fangs that makes you feel that being attacked by one of them would be not just deadly but grotesquely intimate, like being mauled by a giant scrotum studded with razor blades. The characters we meet are similarly creepy, using Simmons's standard and still unnerving combination of over-the-top aw-shucks friendliness and violent, obscene threats and exclamations, like a beloved uncle you suddenly realize you don't want to be alone with anymore. Lovely cartooning, icky horror, and a battle scene that'll likely top anything else you see this year, for eight dollars total? No way you should wait till 2016.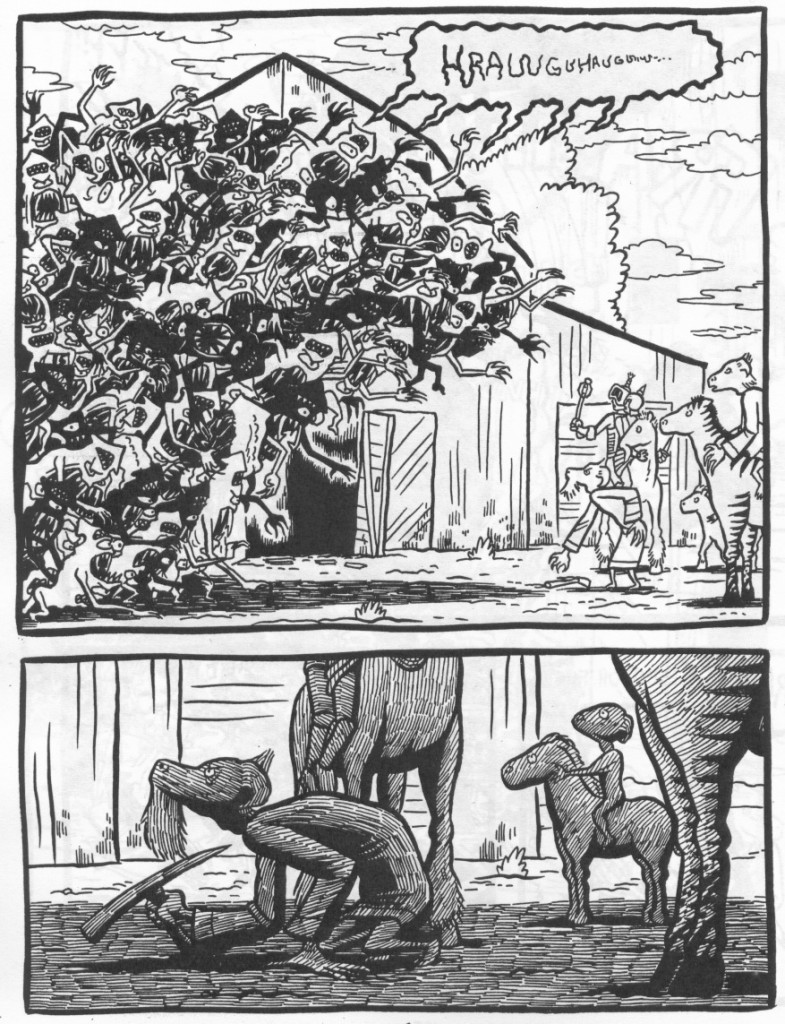 Tags: comics, comics reviews, Comics Time, Jessica Farm, Josh Simmons, reviews