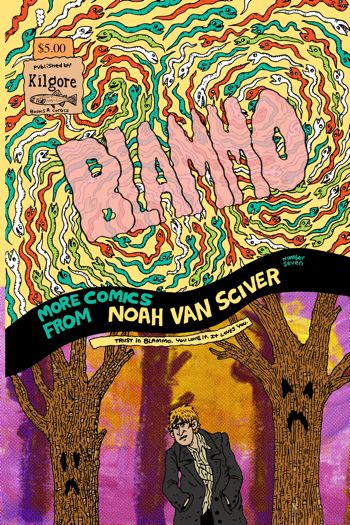 Blammo #7
Noah Van Sciver, writer/artist
Kilgore Books & Comics, February 2011
40 pages
$5
Buy it from Kilgore
The multiple times Noah Van Sciver uses fake ads and author's notes to remind us of this notwithstanding, Blammo's throwback status as a '90s-style solo-anthology floppy-format black-and-white "alternative comic book that is introspective and drawn by a hopelessly poor twentysomething with seasonal affective disorder" is one of the least interesting things about Blammo #7. It doesn't hold a candle to the way he draws the darkness of a Halloween night spent trick-or-treating with a sky full of simple horizontal lines in "Because I Have To," or to his po-faced, actually rather creepy retellings of a couple of Scary Stories to Tell in the Dark-style serial-killer urban legends in "Don't Turn On the Light" and "This Is the Last One I'm Sending You Today." It's not as noteworthy as the way he tends to cheat his characters toward the viewer, the better to emphasize the big ears and big noses and worried brows and frowning mouths of his characters' faces, or the way the whole of those faces is constructed so solidly that they remind me of a handwritten cursive letter more than a face. It doesn't account for his slice-of-life fiction's endearingly loose and rambling narratives — the way "Who Are You, Jesus?" piles up ironies in such a way as to emphasize its main character's simultaneous shittiness and sympathetic nature with each turn, or the way the "Foreword/Because I Have To/Afterword" suite tells the story of a guy's emotionally fraught Halloween evening in three sections wherein each thing that happens to him is weirdly disconnected from the others in precisely the way life tends to work. It doesn't cover the way his broad funny-animal Chick tract parody complements his totally straightforward account of Joseph Smith and the origin of the Mormon faith, the way a biting fuck-you and a lingering respect tend to mingle in the lapsed. No, the mere fact that this is a defiantly anachronistic and un-hip alternative comic book doesn't speak to the most important thing about it: It's a very good one.
Tags: Blammo, comics, comics reviews, Comics Time, Kilgore, Noah Van Sciver, reviews