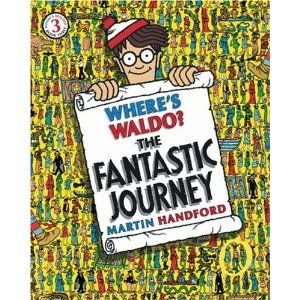 Where's Waldo? The Fantastic Journey
Martin Handford, writer/artist
Candlewick, 2007 (this edition)
32 pages
$7.99
Buy it from Amazon.com
Buy all six Waldo books as a set for like $30
I didn't give a lot of thought to comic art or illustration as a kid. Which in many ways means "mission accomplished" for the comics artists and illustrators I came across, I suppose. For readers that age, you want form to follow function–an exciting comic should look exciting, a funny comic should look funny. It wasn't until I was much older that I was able to appreciate the books that had lodged in my head because their art did something more. The Scary Stories to Tell in the Dark series, illustrated by Stephen Gammell, was one example. Those pictures looked like the evil they depicted somehow leaked into the real world and corrupted the art itself.
The other big one, for me, was Where's Waldo?, particularly this third volume in the series, which when I was a kid was called The Great Waldo Search. This is the one where Waldo travels through "the realms of fantasy," as the slipcase of the six-volume set of Waldo books I bought for Christmas puts it, so that naturally put it more in my wheelhouse than the other two volumes that were available at the time I first came across it. And obviously Martin Handford's loose, goofy character designs and slapstick sense of humor aren't a world apart from the majority of cartoon art kids are offered. But what I found–and continue to find–so mesmerizing about this one is the way Handford conveys, in these eye-meltingly dense two-page spreads, a sense of permanent chaos. Each scene is a virtual (and in one case literal!) sea of jostling, arguing, fighting, laughing, playing, sleeping, eating, jumping, falling, flying, running, sliding, shouting, bodies. Streams of water, billows of smoke, rivers of fire defy gravity and snake around and through half a page. A single action causes a domino effect that brings dozens of warriors low. People celebrate a victory over the characters to their left, completely oblivious to the damage about to be inflicted on them by the characters to their right. Massive schemes to defeat rivals are always just on the verge of coming to fruition or heading for disaster. More than any other artist I can think of, Handford conveys a world of action, decision, coincidence and consequence within each image. You get the feeling that the conflagrations you're seeing on each spread could last forever, an endless flow of action and reaction. In fact, the only other artist I know of who's experimented with this sort of thing is Brian Chippendale.
And might there be a message in here, too? Fully half of The Fantastic Journey's twelve scenes involve armed conflict between rival groups. You can get lost in the maniacal detail and humorous quasi-violence of their battles for minutes on end, but an even larger part of their visual appeal is that the combatants are basically color-coded: Blue monks of water vs. red monks of fire, ferocious red dwarves vs. vaguely Asian knights who look like a weaponzied deck of Uno cards, evil black knights vs. green-skinned forest women, two enormous armies of dueling pastel knights, a posse of blue-uniformed monster hunters stalking their prey underground. The one exception pits villagers in rainbow-colored clothes against equally gaudy giants. A seventh spread involves four teams of ballplayers–blue, green, peach, and red–whose sport is just about as violent as any of the the actual battles. A state of obviously absurd conflict based on completely arbitrary distinctions? Come for the devilishly difficult puzzle aspect, stay for the impeccable visual satire.
Tags: comics, comics reviews, Comics Time, reviews