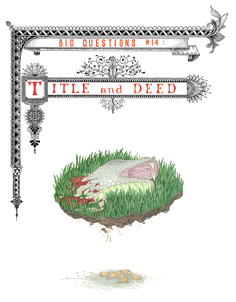 Big Questions #14: Title and Deed
Anders Nilsen, writer/artist
Drawn & Quarterly, May 2010
50 pages
$7.95
Buy it from Drawn & Quarterly
You know how on The Sopranos, it was always the penultimate episode of the season that had the big climax? This is the penultimate issue of Big Questions.
I know I've got Lost on the brain this week, and it's largely with that show in mind that I re-read all 14 issues of Nilsen's anthropomorphized allegorical avian opus to date. Much more so than do the Vertigo-type series with which you'll see the occasional facile comparison, Big Questions serves up a similarly intoxicating, dread-tinged cocktail. Flawed characters are buffeted by forces beyond their comprehension, who in turn have just as little control over their own destinies. Violence is ever-present, shocking and exciting when it erupts, devastating in its aftermath. Story seeds planted years ago (Big Questions has been running since 1998!) suddenly blossom, entangle, and collide, in this issue most of all. Of course the "big questions"–about the limits of our understanding, about the point of being here at all–are asked, if rarely answered. An overall high-quality visual presentation makes it all the more inviting, while individual images, like the one that graces this issue's cover and the constituent parts of the harrowing sequence that precedes it, burn with the fire of the surreal and stick in the memory, giving your thoughts on the overall series something to coalesce around like coral. You'll laugh, you'll cry. Only instead of an attractive multinational cast, this one has birds.
My hunch is that when the fifteenth and final issue arrives, Big Questions will be looked at like Black Hole or the Jimmy Corrigan issues of Acme Novelty Library, both for the magnitude of the undertaking and the magnificence of its execution from top to bottom. I read a lot of good comics; this is a great comic.
Tags: comics, comics reviews, Comics Time, reviews