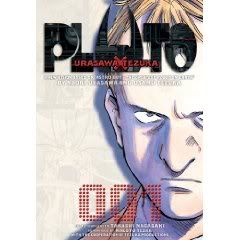 Pluto: Urasawa x Tezuka Vols. 1-3
Naoki Urasawa, writer/artist
Takashi Nagasaki, writer
Based on Astro Boy: The Greatest Robot on Earth by Osamu Tezuka
Viz, 2009
200 pages each
$12.99 each
Buy them from Amazon.com
I take back everything I said about Naoki Urasawa. Well, okay, no I don't, but everything I said about Naoki Urasawa definitely does not apply here. Finally, one of his series contains visual elements that exist for more than simply conveying the information of the story as clearly and dramatically as possible. And I didn't think that was in the offing, by the way, since in the first few pages you get a "guy with a gun turns a corner, does a half-turn and whips the gun at the camera" sequence that struck me as an unimaginative, un-comicsy rip from the cinema. But a few pages later our straight-laced, sad robot detective Gesicht informs a robot-maid wife that her robot-cop husband has been killed in the line of duty, and Urasawa gives us a series of close-ups of the grief-stricken robot's machine face, which, of course, never changes. And blam, I was hooked.
In Pluto, a contemporary-superhero-comics-style "reimagining" of a classic < i>Astro Boy story by Osamu Tezuka, Urasawa uses the presence of robots as embodiments of surrealism. From the bereaved wife's static expression, to the towering North No. 2 in his judge's robe, to sinister Brau 1589's mangled scrap heap of a body, to a revamp of Astro Boy (aka Atom) that makes him less like a jaunty short-pantsed slugger and more like an eerie kid out of The Shining, they're the flourish of Weird, the touches of visual poetry, that I always wanted from my limited experience with Urasawa's work. That his line and design sensibility is otherwise such a just-the-facts affair only heightens their "thing that should not be" effect.
And they seem to have unleashed more where that came from. The series of murders that are the series' central mystery are themselves like staged art installations, sort of like the theory that holds the Black Dahlia's murder as a macabre Surrealist masterpiece. Elsewhere, jagged black lines emerge from transmission static as a literal representation of despair; a huge black thing slouches half-unseen through the smoke and sand of a war-ravaged Persian town, the sight of it driving a young boy mad; traumatic memories of war are represented by indistinct flurries of the violent clash of robotic limbs, or a decontextualized and repeated offer of money for bodies; a sentient teddy bear sits immobile, a puppet master at the mercy of whoever moves it around; a tiny figure is captured leaping from rooftop to rooftop in the final images recorded by a dying robot, its blurry body silhouetted against the sky.
You add all this to Urasawa's usual page-turning panache, and suddenly what had felt like mere proficiency gains the power to haunt and to move. There are the usual resonances with and/or swipes from other genre-art touchstones: Brau 1589 is Hannibal Lecter with microprocessors, there's an Iraq War riff as is custom with science fiction that wants to be taken seriously this decade, and the plot–super detective believes that other super beings of his acquaintance are being hunted by a serial killer so he travels around to warn them with varying degrees of success–is straight-up Watchmen Chapter One. Plus, the whole thing is an adaptation of a story about Japan's Mickey Mouse/Superman cultural juggernaut. ("Flying boy robot in shorts" is the extent of my knowledge of Astro Boy, so what Urasawa is taking from Tezuka narratively or visually is beyond me.) But instead of coming across like button-pushing, all of this, and all the chases and clue-hunting and races against time and unsuspected reversals that are Urasawa's thriller trademarks, now feels like ammo in the arsenal of someone taking aim at some big old-fashioned sci-fi questions about war, technology, human rights, friendship, childhood, and that old chestnut, what it means to be human. The thing that fills me with delight here is that when you look at that robot maid just standing and staring, unable to express her emotion, you get the sense that for once, this master penciller and plotter doesn't have all the answers.
Tags: comics, comics reviews, Comics Time, reviews