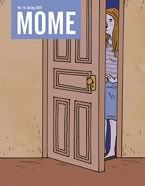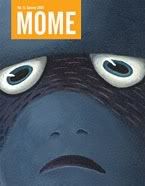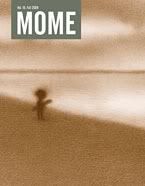 Mome
Vol. 14: Spring 2009–Kaela Graham, Adam Grano, Derek Van Gieson, Laura Park, Olivier Schrauwen, Gilber Shelton, Pic, Dash Shaw, Ray Fenwick, Ben Jones, Frank Santoro, Jon Vermilyea, Sara Edward-Corbett, Conor O'Keefe, Emile Bravo, Lilli Carre, Hernan Migoya, Juaco Vizuete, Josh Simmons, writers/artists
Vol. 15: Summer 2009–Kaela Graham, Andrice Arp, Tim Hensley, Sara Edward-Corbett, Ray Fenwick, Conor O'Keefe, T. Edward Bak, Gilbert Shelton, Pic, Nathan Neal, Noah Van Sciver, Robert Goodin, Dash Shaw, Paul Hornschemeier, Max, writers/artists
Vol. 16: Fall 2009–Kaela Graham, Archer Prewitt, Ted Stearn, Dash Shaw, Lilli Carre, Conor O'Keefe, Ben Jones, Frank Santoro, Jon Vermilyea, Nicholas Mahler, Laura Park, Nate Neal, Renee French, Sara Edward-Corbett, T. Edward Bak, writers/artists
Eric Reynolds, Gary Groth, editors
Fantagraphics, 2009
Vol. 14: 120 pages
Vols. 15-16: 112 pages each
$14.99 each
Buy them from Amazon.com
Things kinda went off the rails here, no?
Like, looking at that list of contributors, you can see some standouts: The Cold Heat material from Jones, Santoro, and Vermilyea is not the strongest Cold Heat material in the world but it's imaginative and, particularly with Vermilyea at the drawing table, sharply delineated, as is Vermilyea's delightfully sick solo material. Josh Simmons impresses with his blackly comic strips, particularly a memorable number involving homunculus-sized versions of Tom Cruise and Michael J. Fox grinning soullessly at the assembled paparazzi. Tim Hensley kills it as always with the concluding chapters in his Wally Gropius saga, featuring peerlessly communicated body language perhaps the greatest anti-climax in comics history. I think this is some of the tightest material we've seen yet from Sara Edward-Corbett–I love her white-on-black trees and her Ice Haven-esque children-adults. Lilli Carre is alarmingly good at depicting male lust. Nate Neal's not-so-instant-karma piece in Vol. 16 is explicit and haunting. Dash Shaw is a restless talent, albeit so restless he never seems to settle down even in the middle of any given strip.
But what is Mome at this point? Gone is the "recurring cast" model. Also gone is the Saturday Night Live style approach that replaced it–recurring cast featuring a couple of breakout stars with a celebrity guest each issue. Now it's just all over the place. Here's Gilbert Shelton's unfunny rock epic, here's Ray Fenwick and Archer Prewitt and Ted Stearn's unfunny funny-animal things, here's an astonishingly hamfisted political comic from Emile Bravo, here's some comics from Spain that are stiff and disjointed, here's some Conor O'Keefe stuff that's gorgeously McKay-ian but sort of amorphous, here's some awkwardly self-referential stuff from Laura Park and Nicholas Mahler, here's a T. Edward Bak cover version of Dan Simmons' The Terror and a Renee French piece that just get buried under the accumulated other, lesser contributions. I'm not sure what Mome is supposed to deliver anymore, and I'm not sure how receptive I am to whatever it is delivering.
Tags: comics, comics reviews, Comics Time, reviews