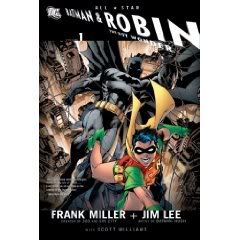 All Star Batman & Robin, the Boy Wonder Vol. 1
Frank Miller, writer
Jim Lee, artist
DC, 2009
240 pages
$19.99
Buy it from Amazon.com
Now that this first volume of Frank Miller and Jim Lee's, uh, controversial Bat-book is out in a nice fat trade paperback, I finally sat and read its nine issues' worth of comics from start to finish for the first time. Then I sat around and tried to figure out what to say about it. One phrase kept leaping to mind no matter how much I tried to come up with an alternate approach, so fuck it: That phrase is "mentally ill."
But I mean it in the best way!
I understand that Miller's staccato and repetitive dialogue and narration is enough to give some people aneurysms. Ditto, and more so depending on whether you're talking about some of my former coworkers at Wizard, his new take on Batman as a cackling, grinning, foul-mouthed, stubble-sporting, child-abusing psychopath. For pete's sake, former editor Bob Schreck's introduction to the volume is nothing more or less than an apologetic for what follows. But I know self-parody when I see it–and honestly, even if Miller really isn't capable of writing in any other way anymore, that doesn't make it any less of a self-parody–and I have no attachment to some platonic ideal of Batman. In point of fact I actually have long felt Batman would have more fun pounding the bloody bejesus out of criminals than we've been led to believe. In the immortal words of J.R. "Bob" Dobbs, fuck 'em if they can't take a joke.
And you know, the thing really is (to quote Grant Morrison's Mad Hatter) very much cleverer than its rep as a goddamn-Batman meme generator would indicate. Miller is constantly getting Lee to play around with panel layouts in memorable fashion, from the Bendis-like talking-head array during Batman and Dick Grayson's conversation in the Batmobile to the gigantic splash-page extreme-closeups of the Robin and Superman logos (the impact of which is muted somewhat by similar treatment of other images to fill up space in the collection, but still) to the outrageously over-the-top barroom banter juxtaposed with an image of a burning fuse during the Black Canary's introduction. There are even a couple moments that recalled the genuine madcap wit of mid-period Miller (roughly from The Dark Knight Returns through Hard Boiled)–a great jumpcut reveal of Dick's kidnapping ruse during the Dynamic Duo's confrontation with poor befuddled Green Lantern, and that massive multi-page fold-out of the Batcave that just keeps unfolding. By the time I got to the fourth fold, I was laughing out loud. Though Jim Lee has aged into his "nicest guy and biggest artist in comics" role very gracefully, he'll never be the formal innovator (or popularizer of others' innovations) that Miller has been, but even still, all these moments shine quite aside from his primary selling point of drawing DC's characters as heroic and awesome and eye-poppingly big-big–BIG as possible. Put it all together and it's a pleasure to flip through this book.
That's not to say that the "this goes to 11" tone works all the time. There's just no way to carry off any kind of emotional nuance if everyone sounds like a manic cross between Raymond Chandler and Matthew Perry's Chandler. At one point, you're supposed to infer from Vicki Vale's speech pattern that she's in shock, but she just sounds like everyone else (I imagine that was intentional, but it's still a bit flummoxing). Meanwhile, the selling point of Miller's Joker, back since DKR, is that he's unsmiling and quiet, but his internal monologue is as chatty as all the other characters'. It doesn't help that the Joker has always been one of Lee's weakest interpretations of DC's characters, the nose too pointy, the face too demonic. And honestly, Lee's polished work is the reason that this book, at its best, will always just be really entertaining, whereas I truly think that the raw power Miller's own The Dark Knight Strikes Again (or his crazy gorgeous alternate covers for ASB&R, reprinted here) is like a message from an alternate future for superhero comics.
But having the first nine issues of the book collected in one place does a lot to clarify what's going on. For example, no longer does the Batmobile ride seem to go on for weeks (though Miller inserted a joke about that)–it just seems like one more feverish element in a story paced like a series of exclamation points. And tackling those initial, hostile conversations between Batman and Robin just a few minutes before you come to this arc's comparatively quiet graveside denouement helps you realize that hey, this book just might be about Robin's buoyant presence dragging Batman back from the brink of lunacy as we were promised after all! It certainly makes a convincing case that running around dressed as a bat and hospitalizing people all night for a year or so would drive you, well, batshit. Maybe that's the quality, the tone, that Miller's trying to capture more than anything else. I mean, there's an issue where Batman and Robin lure Green Lantern into a room painted from floor to ceiling in bright yellow–so are they, though unfortunately we don't see how that came to be–and Robin steals his power ring and crushes his windpipe so they have to perform an emergency tracheotomy on him. Mentally ill, meant as a compliment.
Tags: comics, comics reviews, Comics Time, reviews