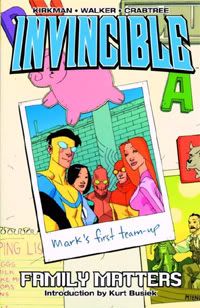 Invincible Vols. 1-9
Robert Kirkman, writer
Cory Walker, artist, Vols. 1&2
Ryan Ottley, artist, Vols. 2-9
Image, 2003-2008
in the 120-144 page range each
$14.99 each
Buy them from Amazon.com
I don't know what it says about me that I viewed my re-read of Robert Kirkman's creator-owned coming-of-age superhero series Invincible largely through the prism of posts by other comics bloggers–probably nothing that isn't deeply sad–but there you have it. First off, I thought of Tom Spurgeon's recent post on Kirkman's other long-running, unlikely-success indie title, the zombie-apocalypse survival-horror opus The Walking Dead, and how reading a massive chunk of it in one go reveals Kirkman's studious, in-it-for-the-long-haul pacing. There's certainly more going on set-piece-wise in Invincible than there is in The Walking Dead, but the principle is the same: For example, the titular superhero, teenager Mark Grayson, doesn't have his series-defining confrontation with a secretly villainous character until the series' third volume. Meanwhile, Kirkman takes Paul Levitz's tried and true A/B/C-plot structure and stretches it out like a slow-motion camera filming a hummingbird–major players can spend a dozen or more issues being introduced in one- or two-page snippets before we even have any idea what they have to do with the book's main character.
Naturally, reading as much of the series as you can in as short a period as possible flatters these aspects of Kirkman's writing. But moreover, they help mitigate against Kirkman's major bad habit: His characters either say exactly what they're thinking/feeling, or they don't say anything, or say "it's nothing" when it clearly isn't. There's no in between, no subtext–they either come right out and say it or lie about it. To me, his inability to write convincing human interaction in that regard is the thing keeping him from being not just a really good, entertaining writer, but a great one. Which is frustrating, because his storylines and ideas are so engaging and frequently unusual that he'd really be a top dawg if he could master emotional expression. Now, I think this is already less of a problem in Invincible than it is in The Walking Dead, because Walking Dead is relentlessly bleak and serious book whereas Invincible is a much lighter one (albeit with plenty of serious moments); Kirkman's inability to handle an emotionally charged conversation the way a great writer can has less impact in an action-adventure romp than it does in a character-driven survival-horror story. But (finally getting around to the point) it has even less of an impact when you're plowing through 47 issues in a row and really letting the slowly unfolding, meticulously planned plotlines drive your reading experience rather than having the one-issue-a-month format dictate that you dwell over every scene. You can see the whole lovely forest without getting stuck on some of the gnarlier trees.
On to another blogospheric touchpoint: In his long series of posts on Kingdom Come and '90s superhero comics, Tim O'Neil argued that Mark Waid and Alex Ross's Kingdom Come marked the rise of the "momentist" school of superhero writing, which is less concerned with soap opera or traditional plots and more driven by attempts to serve up iconic moments for the characters at regular intervals. His best example of this was from a comic that predated the movement but obviously had a lot of influence on it–Alan Moore and Dave Gibbons's "For the Man Who Has Everything" and the moment where Superman says "BURN." and uses his heat vision as a weapon against Mongul. I think O'Neil was right in that this has led to an enormous amount of self-indulgent, hero-worshipping crap. It's also led to some good stuff–I think Geoff Johns, at his best, does this stuff really well. (One moment I often think of in this regard was the bit in Green Lantern: Rebirth where Green Arrow used Green Lantern's ring for a second and it totally kicked his ass, giving us new respect for GA and GL all at once.)
Kirkman, by contrast, doesn't do Momentism at all. Maybe it's just because these are creator-owned characters he just made up and they don't have a lengthy history to play off of in constructing iconic moments. But, consciously or no, I think he actually hit upon the fact that iconic moments are a mug's game for non-legendary superheroes, something pretty much every other indie superhero book misses entirely. Instead, he lets the ideas and the storylines drive the book, usually presenting the action in as flat a fashion as possible, so that he doesn't distract from the loooooooong game he's playing. In fact, outside the initial "learning to fly"-type stuff, the book's big "moments" are almost invariably Invincible being stunned or pwned or both. There are plenty of "BURN."-style moments where Invincible Finally Lashes Out Against His Enemy, but they almost invariably end in moral or physical disaster for the poor kid. It's very much not a book about how awesome Invincible is, whereas 90% of corporate superhero comics these days are about how awesome Copyright Man or Team Trademark is. (The problem there is that very few characters actually merit such treatment and very few writers and artists can pull it off.)
Which reminds me: Invincible becomes much more interesting as a character the more he gets his ass kicked. I once wrote, back when the book was young, that the difference between Invincible and other teen superheroes like Spider-Man or the original X-Men or most of the Runaways is that while those kids were all geeks or outcasts, Invincible seemed like the kind of kid who'd pull into the high-school parking lot in his SUV blasting Joe Walsh's "Life's Been Good." But that was actually giving the character too much credit–he wasn't a Popular Kid anymore than he was a freak or a geek. He starts out as just sort of Generic Teen: He's good-looking but apparently never seriously considered approaching girls and never seriously approached by them, he's smart but doesn't seem to be considered a geek by anyone, he's got a crappy job but only because his dad insists he take one to gain a work ethic, he has no brothers or sisters, he reads comics but probably only because he's a character in a comic book, he's got one friend who's sort of like a more high-strung duplicate of him, etc. Even when he finally starts developing the powers he's waited most of his young adulthood to have, there's zero angst about it, and nothing illicit either–he knew it was coming, he doesn't hide it from his mom and dad, he instantly starts fighting crime. The wildest he gets with them is taking his buddy for a flight or two.
Then that series-defining confrontation occurs, and suddenly the superhero aspect of his life is the source of immense emotional pain, while at the same time he realizes that his name is far from accurate. The rest of the series, which by and large corresponds with Mark's graduation from high school and entry into college, is basically about how fast he's forced to grow up, the way the stress and danger of superhero life slowly chips away at his attempts to have a normal life, the high stakes of emotional involvement between godlike super-people, and so on. Oddly enough, Invincible is benefited in this regard by an art switch a lot like the one that happened in The Walking Dead. In that book, the clean cartoon line of co-creator Tony Moore gave way after an arc or two to the scratchier, edgier work of Charlie Adlard, just in time for the series to take a definitive turn for the darker. Here, the comparatively minimal. angular look of co-creator Cory Walker's art is swapped out for the fuller, livelier stylings of Ryan Ottley. Ottley's stuff is cartoony in a way you just don't see from the Big Two and their SERIOUS BUSINESS books anymore, outside of books like The Incredible Hercules that manage to dance between the raindrops of the Momentist events and the realists and Image Seven disciples who draw them. But more importantly, it livened the book up in a big way, just as Invincible developed more of an inner life to display.
I think this change really hit home in that aforementioned series-defining confrontation (no, I'm not going to spoil it even though I can't imagine anyone reading this deep into this review who hasn't already read the damn book). What had been the sort of light-hearted "let's make superheroes FUN again!!!" romp you see so many creators attempt, so many bloggers applaud, and so many readers ignore suddenly got ultraviolent. It was a huge tonal shift, one that the series occasionally reproduces, though it does so infrequently enough for the move to retain its ability to shock. (The book even has some meta-style fun with it in one issue, prudely cutting away from multiple sex scenes only to end the ish by depicting a horrendous beating and dismemberment in full, bloody, intestine-ripping detail.)
In these moments Ottley's good-natured art suddenly feels like it's being used as a weapon, while Kirkman demonstrates that he's ready, willing, and able to completely upend the book's status quo. Following his mutually unsatisfactory sojourn at Marvel, Kirkman would be the first to tell you it's his total control over the book and its characters that enables him to pull off stuff like that, that enables him to tell you "anything can happen" and mean it and convince you that it's true. That's probably the greatest pleasure of reading nearly 50 issues of Invincible in a row: You've watched Kirkman grow as a writer, Ottley grow as an artist, and Invincible grow as a character (though you haven't watched Bill Crabtree grow as a colorist, because he started off awesome and stayed that way–pastels! Brilliant!), so by the time you get to one of those anything-can-happen moments, you're so attached to the character and the book he stars in that you just race through the pages hoping that whatever happens isn't so bad.
Tags: comics, comics reviews, Comics Time, reviews