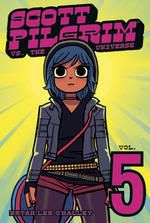 Scott Pilgrim Vol. 5: Scott Pilgrim vs. the Universe
Bryan Lee O'Malley, writer/artist
Oni Press, February 2009
192 pages
$11.95
Buy it from Amazon.com
The greatest trick Scott Pilgrim ever pulled was convincing you its conscience didn't exist. For a long time, the series' skeptics criticized the shortcomings of the characters as though their existence was a shortcoming of their creator–as though writer/artist O'Malley was unaware that Scott was kind of shiftless and feckless, or that Ramona Flowers was a little bit cruel and aloof, or that their group of friends was cliquey and catty. I definitely see where such critics are coming from, for a couple of reasons: first, that was pretty much my line of attack when I first read Jaime Hernandez's Locas material (newsflash: Hopey's a jerk and Maggie's a mess!); second, I am now a 30-year-old married homeowner in Levittown, and the further I get from Scott's situation, the harder it gets to relate to, or even in some ways really care about, his plight.
But over the past three volumes, O'Malley has slowly pulled back the operating curtain to reveal the beating heart of the series; if you'll allow me to mix metaphors, what this means is that the chickens have been coming home to roost. It turns out that all those evil ex-boyfriends aren't just plot devices, but people who've had a lasting effect on how Ramona lives. It turns out that Scott's glibness both hurts his relationship(s) and enables him to see their potential when others can no longer do so. It turns out that Knives's lasting crush on Scott isn't just a funny recurring gag, but something that's screwing up her life and causing her to screw up the lives of those around her. It turns out that all the "we suck"isms the band indulges in actually have power in a self-fulfilling prophecy kind of way. It turns out that supporting players have lives of their own and that they can really grow to dislike how oblivious the main characters are to that fact. And so on and so forth.
At the risk of saying what I say any time a new Scott Pilgrim comes out, the singular achievement of the series is conveying all this stuff through the visual language of video games, action comics, and shonen manga. By all means, let the evil ex-boyfriends whose attack finally splits up Scott and Ramona be Japanese hipster versions of Tomax and Xamot, the creepy Crimson Twins from G.I. Joe. Let the fact that Scott is going to have a very rough time in this volume be foreshadowed by not collecting any loot when he defeats a tiny robot at a party. Let the whole emotional tone of the book be telegraphed in a pair of anecdotes about '80s Chris Claremont X-Men storylines. Let trying to figure out Ramona's big secret be represented by having her inexplicably glow every once in a while–and then let that be conveyed in part through having a foil cover!
I'm not trying to make the case that Scott Pilgrim fleshes out its characters or connects emotionally the way a good Clowes or Burns or Tomine graphic novel about young people trying to form and maintain relationships does, or that addressing such people is completely unprecedented. It doesn't and it obviously isn't. It's still as much or more about screwball comedy and banter and clever visual elements as all that. But it's a really fun book, and a lovely-looking book, and ultimately, surprisingly, a complex book. Pretty sneaky, Scott.
Tags: comics, comics reviews, Comics Time, reviews