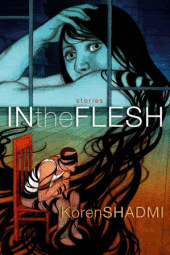 In the Flesh: Stories
Koren Shadmi, writer/artist
Villard Books, February 2009
148 pages
$14.95
Buy it from Amazon.com
I learned something about myself from reading this book, and that is that my phobic reaction to animal cruelty isn't really, or isn't just, a phobia. There's a story in here in which one of Shadmi's many languid, slightly pillowy, sexy brunettes sensuously recounts how she and a childhood crush tortured a cat to death. The second I realized where the story was going I had my usual reaction of needing to look away, needing to put the book down. This time I forced myself to keep reading, and you know what I discovered? Fury, a heart-pouding fury I was frightened to discover in myself. I don't like what it says about me that it's in there.
Anyway, the cat-killing is a pretty small part of the book. That story, and all of the rest of them, is really about sex. And Shadmi's art works fine for that purpose. He's primarily a magazine illustrator–his work here looks familiar enough that I must have seen quite a lot of his work elsewhere–and his elegant line and gently curving bodies are reminiscent of such animator-cartoonists as Robert Goodin and Cyril Pedrosa. (Oddly, there's a panel that seems like almost a straight rip from Dash Shaw's Love Eats Brains, but that's about all he owes to anyone doing "ugly" work.) As I alluded to above, there's a certain sameness to his dark-haired, pale-irised, fleshy femme fatales, but that's an appealing template, admittedly. He pays a lot of attention to backgrounds, which is welcome.
The problem is the subject matter. Basically, the sexual hang-ups of twentysomethings have already been handled by the cream of the altcomix crop, and Shadmi just isn't up to snuff. When he goes in a surreal direction, he's up against (say) Dan Clowes, and Shadmi's visual and narrative metaphors are comparatively facile. A couple spend their first date and sexual encounter with bags on their heads, and everything goes great until the guy takes his bag off and says something that isn't to the lady's liking, and then she says this was a mistake so he puts his bag back on. You know? There's a lot where that came from, and frankly, you got to do better. Even the less fanciful, more slice-of-lifey stuff seems easy-peasy and undergraduate compared to, for example, Adrian Tomine's angry work on the same subject. Expand the age group of the characters when looking for points of comparison and you end up bumping against Black Hole or I Never Liked You…
I don't know, I guess what I'm saying is that while the SVA-trained visuals are immediately impressive, the stories are doughy enough to leave me surprised that this is a debut from a major book publisher. It's fine enough work, I don't begrudge its existence, as minicomics they'd be the belle of SPX, but it's not there yet. And I don't mean to belabor the business with the cat–my basic opinion on the work had already been formed by the time I got to that story–but you've got a lot of work ahead of you if you're gonna draw a sexy lady talking about torturing a cat to death and make it something other than a cheap shot.
Tags: comics, comics reviews, Comics Time, reviews