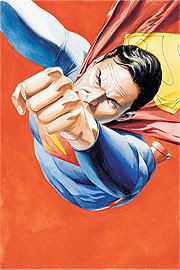 Final Crisis #1-7
Grant Morrison, writer
J.G. Jones, Carlos Pacheco, Jesus Merino, Marco Rudy, Doug Mahnke, Christian Alamy, art
DC Comics, May 2008-January 2009
30something story pages or so each, I think
$3.99 each
WARNING: SPOILERY SO LOOK OUT
I find the way some people online spend paragraph after paragraph picking Grant Morrison comics apart for hidden meanings and insight into the nature of life and art and thought distasteful, because that's the behavior of Baptists at Bible college, not grown-up art critics. Even so, I couldn't help but realize after I finished reading through all seven issues of Morrison's uniquely Morrisonian DC event comic that it could be roughly summed up in the words of Newman from Seinfeld: "When you control the mail, you control…information." Right from the opening scene in which the New God Metron pops up on Anthro the First Boy on Earth and brings him both "knowledge" and fire, most of the book's superheroic and supervillainous action revolves around attempts to transmit or block the transmission of information and/or light–which, as Barry "The Flash" Allen implies, are basically the same thing if you're running fast enough.
On the side of light, thought, knowledge, the flow of information, you have Metron and his circuit pictogram, the Guardians and Green Lanterns and their will-powered light, the Tattooed Man and his magic ink, Lex Luthor and the Ünternet, the Ray transmitting himself around the world to pass on Metron's anti-Anti-Life circuit, Nix Uotan's Multiversal monitoring, the Monitors themselves as "beings of pure thought," Barry Allen being reconstituted out of pure information to tell the other Flashes how they can stop Darkseid, the Miracle Machine taking relativity a step further by turning thought into matter, the Supermen of the Multiverse as an army of explicitly "solar-powered" heroes. On the side of darkness, mindlessness, ignorance, restriction of information, you've got Libra killing the heroes' premiere telepath and literally extinguishing the Human Flame, the Justifier helmets shutting down thought (and blocking all the characters' eyes), Darkseid's fall creating a singularity out of which not even light can escape, the hanging of the Calculator – i.e. the villain whose M.O. is the transmission of information, "Dark Side," Mandrakk the Dark Monitor who dwells in the darkness "where all stories end," the Anti-Life transmission rendering all communication devices useless. Like a prism breaking light down, the comic's storyline gets more manic and disjointed as it goes. Heck, I think you can make the case that the slow breakdown of a coherent art style into a panoply of pencillers before everything is finally refocused into a single (albeit different) art style is an effective reflection of that refraction. Not necessarily a persuasive case, but a case.
The message seems clear: Life and good is light and thought and our ability to communicate them both, death and evil is darkness and hate in thought's place and being prevented from thinking or feeling or speaking freely. That's an interesting and not entirely uncontroversial set of equivalencies Morrison is making here. If it's less subversive than Jack Kirby's original conception of life and Anti-Life, which as Tom Spurgeon has pointed out was an argument that taking up arms against Anti-Life is itself Anti-Life, it is at least subversive in its own, different way; I know I'm not the only reader of this comic who spits "Anti-Life!" in response to events in the all-too-real world. Anti-Life is in demand.
But you know what? I'm not sure how interesting any of that really is to me, in the end. Much more exciting than any kind of Lost-message-board "here's what it's about"-style theorizing was the simple experience of reading and enjoying a crazy-ass superhero story in which I almost never had any clue what was going to happen next! The supervillainy was seedy, joyless, and unnerving–the Fourth World meets the Black Lodge. The pacing was Morrison at his most fearless and formally inventive, at times as dizzying and dazzling as the Hernandez Brothers; I, for one, certainly never expected to read a superhero event comic that reminded me of "Flies on the Ceiling" (both formally and thematically!). The art got a little shaky in the middle, and I think at this point in his career we have to blame Morrison for necessitating a cast-of-thousands art-team approach in so many of his projects, but it's bookended by career-best stuff from J.G. Jones and Doug Mahnke, images I can and do look at for a long long time. All the heroic protagonists got cool triumphant beats. The Twitterable/Facebookable/Google Chat Statusable quotes were almost unceasing. It was knowingly self-parodic at times and satirical at others and deadly serious at still others. Yes, Batman: Last Rites and Superman Beyond really should have been part of the main story somehow in that they're the main storylines for the two biggest characters DC has, and it would be nice if they were going to be collected in the main Final Crisis trade between issues 4 & 5 and 5 & 6 respectively, but you know what? Batman killed the embodiment of evil and died, his body was cradled by Superman, and he was reborn as a caveman on the last page. In the words of the Dark Knight himself, "DO I MAKE MYSELF CLEAR?" I loved this flawed, weird, complex, simplistic, fun, wondrous comic to pieces.
Tags: comics, comics reviews, Comics Time, reviews