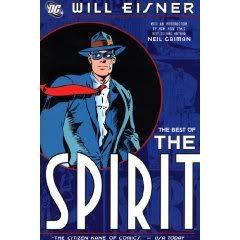 The Best of the Spirit
Will Eisner, writer/artist
DC Comics, 2005
192 pages
$14.95
Buy it from Amazon.com
Will Eisner's The Spirit is a virtual symphony of dudes getting socked in the head. I think that's what I ultimately took away from my read of this best-of collection of 22 Spirit 7-pagers, assembled by persons unknown using criteria unknown. No matter how far Eisner stretches the parameters of his strip; no matter if it's the masked vigilante/bounty hunter's origin story, or a standalone tale about an ill-fated criminal or plastic toy tommy gun in which the Spirit happens to show up on the final spread; no matter if it's a surprisingly psychologically astute portrait of a soldier who loses it after coming home from the war or society girl whose depression leads her to take up with criminals and then commit suicide-by-shootout, or a whacked-out EC riff about a killer granny with images and dialogue as crazy as anything Frank Miller could possibly put on screen–no matter what, somebody, somewhere, somehow, is gonna get clocked on the noggin.
That all but universal action beat, and the presence of the nattily attired Spirit himself, give you a throughline as you watch Eisner and his studio's style evolve from the barely recognizable 1940 origin story to the trademark caricature, pantomime, and big-city atmospherics of the 1950 capstone strips. By the end, Eisner's Gene Kelly-esque action choreography is at the height of its unique, humorous appeal; it tickles me to observe how naturally he'd apply the same play-to-the-balcony techniques he used for slobberknockers and machine-gun massacres to the body language of his late-period melodramas a couple-three decades hence.
I came into this collection expecting one dominant Spirit storytelling mode to emerge, one style to prove self-evidently definitive. But based on this sampling, the Spirit really could be all things to all funnybook fans: harsh or poignant, stark or silly, realistic or far out, surprisingly rich or divertingly slight, Humphrey Bogart or Tex Avery, a Hero or a Maguffin. Eisner's experiments with form only reinforce the natural diversity of his subject matter. Everyone's entitled to their Spirit. Me, I'll go with the one that entails the most people getting cold-cocked.
This is my final comics review for 2008. Thank you for spending Comics Time with me this year! -Sean
Tags: comics, comics reviews, Comics Time, reviews