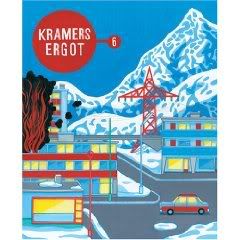 Kramers Ergot 6
Sammy Harkham, editor
Alvin Buenaventura, assistant editor
Carlos Gonzales, Shary Boyle, Matthew Thurber, Jason T. Miles, Andrew J. Wright, Sammy Harkham, Fabio Viscogliosi, C.F., Dan Zettwoch, Mark Smeets, Marc Bell, Bald Eagles, Chris C. Cilla, Martin Cendreda, Paper Rad, Jerry Moriarty, Gary Panter, Suihô Tagawa, Vanessa Davis, Souther Salazar, James McShane, Shary Boyle, Jeff Ladouceur, Ron Regé Jr., Elvis Studio (Helge Reumann & Xavier Robel), Tom Gauld, John Porcellino, writers/artists
Chris Ware, Tim Hensley, Paul Karasik, contributors
Buenaventura Press/Avodah Books, 2006
336 pages
$34.95
Buy it from Amazon.com
Can I just say how much I love how this volume of Sammy Harkham's landmark anthology series opens? Credits pages in big, no-nonsense, all-caps letters alternate with splash page pin-ups and blown-up panels from the strips to come. It's like the book has an opening credit sequence. I coincidentally paged through it at the same time as listening to "Speed of Life," the opening track on David Bowie's album Low, and it was as delightful a comics-reading experience as I've had all year.
That said, this may be the least immediately impactful post-volume-four Kramers. In some ways that's to be expected: The previous volumes, particularly 4, were so groundbreaking that at a certain point you kind of just have to stand there and say "wow, we're standing on the ground we broke a while ago, how about that?" As a matter of fact, I think this is the farthest-out volume, least "alt," most "art/underground" collection of the three–there's a degree to which it takes for granted that you're willing to slug it out there on the borderland between comics and fine art and tugs you deep into the realm of the non-narrative and non sequitur.
For the most part, that's a fine decision. There's rough stuff to ponder from Bald Eagles, whose self-pitying, society excoriating autobio strip is transformed into something of a sci-fi fantasia by art so maniacally detailed it makes Geof Darrow look like John Porcellino, and from Chris Cilla, who serves up a sordid, coprophilia-tinged story of undercover cops gone very very bad. There's stunning color work to be found in the rainbow psychedelia of Shary Boyle's series of disturbingly sexualized 18th-century illustration riffs, in the green-on-pink shimmerings of Matthew Thurber's goofball saga of a high school overtaken by a Mayan human-sacrifice cult, and in the lush pastels of World War II-era manga-ka Suihô Tagawa's deceptively adorable funny-animal war propaganda. There's the de rigeur contribution from the reliably hilarious Paper Rad, a literal interpretation of "Kramer's Ergot" that made this Seinfeld fan laugh out loud. Competing takes on minimalism–C.F.'s explosively dynamic sci-fantasy and John Porcellino's suburban haiku–bookend the collection. This is all exciting work, bursting with visual vitality and a certain distaste for the rules. It's mostly loud and it'll get you funny looks when you read it on the train (trust me), but it's also very intelligent, rarely if ever shock for shock's sake.
However, I do feel like there's a higher quotient of work here that doesn't quite, uh, work. I've seen enough of the oft-anthologized donkey strips of Fabio Viscogliosi and Fervler & Razzle strips of Souther Salazar to last me for quite some time. Bald Eagles and Jason T. Miles aside, most of the autobio work here–from James McShane, Vanessa Davis, and Ron Regé Jr.–works any better here than it does in the other anthologies you might have seen it in lately. Marc Bell's stream-of-consciousness illustration/text combos just make me wish he was making more of his hysterically funny, rewardingly weird comic strips instead. I think the formal strength of Gary Panter's Dal Tokyo strips reprinted here is diluted somewhat by being surrounded by so much similar material, so much illogic'n'markmaking. On the flipside, the more straightforward strips–Tom Gauld's latest "two lonely coworkers in a weird environment" strip, Harkham's tale of discontent in the shtetl, an emo little thing from Martin Cendreda, another story of mild hijinks in a midwestern church that occasionally uses diagrams from Dan Zettwoch–feel drowned out by the visual cacophony of your Bells and Elvis Studios and the monumental fine-art splash pages of your Boyles and Jerry Moriartys.
But I tend to be quite forgiving to anthologies that serve up a selection of inconsistent but thrilling-at-its-best work, and in that sense Kramers Ergot 6 is no exception. Indeed, the entire Kramers project seems to me to be one of juxtaposition, a when-worlds-collide affair. Not all those worlds are going to be equally interesting, but that's fine when the ones that are are so rich and rewarding of your comics-thinking time and attention.
Tags: comics, comics reviews, Comics Time, reviews