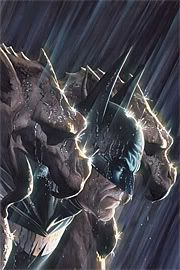 Batman #681
Grant Morrison, writer
Tony Daniel, artist
DC Comics, November 2008
40 pages
$3.99
First things first: The Black Glove is not a person but a five-person consortium of, as Brad Majors would put it, "rich weirdos"—a general, a priest, a dude in Arab headgear, a businessman, and Jezebel Jet. Their ringleader-type person is Doctor Hurt. Doctor Hurt claims, for the second time, to be Batman's father, Thomas Wayne, and for the second time this suggestion is shot down (first it was Alfred, this time it's Batman himself). Batman theorizes he's Mangrove Pierce, Wayne lookalike and actor in a film called The Black Glove that was at the root of his earlier case involving John Mayhew and the Club of Heroes, but Hurt shoots that notion down in turn, instead saying, "I am the hole in things, Bruce, the enemy, the piece that can never fit, there since the beginning." Batman rejects Hurt's offer to spare the reputation of his parents and Alfred in exchange for servitude, then leaps up and crashes Hurt's getaway copter, plummeting to his "death."
That's the gist, anyway. People expecting real answers about any of this are rewarded with not a whole lot more than people looking for a convincing Death of Batman are. So what do I take away from the conclusion to the big "Batman R.I.P." arc? Well, it was a lot of fun–this is about as involved as I've been in a superhero storyline since I started reading the things again in 2001; moreover, this is the first single issue of a superhero series I've purchased since, I think, August 2004. Morrison's Batman is about what it wants you to do–it presents itself as a dizzying series of clues and references that only the sharpest mind can unravel. What I didn't expect was for the rug to be yanked out from underneath it all–the Joker revealing that all his red/black symbolism stuff was made up, Doctor Hurt revealing (I think!) that his origin is that he has no origin to speak of, at least as far as existing Batman lore is concerned. (This may or may not be true–he really could be Thomas Wayne, or as one friend suggested, he could be Thomas Wayne Jr. of JLA: Earth-2, aka Owl-Man. It would fit the alternate history Hurt presents in which Joe Chill kills Martha and Bruce.) But the kicker is that even with all its intricate structure and symbolism revealed to be a put-on, Batman still kicks the shit out of the Black Glove. The main narrative thread of this final issue is a Bourne-type situation where we discover Batman's just plain too smart and strong and sharp for these clowns to possibly beat him. In fact, what looked like abject failure a few issues ago was really just a product of Batman's sheer confidence in his own ability to have somehow prepared himself for any eventuality. That's just how awesome he is.
For skeptics of Morrison's pro-awesomeness philosophy of superhero comics, I'd imagine this is going to fall pretty flat, but I'm down with awesomeness from time to time, if not as much as your average Barbelith poster or comicsbloggers who use the word "pop" a lot. I'm certainly down with awesomeness from Batman, my favorite character, written by Morrison, my favorite Big Two writer. The idea that Batman created a nutso backup personality in case the shit ever really hit the fan? That's fantastic. Can I also take this time to give a shout-out to the much-maligned Tony Daniel? I've been a bit baffled by the guff he's been given, seemingly primarily by dint of not being Frank Quitely. I think his Batman has been consistently tough and badass–I like it better than Jim Lee's similar yet much less crazy take–and he's done some really spooky stuff with the Joker. There's some really nice fight choreography in here too with Robin and Pierrot, too, and in general I haven't found his fights or layouts as incomprehensible as many others have. In sum I enjoyed this storyline and even though I'm still not quite sure what happened, I'm okay with that.
UPDATE: Did you know there are two additional Grant Morrison Batman issues coming out before his hiatus from the book? I sure didn't!
Tags: comics, comics reviews, Comics Time, reviews