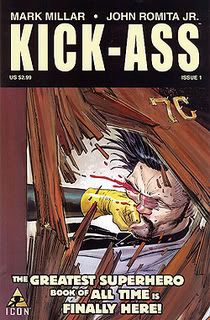 Kick-Ass #1-4
Mark Millar, writer
John Romita Jr., artist
Marvel/Icon, 2008
32 pages each
$2.99 each
The first four issues of Mark Millar's John Romita Jr.-drawn creator-owned series leave me with two dominant impressions: 1) JRJR's work is so pretty! 2) I don't think I've ever read a comic so terrified of homosexuals. It honestly could be entered into a court case as proof positive of the "gay panic" defense. Good guys, bad guys, and neutral characters alike drop homophobic epithets like they were going out of style (which they are!), and the main character spends about twice as much page time tearing himself up for allowing the girl he likes to believe he's gay than he does recovering from watching people get horribly slaughtered in front of him. So far no actual homosexuals have been sexually assaulted or murdered, which in a Mark Millar comic is saying something, but the uptick in "black characters used as cannon fodder" is significant even in Millar's racially dubious oeuvre, so it's sort of a wash.
The story is actually a comparatively subdued variation on Millar's standard routine of adding ultraviolence and a few nods at "realism" to the superhero genre (cf. Ultimates, Wanted, The Authority, War Heroes). This time out, a middle-school (I think) loser, baffled that no one in the world has ever thrown on a mask and costume and gone out to fight crime, up and does so. The gimmick is that when he does so, he gets his ass kicked in spectacularly bloody fashion, over and over, even when he comes out the victor. That's kind of a funny idea, and Millar (relatively speaking) undersells it, eschewing his usual trick of having the characters tell the reader exactly how awesome they are and dialing the braggadocio down to believably adolescent-male levels.
What it's mainly good for is allowing Romita to cut lose with all his quirks: wrinkly clothes and finely delineated hair, fights that are a ballet of blocky bodies twisting through the air and torrents of blood gushing like one of those fancy fountains that can spell out words and make pictures of dolphins in whatnot that they have in Asian commerce centers, cute little details (a t-shirt reading "WHATEVER IT IS, AMAGANSETT"–a pop-culture gag whose idiosyncracy stands out in a comic written by a guy who's still doing Paris Hilton references). Dean White, the sensational colorist find of the past couple years, gives JRJR's art a milky warmth unique enough to actually say something about the spectacular art it's supporting. By the time the ten-year-old little-girl ninja shows up and starts slicing up gangstas while calling them "cunts" you realize what a waste of Romita's capital-A Art it all is, but only homos would complain, and you're not a homo, right?
Tags: comics, comics reviews, Comics Time, reviews