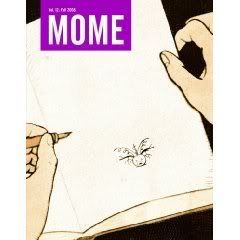 Mome Vol. 12: Fall 2008
Kaela Graham, Sophie Crumb, Nate Neal, Ray Fenwick, Olivier Schrauwen, Dash Shaw, Tom Kaczynski, Al Columbia, Jon Vermilyea, Derek Van Gieson, Killoffer, Sara Edward-Corbett, David B., Paul Hornschemeier, writers/artists
Eric Reynolds and Gary Groth, editors
Fantagraphics, August 2008
120 pages
$14.99
Buy it from Amazon.com
I'm not a big underground comics person, particularly today's derivatives thereof. Too much of it feels like schtick to me: using "th' " instead of "the," bigfoot characters smiling and waving at you and saying "hiya!", funny animals fuckin'…I dunno, maybe this is how people who are sick of superheroes feel about capes and masks and punching–that it's just going through the motions while not really saying anything about anything. It's mostly not for me, though there are those who can make it work by blowing it out into the ionosphere of savagery (Rory Hayes) or through trailblazing and raw, restless chops (Crumb). Its imitators have an even tougher go of it with me–there aren't a lot of Marc Bells out there, you know?
Last time out with Mome, I thought I was starting to detect and undergroundward drift, and the recent announcement that Gilbert Shelton seemed to confirm that suspicion. So I was all frowny-faced when I read the first comics contribution to this issue, from Nate Neal, "Whadda grade 'A' maroon I been! All that pissin' and moanin' I do about the world goin' to shit…" says title character Tender Henderson. It's enough to send you screaming for your Big Brother and the Holding Company record. But suddenly Neal shifts gears to a finely observed relationship comic, and even if you've seen this sort of thing before, we're clearly back in the far less hammy, frequently more rewarding territory of contemporary artcomix.
That's where I'd prefer Mome to stay, and for the most part that's where it is here. For the first time in a while there are a number of comics included that fail to make much of an impression one way or another, but the winners are real doozies. David B. contributes yet another rhapsodic blend of history and fantasy with his tale of sex, violence, and religious zealotry "The Drum Who Fell in Love." Olivier Schrauwen, Al Columbia, and Dash Shaw all discomfited me mightily with their astute use of silent, nightmarish strangeness. Kaczynski is really on a roll with his examinations of modern life's nuisances-cum-perils, focusing this time on the pervasiveness of noise. Killoffer and Jon Vermilyea each serve up a different blend of gross-out humor and disturbing violence, both capping them off with killer, laugh-out-loud final panels. And let's be honest with ourselves, any place you can get new work from David B. and Killoffer between one set of covers is the kind of place you want to be.
Tags: comics, comics reviews, Comics Time, reviews