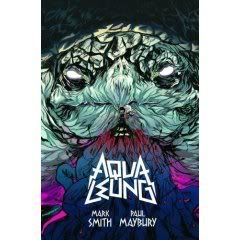 Aqua Leung Vol. 1
Mark Smith, writer
Paul Maybury, artist
Image, April 2008
208 pages
$17.99
Buy it from Amazon.com
Here's a book you can't help but compare to other, similar projects that are mining this same vein of ad-hoc epic and homegrown myth(os)-making. Consider it the "A Star Wars of One's Own" school. (I've dabbled in it myself.) The book I kept thinking of when reading it is Mouse Guard. This one comes out on top in virtually every way.
First of all it's the rare independent comic that comes equipped with not one but two editors, including one seemingly solely dedicated to copyediting. And man, does it help! The story is a coming-of-age hero quest that frequently indulges in knowingly arcane dialogue, and it's really easy to aim for "fancy" and end up hitting "gibberish." This doesn't happen here, which is a blessing right there.
Second, there's Paul Maybury's art. Don't get me wrong, I think Mouse Guard's Mark Peterson is obviously a gifted illustrator, and also a better sequential artist than he perhaps might get credit for. But Maybury is something of a revelation here, his thick brush line (apparently this is his first-ever brush art!) at different times approximating the Paul Pope-Becky Cloonan art-blob vibe, the more manga-inflected Vasilis Lolos punk-action thing, some Bryan Lee O'Malley-isms in the character designs, and–out of left field–almost Fort Thunder-ish use of images-as-texture (a wall of "STOMP" sound effects, a two-page spread of arrows, a splash page consisting solely of clashing colors, and an opening map that looks like Ron Rege drew it), occasionally peeling back to an effectively crude, almost childlike minimalism. Colorist Russ Lowery is a break-out star here too, combining Lolos's candy-coated palette with Dave Stewart's subtlety and lushness. Smith's script gives the pair plenty of room to play, with almost abstract combat scenes and bravura sequences like the Spaceball One-sized sea-monster whose jaws take fully four pages to traverse our viewpoint.
Speaking of Smith, he brings a most welcome sense of humor about the grandiose nature of this project to the table, something Mouse Guard lacks entirely. Will you wish he hadn't kept The Hero with a Thousand Faces next to his laptop as he wrote this story? Sometimes, yeah. (Enough with the fucking absent father figures already, genre writers of America!) At first the epic saga-osity of the material gets the better of him–he burdens the story with something like four introductory sequences, and lets an omniscient narrator tell things that should be shown early on. But the structure smoothes out as the book goes on. Meanwhile he frequently undercuts any portentousness with a wink and a nod to his diverse sources, from the inclusion of a little octopus sidekick that feels like something out of a Japan-only video game to shots of the titular young hero peeking up girls' skirts, flashback-sequence from Splash-style. And the approach to the violence is more Indiana Jones than Star Wars, if that makes sense–while it does move the plot and is supposed to inspire the awe of any good action sequence, it also unfolds like a choreographed routine and draws attention to that fact. What's more, he sticks the landing with a climactic battle that feels climactic yet also naturally subservient to whatever will happen in the subsequent volumes.
Overall there's really nothing here that leaves you feeling like everyone involve needs to get out of their parents' basement in some fundamental way–it feels like grown-ups knowingly playing with their old action figures more than grown-ups trying to pretend that those action figures are for grown-ups. Nor does it mistake the modest aim of telling the story of its creators dreams for the delusional grandeur of Telling The Story Of Our Collective Unconscious. And oh yeah, the lettering and logo by Fonografiks is really kinda perfectly METAL. I even like the paper and cover stock. It's a good time.
Tags: comics, comics reviews, Comics Time, reviews