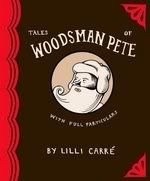 Tales of Woodsman Pete
Lilli Carré, writer/artist
Top Shelf, May 2006
80 pages
$7
Buy it from Amazon.com
Was this a webcomic first? A series of microminis? I ask because the skill Lilli Carré shows in this anthology is so considerable in terms of its ability to build to a punchline that also doubles as an indictment of the specific brand of thoughtless waste she's gunning for that it feels like you're reading a best-of collection rather than a debut.
Tales consists of strips of varying length chronicling the comical misadventures of both the titular woodsman and the legendary tall-tale hero Paul Bunyan and his blue ox Babe. I'm not saying it's a masterpiece–Carré occasionally gives into the temptation of a too easy joke, as in the first strip, where Woodsman Pete remarks upon the beauty of a pair of birds' song and then kills them anyway; meanwhile many of her strips on Pete dealing with aging strike me as being a young person's view of what old age is like; a lengthy section involving a future globally-warmed world where dried-up oceans leave great salt deposits behind never clicks as well as its length demands.
What I am saying is that it's a remarkably assured book, one where even its weak spots (which strike me as less important the more I think about the collection) feel like deliberate choices rather than missteps. Carré's thin, clear line, attractively presented in blue throughout, enables her to simultaneously cram many panels onto the book's small pages–resulting in a bit-by-bit inch-by-inch dialogue pace that perfectly fits the stories' shaggy-dog-tale rambliness–and give her characters an expressiveness that belies their knowingly crude design. I could sit and stare at Paul Bunyan's hair and beard for minutes, while at certain points the shading on Pete's hat and beard is almost tactile. The comparative realism of the animal heads mounted on Pete's wall lends weight to what struck this particular vegetarian as a message of conservation buried beneath the black humor.
Meanwhile, the gags frequently arrive from unexpected directions. Along with his wall-mounted hunting trophies, Pete keeps row upon row of beard trimmings to mark the decades. A stuffed deer head presented as a flourish on the top of one strip is revealed to have a stuffed butt attached to it when we turn the page. When Pete calls one of his trophies his favorite, another one silently cries. In a strip called "Saturday Night," Pete strips butt naked, dances around, then stops and falls asleep, and that's the whole strip. It's bracingly dry and cleverly delivered stuff.
The most impressive aspect of the collection is the unforeseen interlocking of the Pete and Paul Bunyan material. The giant lumberjack and his bovine friend don't show up until about a third of the way through the book; when we realize what's going on and that the images that kick off his arrival seem tied directly to the events of the preceding Pete strip, it's a rewarding little epiphany. However, Carré fudges the details of the strips so that it's never quite clear whether or not Pete and Paul are actually anywhere near each other temporally or spatially, which besides being a fairly complex narrative conceit for a gag-strip collection speaks directly to the larger point she's making about the unreliable nature of memory and storytelling and the dubious prospect that these mental phenomena can actually enable true and lasting connections between different people. All this for seven bucks? Sold.
Tags: comics, comics reviews, Comics Time, reviews