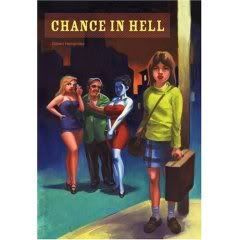 Chance in Hell
Fantagraphics, September 2007
Gilbert Hernandez, writer/artist
120 pages, hardcover
$16.95
Buy it from Fantagraphics
Buy it from Amazon.com
Rough, rough stuff from the creator of Palomar. Hernandez is in the midst of creating graphic novels based on the B-movies that his Palomar-verse character Fritz starred in, but "B-movie" might give you the wrong impression here. This isn't one of those howlers the bots made fun of on MST3K–it's the kind of disturbing, unpleasant film starring and shot by unknowns that you might rent on a whim from the horror or European section of your old neighborhood video store, watch, and spend the rest of the evening worried about the mental health of cast and crew. The story concerns Empress, an orphaned toddler abandoned in a sprawling, dog-eat-dog garbage dump and raped so frequently that she doesn't even seem to notice anymore. A farcical string of bloodily violent incidents leads her to a life as the unofficially adopted daughter of a poetry editor who claims to have come from the same circumstances, and then eventually to a second life as the wife of a young district attorney, but in both cases violence and squalor cling to her like a stench, to use a frequently invoked metaphor.
This is the angriest I can ever recall Gilbert's art looking. That's saying something: My wife, for example, finds his books almost difficult to look at–"His characters just look so hard," she says, and they've never been harder than here. Right from the get-go his figures seem dashed off as in a white heat, while several early landscapes and backgrounds in the hellish dump look like the whole world is on fire. His almost supernaturally confident pacing of scenes and the cuts between them evoke in their matter-of-factness the acceptance of everyday brutality by the characters themselves. At times the jumpcuts can be quite funny, as when a scene between Empress and her adopted father consists solely of a pair of panels where they argue over whether a glass is half empty or half full; both Hernandez and his characters know how reductive this exchange is, yet also know it's quite true to who they are.
But when that metronomic editing slows down, the effect is powerful, particularly because it is often done to draw out scenes of gutwrenching violence or tragedy. (The centerpiece scene in the brothel is as disturbing as the death squad attack in Gilbert's masterpiece Poison River; there as here a knowing glance is all-important, but here it causes murder rather than prevents it.) The end of the book changes the pacing again, revving up the jumpcuts to suggest unsolved crime and unglued minds, and to be honest I've revisited it three or four times today and I'm still not sure what's going on. Maybe that's a problem, maybe it's not. Since I see myself revisiting this book, a gruesome, enraged commentary on just how shitty things can be, many, many times in the future, I'm leaning toward "not a problem at all."
Tags: comics, comics reviews, Comics Time, reviews